StatsCan has some bad news for job-seekers: You're likely going to be offered less money for a job today than you would have been a year ago.
The wages that Canadian employers are offering when hiring took a sharp downward turn during 2015, Statistics Canada data shows. It's a sign of worsening economic conditions. Employers are either more confident they can easily find employees, or they can no longer afford their earlier pay scale, or both.
StatsCan launched its job vacancy and wage survey at the start of last year, but in just the three quarters of 2015 for which there is data, the average offered wage fell more than 3 per cent, to $18.45 an hour from $19.05 an hour.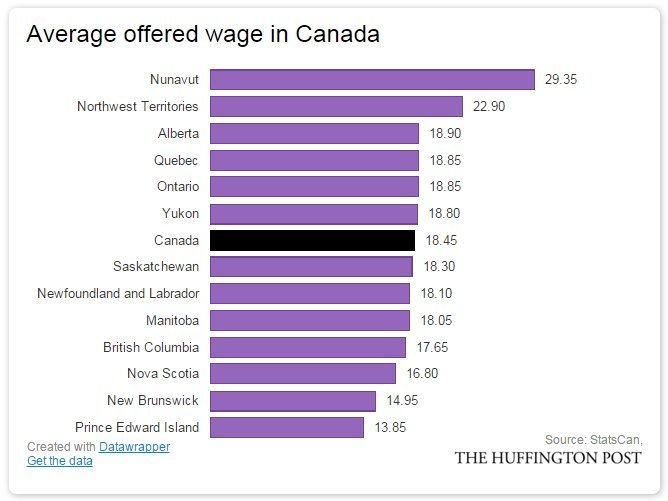 Oil-producing provinces saw some of the largest declines, but weren't the only ones to see falling offered wages.
Newfoundland led the pack with a 10.6-per-cent decrease in offered wages, followed by Saskatchewan (down 9.4 per cent) and New Brunswick (down 9.1 per cent).
Offered wages fell 4.8 per cent in British Columbia, 4.7 per cent in Alberta and 3.8 per cent in Quebec.
There was little change in offered wages in Ontario, Manitoba and P.E.I. Nova Scotia was the only province to see a meaningful increase, up 4.6 per cent.
The survey found the number of job vacancies in Canada is see-sawing. It fell by some 36,000 in the past quarter, to 400,905 vacancies, suggesting a tighter labour market. But it had risen by roughly the same amount in the quarter before that.
Offered wages are not the same thing as wages paid to existing employees.
StatsCan's measure of earnings for all non-farm payroll employees shows wages have grown by 1.4 per cent over the past year, considerably slower than the 2.5- to 3-per-cent pace seen a year ago.
The average weekly wage in Canada was $951 in November, 2015, StatsCan reported.