A retired couple was enjoying a pleasant day on the beach in northern France when a scary situation befell them.
Video captured on Feb. 8 shows the elderly couple and another man standing between some rocks on Porsguen beach in Portsall, watching the waves roll in.
Everything was going fine until a large wave came crashing in, leaving the couple in knee-high water.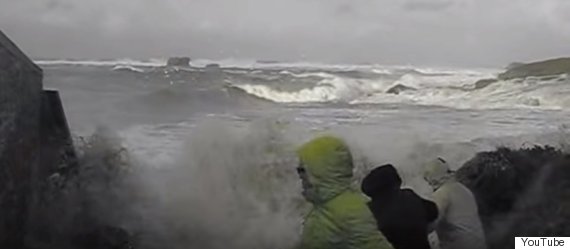 The husband appeared to trip and fall in the water, ending up on his back as the wave carried him out to sea.
His wife gave chase, only to be swept up herself as the third man followed.
The couple was later rescued by a passerby and taken to La Cavale Blanche hospital, Ouest-France reported.
The wife had swallowed some water and sand, but neither was seriously injured.
In wake of the incident, one water safety expert said it's not a good idea to follow a person into the sea after a strong wave hits.
"Do not go into the water after them — if you do there's a good chance you'll be swept out yourself," Keith Colwell, incident reduction manager with the U.K.'s Royal National Lifeboat Institution, told The Telegraph.
Like Us On Facebook

Follow Us On Twitter

Also on HuffPost;
Massive Waves Through Doug Falter's Lens