HALIFAX - The office of Nova Scotia Premier Stephen McNeil broke privacy laws when chief of staff Kirby McVicar publicly released sensitive medical information about a former cabinet minister, the province's privacy commissioner says.
McVicar resigned Nov. 24 after stating in several media interviews that Andrew Younger had a brain tumour and had been diagnosed with post-traumatic stress disorder.
In a report released Thursday, privacy commissioner Catherine Tully concluded that McVicar violated provisions of the Freedom of Information and Protection of Privacy Act.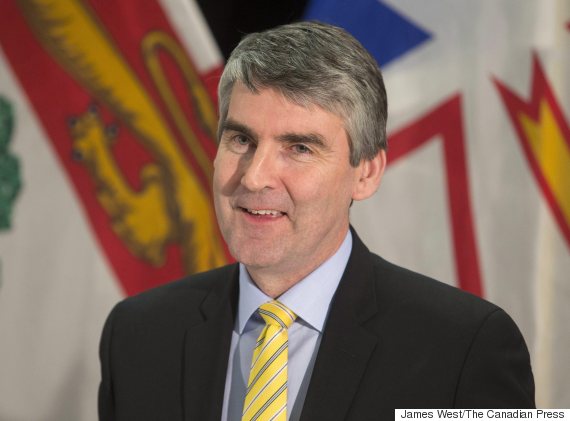 Nova Scotia Premier Stephen McNeil answers a question at a meeting of Atlantic premiers on Wednesday. (Photo: James West/CP)
"The report finds that the disclosure is a breach of the privacy rules," the report says.
McNeil, speaking after a cabinet meeting, challenged Tully's main conclusion, saying his office was not to blame because McVicar took sole responsibility for his actions.
"If you go back, Kirby has said this was a decision that he made on his own," the premier said.
However, Tully said the province's privacy laws make it clear that the premier's office must be held to account.
"The public body lives through the actions of its employees," she said in an interview. "When an employee makes an error in judgment, and does so with information they gathered by virtue of their employment, that's the responsibility of the public body."
Tully's report places much of the blame for what happened on a lack of privacy training for the most senior staff in the province's top political office.
PC leader: McNeil should apologize
Tory Leader Jamie Baillie said McNeil owes the province an apology for breaking the law.
"Under pressure, the premier's office gave out private information about a person who they were in a public dispute with," Baillie said. " It's wrong and it broke the law ... The premier is accountable. You have to be able to trust the premier to keep the laws of the province."
McVicar declined to comment Thursday.
Tully's report recommends the creation of a chief privacy officer to oversee improved policies and training in the premier's office and elsewhere in government, including basic privacy training for all government employees.
Younger said he hoped the proposed changes could prevent more damaging disclosures, saying he has suffered a lasting stigma from McVicar's comments.
The Independent member of the legislature was ejected from the Liberal cabinet and caucus in November amid a series of legal snafus in his private life.
He said he's had PTSD for two decades, but it wasn't an issue until McVicar revealed his diagnosis to the media.
"Under pressure, the premier's office gave out private information about a person who they were in a public dispute with."
"That disclosure raised questions in people who said, 'Well, can you do the job,' and I found that very frustrating," he said. "To some people, I'm identified as the guy with PTSD."
Younger also said he doesn't have a brain tumour.
The privacy commissioner says McVicar confirmed he had a "lapse in judgment." The report also says he did not receive privacy training before he was hired as the premier's chief of staff.
"While he was certain that the (premier's) office had a privacy policy and that he had likely received a copy, he had not read it," the report says.
As well, the report says the premier's director of communications, Stephen Moore, had not received any privacy training and wasn't familiar with the office's privacy policies.
"These factors significantly contributed to the unauthorized disclosure of personal information," the report says.
When McNeil dropped Younger from caucus last fall, the premier accused him of failing to provide an accurate account of why he failed to show up for a scheduled court appearance.
At the time, a former Liberal staff member was accused of assaulting Younger. The case was thrown out when Younger failed to appear. He later cited parliamentary privilege as his reason for avoiding court.
'Character assassination'
Later that same month, Younger again ran afoul of the premier's office when he released a secret recording of a conversation he had with McVicar about the impact his legal troubles were having on his political career and personal life.
The recording proved embarrassing for the government because McVicar hinted at offering Younger's wife a personal services contract to help with their financial situation.
Tully's report recognizes that McNeil's government was under public pressure to explain what was going on when McVicar spoke to reporters on Nov. 23.
"McVicar explained that he was trying to put into context Younger's situation, in an effort to put the allegations to rest," the report says, noting that McVicar later apologized to Younger for the privacy breach.
As for Younger, Tully said he believes the information was disclosed as a "character assassination" intended to undermine his credibility by making him seem unstable.
ALSO ON HUFFPOST:
Least, Most Popular Premiers (Dec. 2015)