OTTAWA — NDP Leader Thomas Mulcair needs to obtain at least 70 per cent of membership support if he wants to remain leader, party president Rebecca Blaikie says.
"I think he needs to reach 70 in order to stay, and that will be a challenging number. He will still have work to do," Blaikie said in an interview with The Huffington Post Canada on SiriusXM's "Everything Is Political" show.
Mulcair, who will face a leadership vote at the NDP's April convention in Edmonton, has refused to say what percentage of support he would like in order to remain leader — telling reporters he needs more than 50 per cent plus one.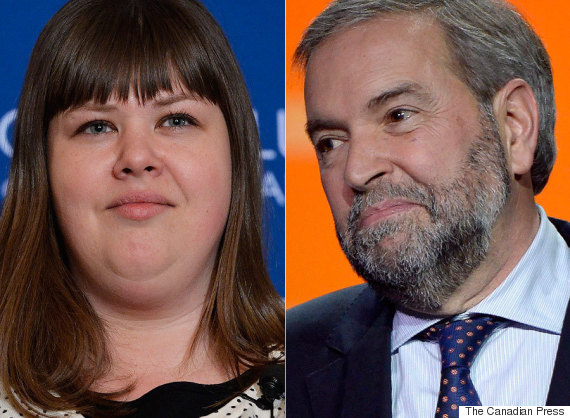 NDP President Rebecca Blaikie thinks Thomas Mulcair needs a strong show of support in his leadership review. (Photo: CP)
But Blaikie suggests the floor should be much higher.
The Clark precedent
She pointed to former Progressive Conservative leader Joe Clark's leadership review in 1983, calling it precedent-setting. Clark received 66.9 per cent of support from delegates at the party's biennial convention that year, and deemed it insufficient. He called a leadership convention, hoping to renew his mandate, but he lost the contest to Brian Mulroney.
In 2005, former Parti Québécois leader Bernard Landry quit the helm of his party after obtaining 76 per cent.
"I think it would be very very difficult for [Mulcair] to stay on if he gets anything less than 70," Blaikie told HuffPost. "You want to come out of that with support that you can feel confident about, and ... I would think that anything under that would be very, very difficult."
"You want to come out of that with support that you can feel confident about, and ... I would think that anything under that would be very, very difficult."
Even if Mulcair received less than 70, Blaikie said, it would not mean a leadership race right away, "but it would definitely signal that the membership thinks one is necessary.
"Most of the time these leadership reviews are kinda pro forma, and the leader usually gets something like over 90 per cent," she said. "But I think if he gets over 70, that is a significant majority and it looks like people are willing to give you a chance to stick on."
If Mulcair survives the vote in April, he will have to start aiming toward another leadership review scheduled in 2018, at which he will have to demonstrate that he has maintained his support, Blaikie added. She noted, however, that only a year before the 2019 election might be a "bit late" to dump the party leader.
Campaign mistakes
On Tuesday, Blaikie issued a memo to the membership based on feedback from open calls and meetings with New Democrats across the country and compiled in an interim report — a final version is expected in March.
She said she felt the NDP had failed to communicate its progressive agenda and had allowed the Liberals to appear like they "end-rounded us... on the left.
"I don't actually think that's true, but I definitely think that is how the campaign came across. What became the overarching issue of a balanced budget sort out of drowned out some of the really progressive social democratic stuff that was in the platform that I was really proud of, but that I think most Canadians didn't even hear about in that campaign."
Mulcair's mea culpa
On Wednesday, Mulcair penned his own letter to party members telling them he accepted responsibility for a disastrous campaign.
Mulcair said he is "resolved to better articulate" the NDP's vision and to "communicate it more effectively to all Canadians."
"As Leader, I take full responsibility for these shortcomings. I could have done a better job," Mulcair wrote. "If members grant me the honour of continuing to serve them, I am determined to make the necessary changes so that the mistakes of the campaign will never be repeated."
Blaikie said she viewed Mulcair's letter as a response to some of the comments received from the membership.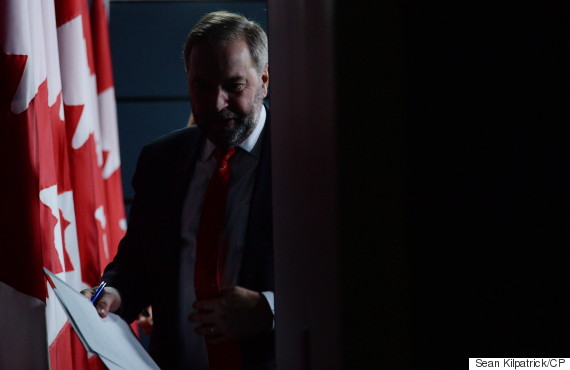 NDP Leader Thomas Mulcair leaves a press conference in Ottawa in January. (Photo: Sean Kilpatrick/CP)
"I think it was an attempt from him to acknowledge his role in that, to be a leader and take some responsibility for some of the stuff that we have been hearing across the country."
There is a consensus about what went wrong, she said. "It's not rocket science. It's a process that is necessary as we move forward and try to make the right decisions to keep growing."
Blaikie said she couldn't predict the result of the leadership review.
"I have no idea how it is going to go — and I'm trying really hard not to influence it, because I feel that, as president, I need to just be reflecting what I am hearing from members. And what I am hearing from members is that they are undecided. They are not even sure yet. So we'll see."
ALSO ON HUFFPOST:
Key NDP MPs Defeated In 2015 Election