In a black cap, oversized red sweater and laptop in hand, Kanye West entered New York City's iconic Madison Square Garden 45 minutes late to the sounds of 20,000 people cheering him on. He put a smile on his face, he was ready.
With the hit of the 'play' button, the first sounds of his new album, "The Life of Pablo," overtook the venue, and the epic spectacle that will go down in fashion and music history began.
In front of family, friends, fashion editors, fans, and the world (in thanks to an accessible live stream by Tidal), West debuted Yeezy Season 3, his latest collaboration with Adidas, late Thursday afternoon. The show, which landed on day one of New York Fashion Week, was met with an outstanding amount of approval from fans and critics who praised fashion's bad boy for shaping a collection that would fit into the new future of fashion.
Here are 10 things you need to know about Yeezy Season 3:
Sure, the international listening party of "The Life of Pablo" may have overshadowed the array of clothes that were being showcased on the pillars situated in the middle of the stadium, but that doesn't mean they didn't deliver. Because they did.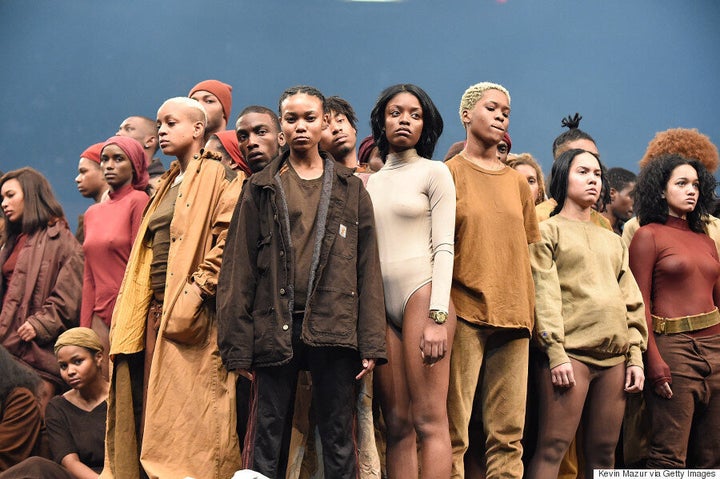 The highly talked-about rookie designer kept to his neutral palette of nudes, browns and blacks, but added faded out reds, yellows, blues and greens to this year's lineup of similar skin tight bodysuits and oversized sweaters to season's past. Military-inspired Yeezy boots hit the makeshift runway as model's donned colour-blocking fabrics and patterns. It was futuristic, it was bold, it was "evolutionary sportswear," as Tim Blanks of Business of Fashion puts it. The clothes really did say something, not something most people predicted upon the presentation.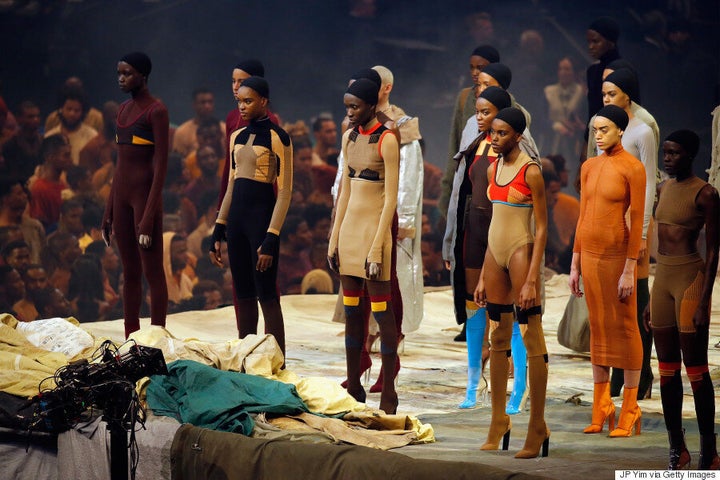 Adorned in angelic crystals and furs by Balmain's Olivier Rousteing, the Kardashian-Jenner clan looked like royalty amongst a minimal sea of bodycon. Kim, Khloe and Kourtney Kardashian, along with sisters Kylie and Kendall Jenner, were all there in full support. And Kanye wasn't the only one to debut something on the big night, wife Kim Kardashian emerged sporting long, platinum blond hair.
First thing's first: the models weren't models. Kanye used real people in his show. Thousands of them. Different races, different body types, different genders. Kanye's show was a shoutout to the people who have been excluded from fashion's high-brow facade that has been embedded in the minds of so many. Yeezy Season 3 opened the door (literally, Kanye sold tickets to the show as if it were a concert) to so many and gave the message that all were welcome, and all could be themselves. Models raised clenched fists as Kanye's music boomed through the stadium, images that can only speak for themselves.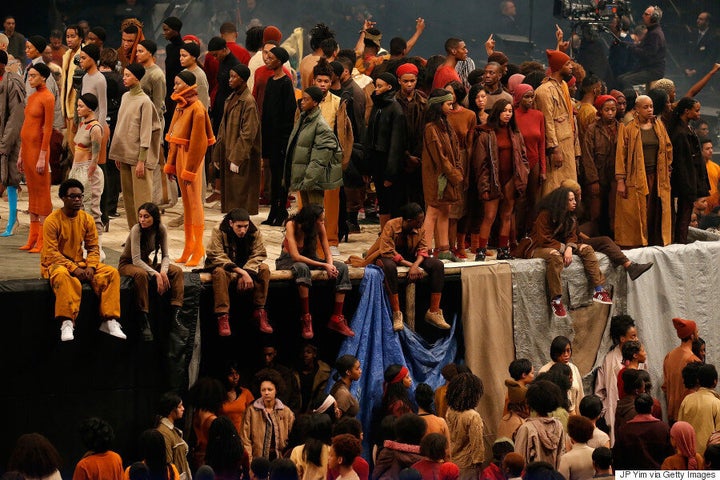 Draped in floor-length fur coats, Kanye West recruited '90s supermodels (and queens) Naomi Campbell and Veronica Webb to bring a little flair to his cast of statuesque models. The models all appeared in matching black unitards and stood next to young newcomers who may not have even realized the power these woman had in the early days of fashion.
Showing true willpower, the Yeezy Season 3 cast stood motionless for the entire duration of "The Life of Pablo" album, showing off the clothing as Kanye wished to present them. Some models went against the grid and took it upon themselves to lounge around the stage and smoke weed. Was that planned? Maybe. But it brought a sense of life to the collection, a relatability amongst Kanye and his fans.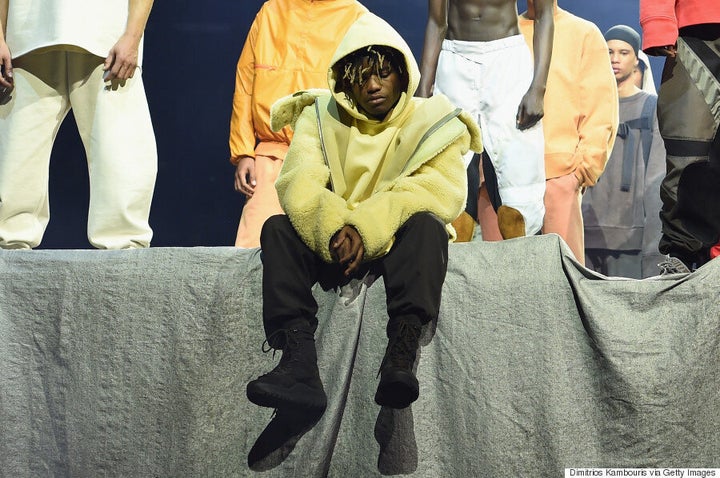 And leave it up to Twitter to find this very long rumoured list of rules that each model had to follow:
NO LOOKING AT THE JUMBOTRON!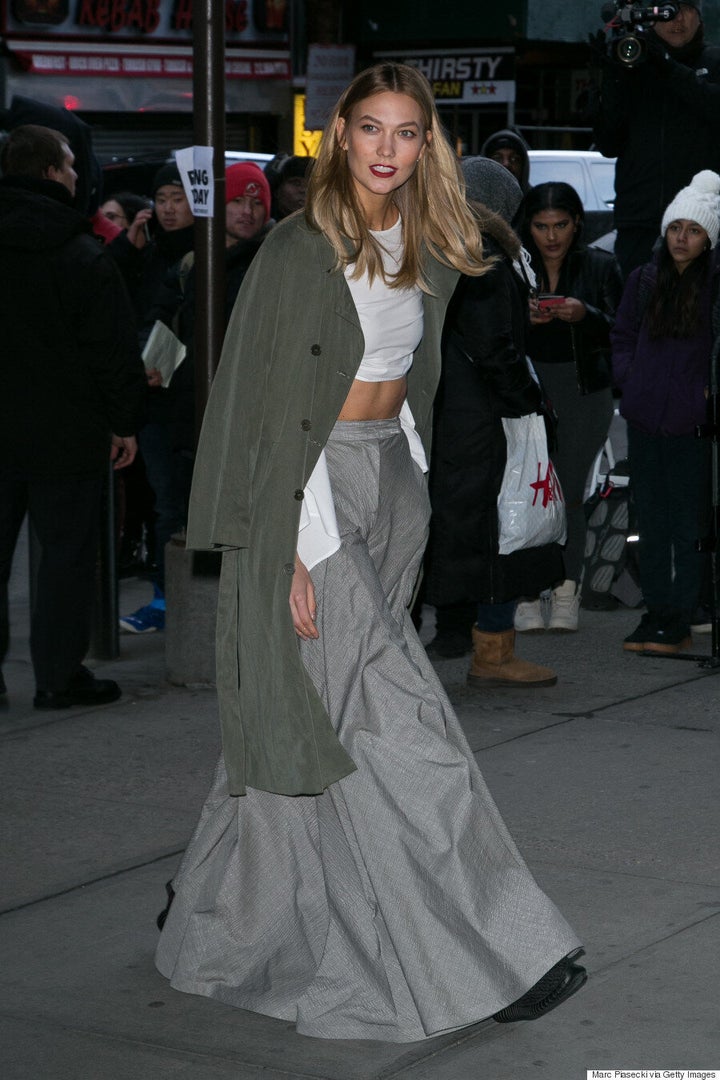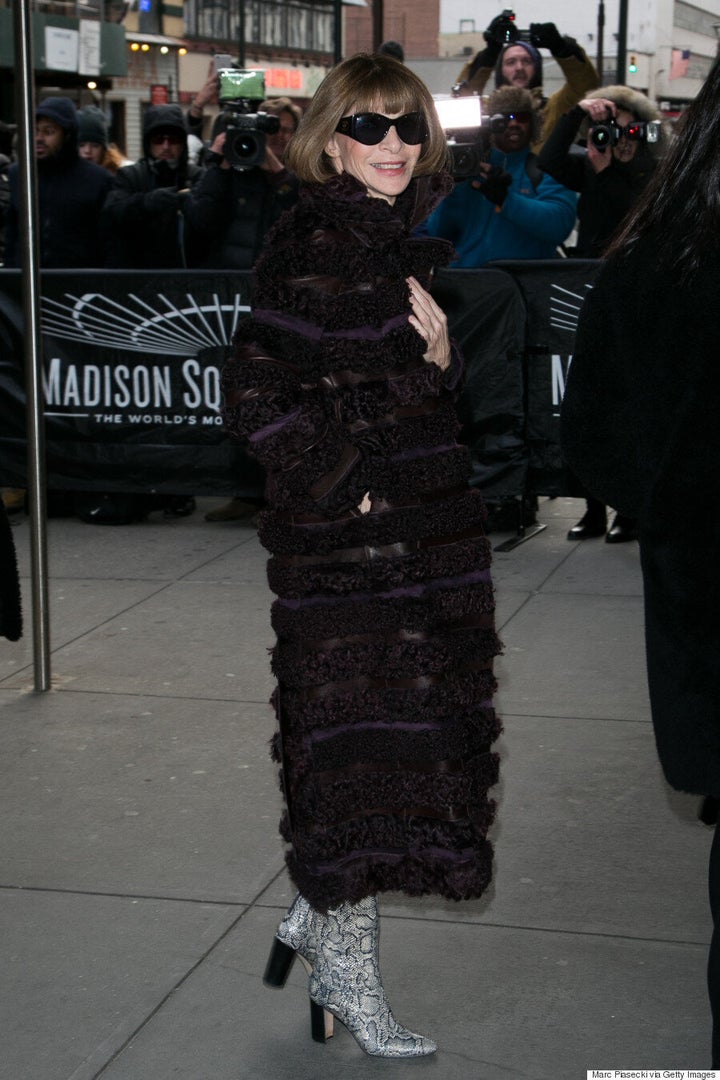 Walking in both Season 1 and 2, we expected to see the youngest member of the Kardashian-Jenner clan sporting Yeezy threads on Thursday. But alas, the 18-year-old was seated next to her sisters, baring a Yeezy x Balmain beanie while dancing.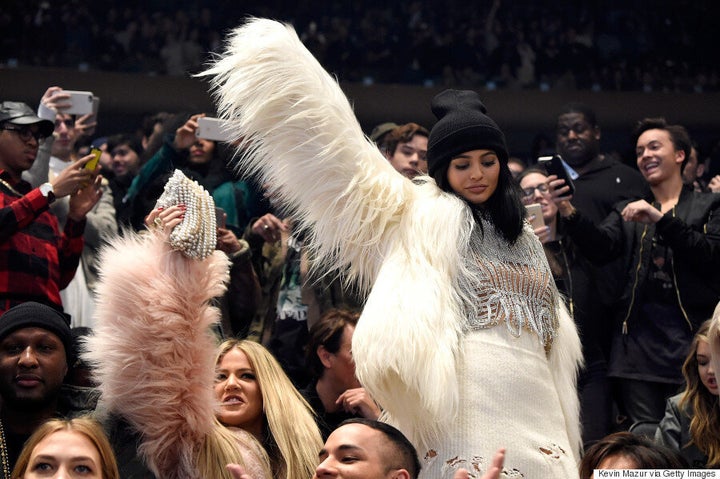 Taylor Swift, you just got some major shade thrown at you. As the Kanye-proclaimed "gospel album" powered through the sports arena, many were caught off-guard (including Kris Jenner) when a scandalous lyric about Swift played. The only person who wasn't phased? Little North West who was shaking what her mama gave her in the most darling outfit.
"The Life of Pablo" already had merchandise available in the forms of tee, sweat, hoodies and hats. Get 'em while you can, Yeezus fans!
And hey, it's not the first time Kanye has shared that dream with us:
Check out the slideshow below to see moments from Yeezy Season 3: