In true Drake fashion, Zach LaVine went back-to-back, winning the Slam Dunk Contest for the second year in a row.
It was face off between four dunkers: Denver Nuggets' Will Barton, Detroit Pistons' Andre Drummond, Orlando Magic's Aaron Gordon and the reigning champ, Minnesota Timberwolves' Zach LaVine.
"There's a lot of superstars in this building, but this is the star of the show," one announcer quipped looking on the Verizon Slam Dunk Contest, and he could not be more right. Of all the skills competitions, from this year's NBA All-Star weekend, the dunk contest was a gem.
It came down to Gordon and LaVine who tied the third round, but then LaVine beat him out by just three points in the final sudden death round, winning with 100 points.
The 20-year-old guard was declared the slam dunk victor for the second year in a row, but Gordon was definitely a contender.
He may not have won, but Aaron Gordon definitely had the #PlayOfTheNight with this NASTY slam! Powered by @JBLAudio https://t.co/p79rxpA7Qd

— NBA (@NBA) February 14, 2016
Still, LaVine took the it home in the end, his technique wowing the judges throughout the rounds. First came this single-handed behind-the-back reverse dunk.
Zach'tin #VerizonDunk #NBAVine https://t.co/2dwl0MUx1n

— NBA (@NBA) February 14, 2016
And of course he finished with this one:
SLAM DUNK CHAMP x2!! #VerizonDunk #RisingWolves https://t.co/Gm5qLHMcX7

— Timberwolves (@Timberwolves) February 14, 2016
But like some of us, Toronto's very own Twitter-savvy city councillor, Norm Kelly, was strictly here for the reaction GIFs.
As LaVine made the dunk that won him the contest, his teammates on the Timberwolves couldn't contain themselves and bolted onto the court.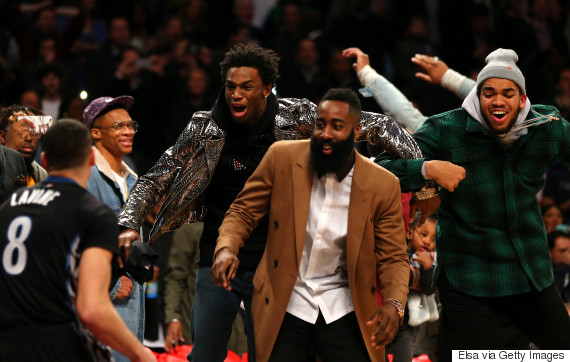 And time and time again, Andrew Wiggins and Karl-Anthony Towns gave us priceless reaction, after priceless reaction.
Highlight of the night. #NBAAllStarTO https://t.co/u1GjHPV0V6

— Norm Kelly (@norm) February 14, 2016
Really, everyone in the place was dumbfounded for the whole night:
Pretty much sums up this year's #VerizonDunk Contest. pic.twitter.com/qGygf4Lmid

— NBA SKITS (@NBA_Skits) February 14, 2016
Tonight's reactions, ranked:

5) CHECK OUT MAGIC'S FACEpic.twitter.com/4BuzyOSH7a

— Faizal Khamisa (@SNFaizalKhamisa) February 14, 2016
Also on HuffPost
Slam Dunk Contest NBA All-Star Weekend 2016