TORONTO — Premier Kathleen Wynne says jobs and the economy are her top priorities when the Ontario legislature resumes sitting Tuesday, but the opposition parties say the Liberals are on the wrong track for both. Wynne says Ontario's diversified economy is now leading Canada in foreign direct investment and in economic growth, and promises the upcoming budget will look at ways to keep the province on top. "You will see in our budget that our focus is on how we can work across the province to make decisions that will allow for growth in communities and to work with businesses to allow us to continue to lead the country," she said last week. The budget is also expected to include details on more liberalized wine sales, following last year's move to allow some grocery stores to sell six packs of beer, and will firm up the Liberal plan to eliminate the $7.5 billion deficit in just two years, as promised.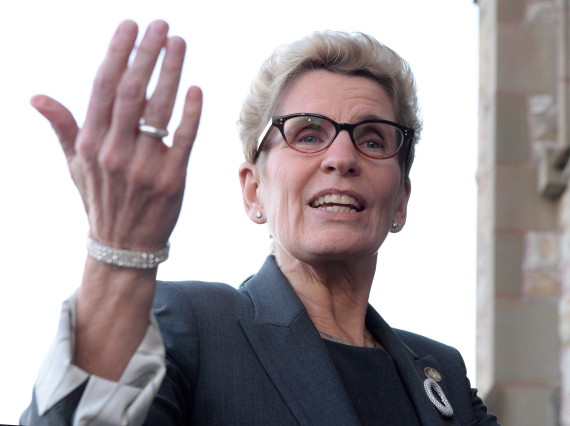 Ontario Premier Kathleen Wynne speaks to reporters as she arrives at the First Ministers meeting at the Canadian Museum of Nature in Ottawa on Nov. 23, 2015. (Photo: Sean Kilpatrick/Canadian Press)
The government would not comment on reports the budget could be introduced as early as Feb. 25, two months earlier than last year's fiscal plan. The Progressive Conservatives say soaring electricity rates have made Ontario hostile to business, and warn the Liberals will kill jobs and slow growth with their provincial pension plan — which the Tories call a payroll tax — and their cap-and-trade system to put a price on carbon, both of which take effect next January. "If you listen to any employer in the province, they're saying the payroll tax would put an additional burden on businesses," said PC Leader Patrick Brown. "A carbon tax that is not revenue neutral, a tax that is simply a revenue grab for the government, would be another challenge for businesses trying to create jobs." The Tories, fresh off a byelection win last week in Whitby-Oshawa, also plan to go on the attack about criminal charges that were laid against two former top aides to Dalton McGuinty during the Christmas recess in connection with deleted government emails.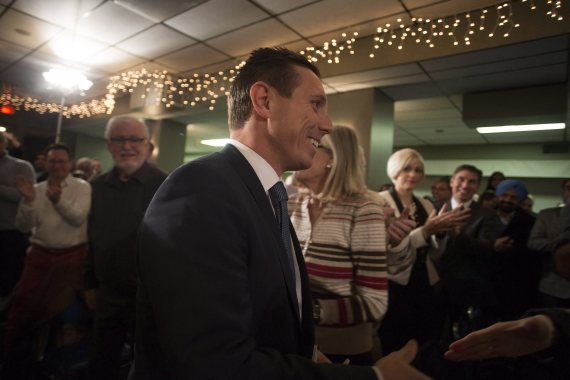 Ontario Progressive Conservative Leader Patrick Brown greets supporters as he makes his way to the podium to deliver a speech to introduce PC candidate Lorne Coe, after he won the provincial byelection in the Whitby-Oshawa, in Whitby, Ont., on Thursday. (Photo: Chris Young/Canadian Press)
"We're looking for Kathleen Wynne to explain to Ontario how she's going to bring transparency to government, how she's going to bring honesty and integrity to government, because when you see four OPP investigations, multiple criminal charges, that people frankly expect a lot better from the government," said Brown. The New Democrats also intend to ask Wynne about the charges laid against McGuinty's former chief of staff and deputy chief, David Livingston and Laura Miller, both of whom have denied the allegations. "We're going to be probing that as well," said NDP Leader Andrea Horwath. The NDP will also hammer away at the government's plans to sell 60 per cent of Hydro One, even though 15 per cent of the giant utility has already been sold, warning the privatization will drive electricity rates even higher.
"There's still an overwhelming rejection of Kathleen Wynne's sell-off of Hydro One."
"There's still an overwhelming rejection of Kathleen Wynne's sell-off of Hydro One, so our goal is to get the government to stop at the 15 per cent," said Horwath. The Liberals plan to use the revenue from the Hydro One sale to help fund their $134 billion, 10-year plan for infrastructure and transit projects, and insist it won't impact electricity rates which are set by the Ontario Energy Board. The New Democrats also want to ask Wynne why she recently described her 2013 budget commitment to lower auto insurance rates an average of 15 per cent over two years as a "stretch goal" after premiums dropped by less than half the promised amount. "We have a system that is working for the insurance companies and hauling in a heck of a lot of profits for them, while people are struggling to keep their cars on the road," said Horwath. Follow @CPnewsboy on Twitter  
Also on HuffPost