During any award show, there are the moments you expect: Taylor Swift dancing awkwardly, wardrobe malfunctions and thank yous for parents and God.
But this year's 58th Grammy Awards show was rife with mind-blowing tributes and performances, a rapped acceptance speech from a musical theatre troupe and some healthy doses of shade.
In case you missed out, here is a round up of the moments from the 2016 Grammys that will be seared in our memories for at least the next week.
The look of approval on Lionel Richie's face as Demi Lovato nailed her rendition of "Hello" for Richie's tribute performance.
Lionel Richie's reaction when Demi Lovato was singing her tribute to him! Legend approved. pic.twitter.com/AM7v1fjgtI

— Shady Music Facts (@musicnews_shade) February 16, 2016
Stevie Wonder announced song of the year with the winner written in braille for him. But before shared an important message: "We need to make every single thing accessible to every single person with a disability."
Important words from Stevie.https://t.co/CMOrtjceDk

— billboard (@billboard) February 16, 2016
Kendrick Lamar gave a powerful performance hand-cuffed with his band and dancers behind bars. An "overtly political" statement on the struggle of black Americans and a much-deserved standing ovation.
Adele wowed us, then shouted out Kendrick at the end of her own incredible performance. Real really does recognize real.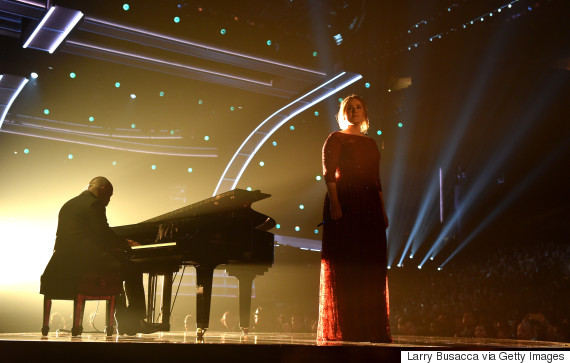 "I love you Kendrick, you're amazing."
The cast of Hamilton absolutely lost it when they won the Grammy for "Best Musical Theater Album."
But got it together in time to rap their acceptance speech.
Taylor Swift said no names, but we bet she's talking about Kanye West's diss about her in his new song during her acceptance speech for "Album of the Year".
Well, now we know what @taylorswift13 thinks of that @kanyewest line. #GRAMMYshttps://t.co/sgRdbM3iNo

— Mashable News (@MashableNews) February 16, 2016
And now we await West's come back ...
Kanye is literally drafting up a 17493958 tweet thread up right now... about Taylor Swift!! pic.twitter.com/e7cpyOknFk

— Bey-ond (@OITNB_Beyond) February 16, 2016
The only thing this show was missing, sadly was Rihanna. The songstress had to bail due to a case of bronchitis.
#NAVY so sorry I couldn't be there ..... Thanks Grammys and CBS for your support tonight.

— Rihanna (@rihanna) February 16, 2016
Everyone would have traded Pitbull's "El Taxi" performance, for a sick Ri-Ri.
Grammys: Pitbull, Rihanna cancelled tonight...think you can come through? Pitbull: Just pulled up in a taxi.

— Fatima Reyes (@fatimareyes) February 16, 2016
I watched Pitbull play the song Taxi, and instantly called Uber

— andyroddick (@andyroddick) February 16, 2016
But we will always have Lady Gaga's tribute to her idol, the late rock icon David Bowie.
May you all fall asleep tonight remembering @ladygaga's #GRAMMYs crotch-grab. 😂😘 https://t.co/xv2CJHeapc

— Andrew Lovesey (@lovesey) February 16, 2016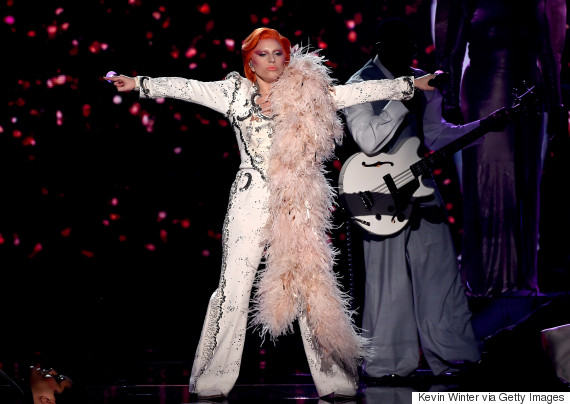 Rock on, good people. Rock on.
Also on HuffPost
Grammys 2016 Red Carpet Photos