Jupiterimages via Getty Images
OTTAWA — Falling prices for the petroleum and coal sector helped sink manufacturing sales by 1.5 per cent last year, the first annual decrease since 2009, Statistics Canada said Tuesday.
That came despite momentum late in the year, as sales increased 1.2 per cent in December to $51.6 billion, the second consecutive monthly gain.
Economists had expected an increase of 0.7 per cent for the month, according to Thomson Reuters.
Statistics Canada said manufacturing sales totalled $609.5 billion for 2015, down from $619.1 billion in 2014, due to a plunge in petroleum and coal products.
That sector sank 28.6 per cent as the average price of refined petroleum products fell 22.3 per cent.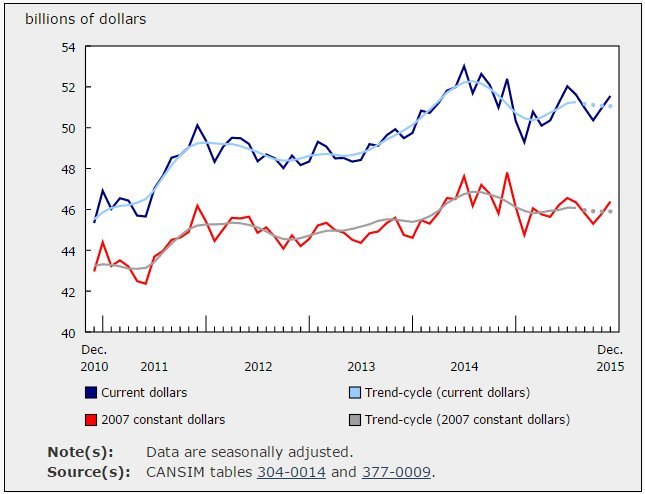 Manufacturing sales in Canada are lower than they were a year ago, the first time that has happened since the financial crisis of 2009. (Chart: StatsCan)
Excluding petroleum and coal products, Canada's manufacturing sales grew 2.6 per cent last year.
The Canadian economy fell into recession in the first half of last year as the GDP contracted for the first two quarters of 2015, hit hard by the drop in oil prices. Growth picked up in the third quarter last year, but economists have raised concerns about the last quarter of 2015.
Statistics Canada said Tuesday that manufacturing sales last year increased on an annual basis in 12 out of 21 industries with transportation equipment showing the largest gain.
Sales of motor vehicles rose 9.1 per cent as the lower loonie relative to the U.S. dollar contributed to the increase, although the number of vehicles produced was down in 2015. Motor vehicle parts sales were up 8.9 per cent, while plastics and rubber products gained 5.4 per cent.
The monthly increase in December was led by growing sales for the motor vehicle and wood products industries. Sales fell for petroleum and coal products.
In constant dollar terms, sales rose 1.3 per cent, suggesting a higher volume of goods was sold.