Kanye West might think he made Taylor Swift famous, but the 26-year-old songstress wants everyone to know she's successful because she put in the work.
For her Album of Year acceptance speech, the 10-time Grammy winner made a point of responding to West's controversial lyrics in which he calls Swift a bitch and takes credit for her fame.
"As the first woman to win album of the year at the Grammys twice, I want to say to all the young women out there: there are going to be people along the way who will try to undercut your success or take credit for your accomplishments or your fame, but if you just focus on the work and you don't let those people sidetrack you, someday when you get where you're going. You'll look around and you'll know it was you and the people who love you who put you there and that will be the greatest feeling in the world," Swift said at the end of the award show.
Despite his harsh lyrics, West took to Twitter last week to say his new track "Famous" is not meant as an insult to Swift. The 38-year old rapper published a series of tweets defending his song and even suggesting that he spoke to Swift about it before it was released.
It's been an up and down road for Swift and West, who got off to a bumpy start in 2009 when West cut off Swift during her VMA's acceptance speech. In 2015 West apologized for the incident and the two shared praises for each other on social media, even saying they would run for political office together.
Only time will tell if the bad blood between these two will continue.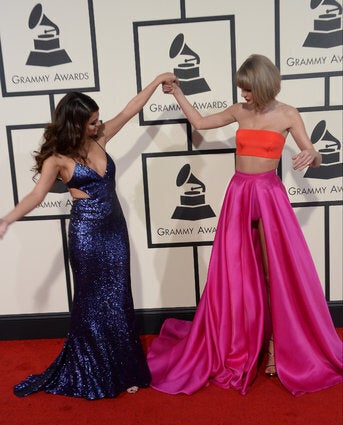 Grammys 2016 Red Carpet Photos