When Pyer Moss designer Kerby Jean-Raymond showcased his "Black Lives Matter"-inspired collection last season at New York Fashion Week, it became one of the most talked about and prominent shows of the spring 2016 season.
Shortly after showcasing the collection, however, Jean-Raymond fell into a period of depression.
"It was freeing to be able to create that collection and I have no regrets, but I went through the emotions," the 28-year-old designer told Mashable on Saturday. "I just felt like you kind of accidentally typecast yourself by speaking out. Was I going to be defined as a black person first, designer second?"
This led to the inspiration behind his fall 2016 collection, titled "Double Bind," which tackled mental health, particularly in the black community, head on.

"The Black experience in America is the ultimate double bind; a place where natural-born citizens live an immigrant experience in the only land they've known as home. A place where Black culture is praised, commodified, and appropriated, while Black people are criticized, vilified, and hunted for sport.
"A certain functional schizophrenia has to exist to cope with the dissonance of having a Black man in the White house while a Black body lies for four hours in the streets of Ferguson," reads a statement from the brand, according to Refinery 29.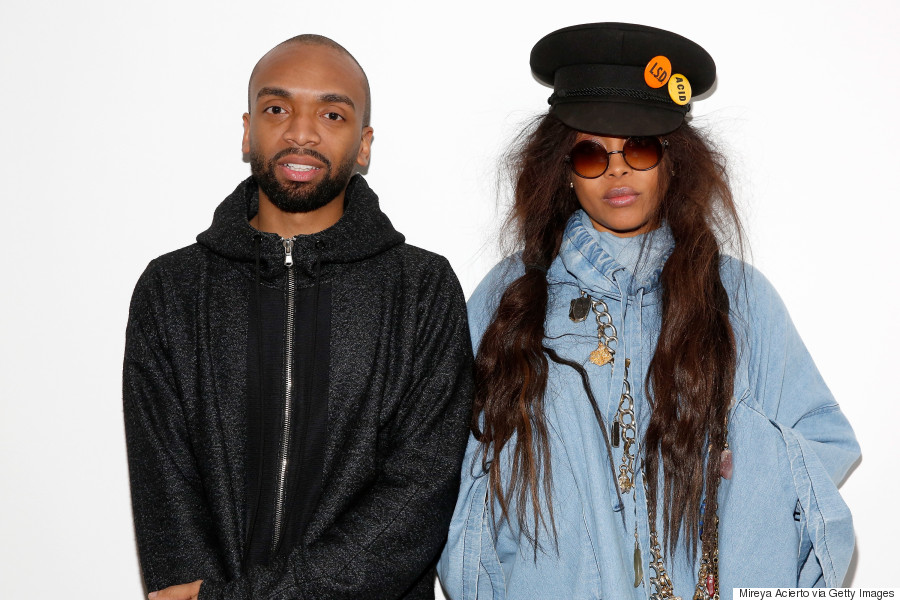 Fashion designer Kerby Jean-Raymond and stylist and singer-songwriter Erykah Badu pose backstage at the Pyer Moss Fall 2016 fashion show.
Styled by Grammy Award-winning artist, Erykah Badu, the show saw models walking down the runway to the sounds of a live choir singing Fetty Wap's "RGF Island" and Future's "Trap N*ggas."

Models emerged sporting drawstring trousers and suit jacket combos and oversized outerwear adorned with phrases such as "You don't have any friends in LA," "Why so blue?" and "Suffer no more." Refinery 29 describes the clothing combos as a "juxtaposition of police and their prey."
Buttons with the names of drugs and substances used to treat mental illness written across were added to the items, including hats styled after those worn by chauffeurs and other working-class professionals, to "communicate that working-class people deal with depression every day," HuffPost reports Badu explaining.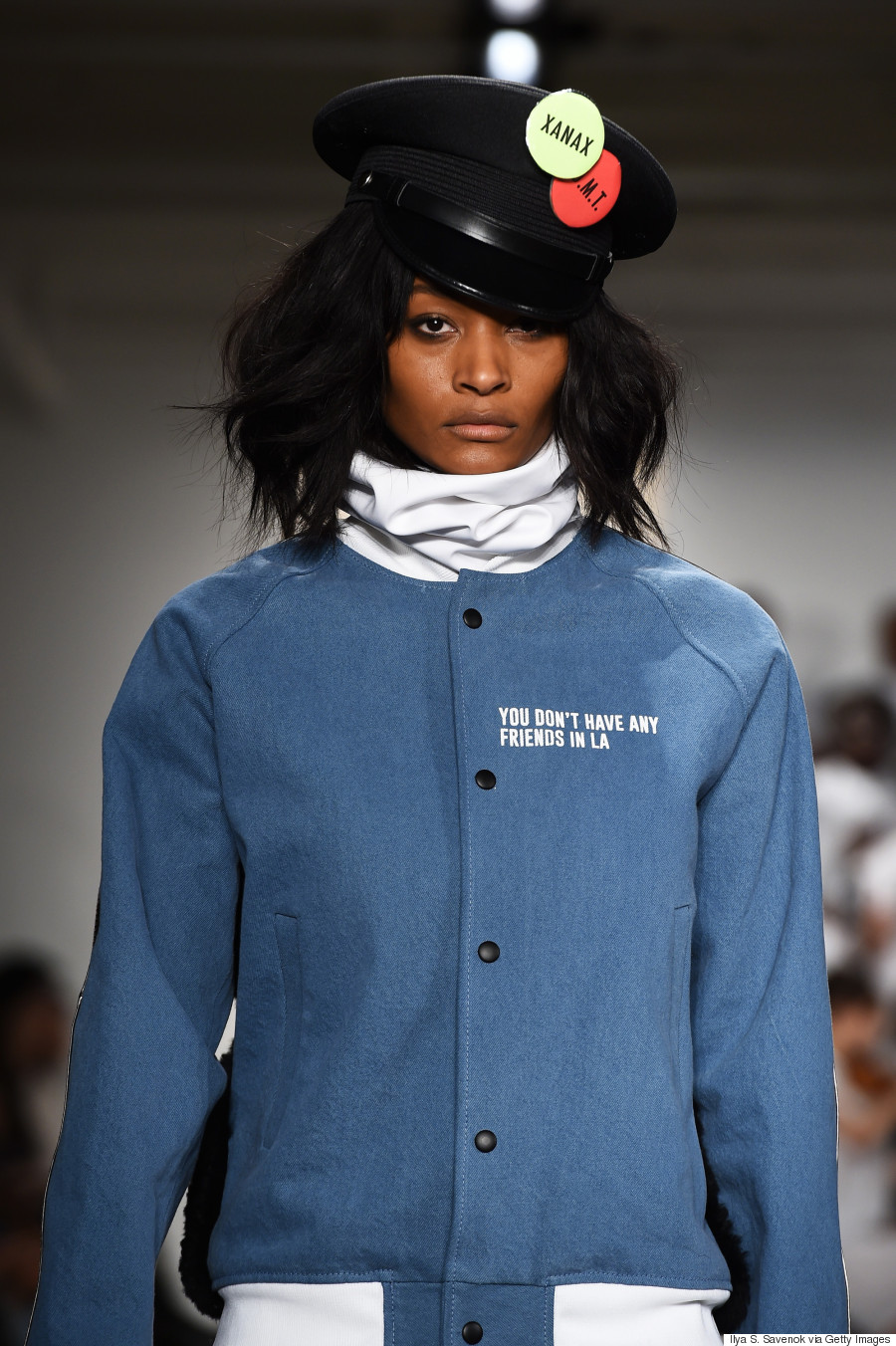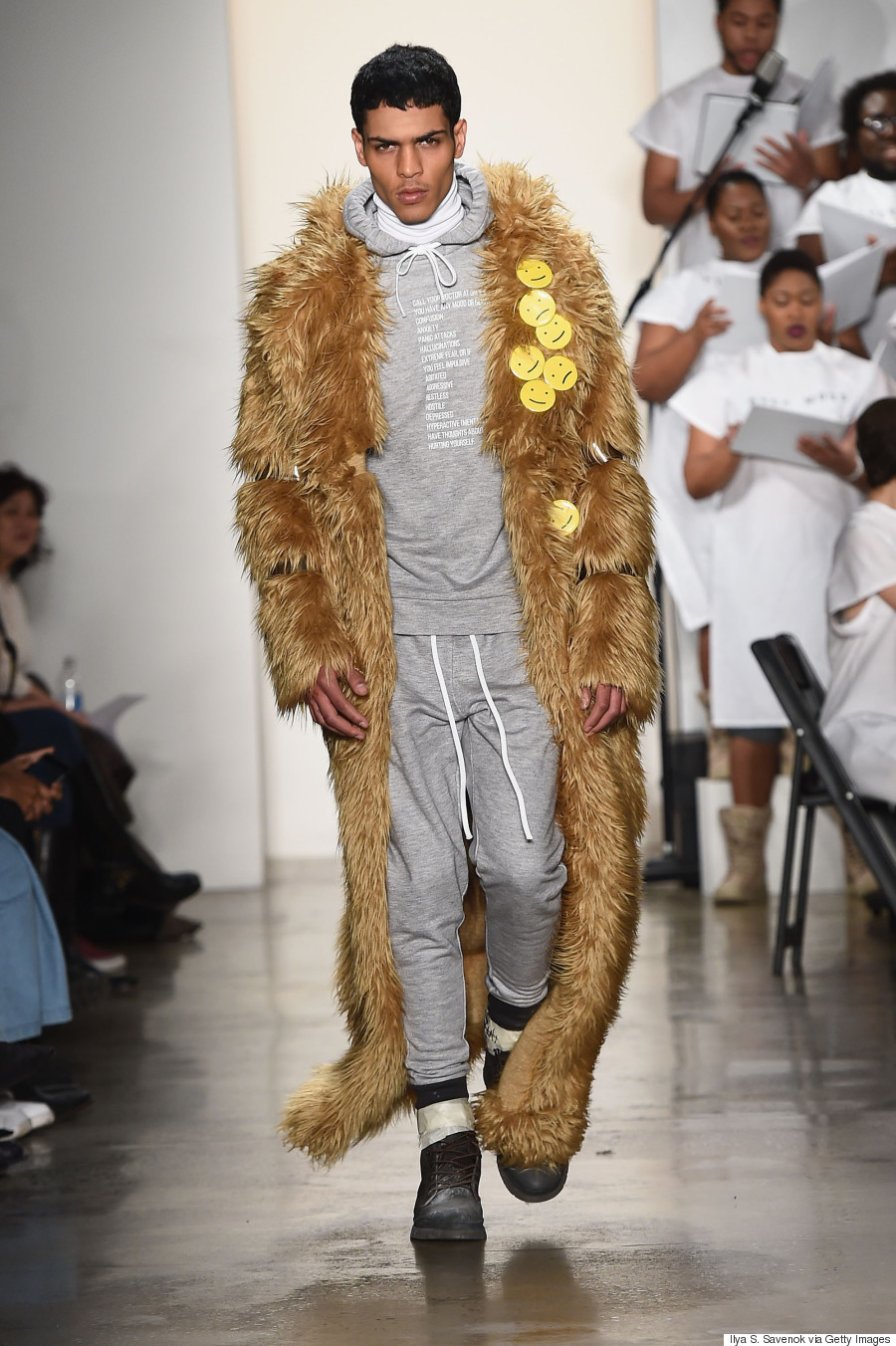 But the most powerful statement of all was seen in the last look, where a model held a sign that read, "My demons won today. I'm sorry." — the very words written on the last Facebook status shared by MarShawn M. McCarrel II, the Black Lives Matter activist and founder of Pursuing Our Dreams, who killed himself on Monday.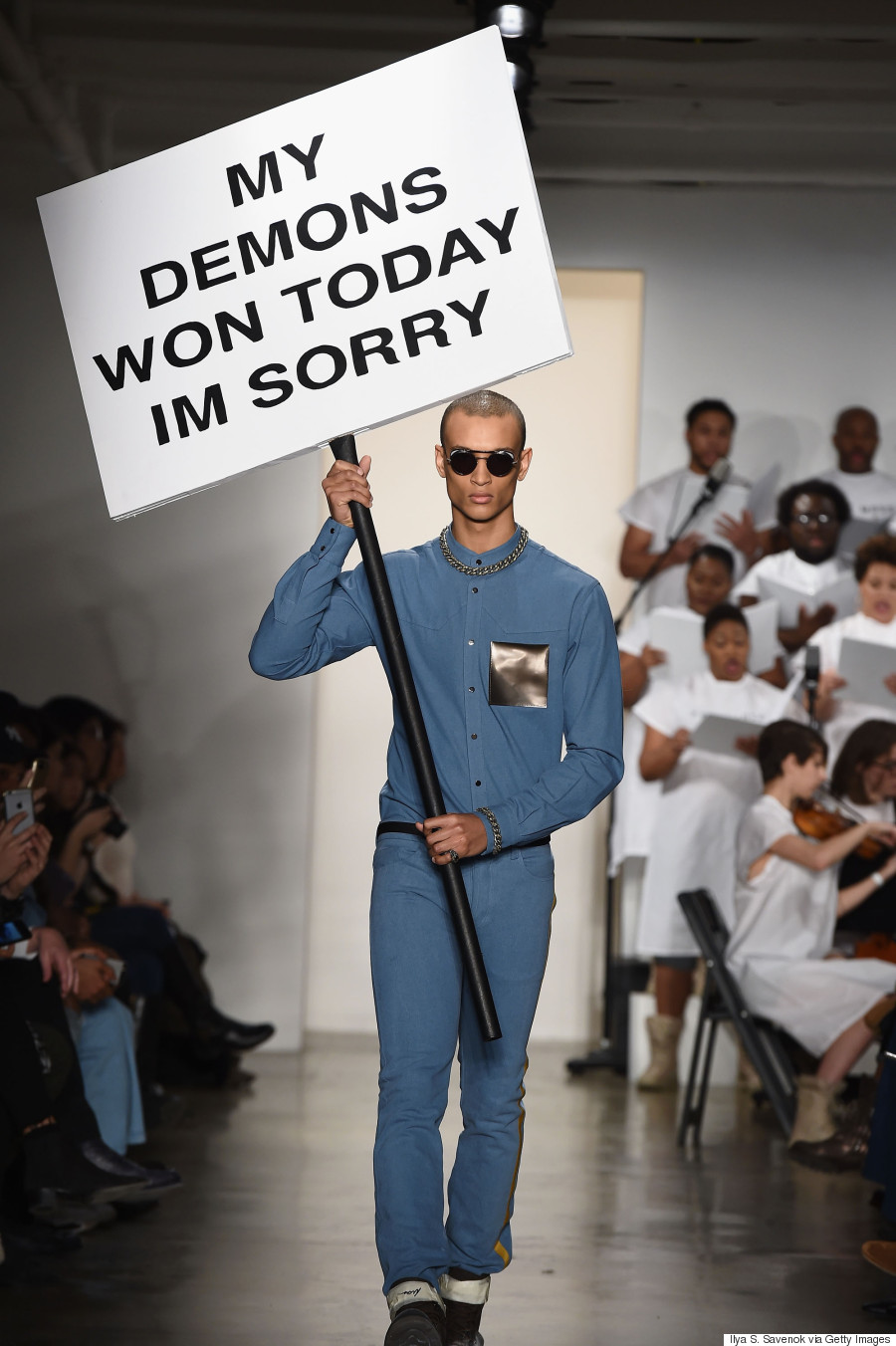 "I think the whole world is depressed," Badu told HuffPost Style, while noting she hasn't personally suffered from clinical depression. "We mask it in different ways — technology is one of the ways we've found as a group to mask it. Normal bouts of depression are very common — for all of us — and we don't really discuss it and talk about it, we just kind of numb it some kind of way."
As HuffPost notes, mental illness is seen as "taboo" in the black community, so when a designer uses the huge platform of the runway to shed light on the issue, there's hope the message can spread even wider.
You can check out more of the photos from the show below:
Are you in crisis? Need help? In Canada, find links and numbers to 24-hour suicide crisis lines in your province here.
Follow Huffington Post Canada Style on Pinterest, Facebook and Twitter!