MONTREAL — Quebec's culture minister is asking the province's film industry to withdraw Claude Jutra's name from its annual awards show amid allegations he slept with young boys. Helene David is also seeking a list of all the places in Quebec that bear his name so municipalities can decide whether to keep them. David's comments this morning come after La Presse quoted a man as saying Jutra began touching him when he was six years old and that the abuse escalated over a 10-year period. Montreal Mayor Denis Coderre also announced today the city would move to withdraw Jutra's name from various locations. A biography released Tuesday says Jutra had a penchant for sleeping with young boys.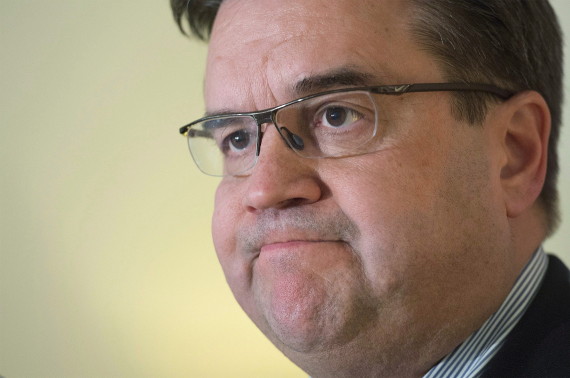 Montreal Mayor Denis Coderre speaks during a news conference in Montreal, Dec. 21, 2015. (Photo: Graham Hughes/Canadian Press)
Jutra committed suicide in 1986 after battling Alzheimer's disease. The Jutra Awards, which recognize the best in Quebec cinema, have been named after him for nearly 20 years.  Several renowned Quebec film directors who have won awards named after Claude Jutra stayed out of the spotlight Tuesday when asked to comment on allegations the movie pioneer slept with young boys. Spokespeople or agents for Xavier Dolan, Robert Lepage and Ricardo Trogi said their clients didn't want to discuss the revelations contained in a new Jutra biography written by Yves Lever, a longtime cinema critic and professor. The allegations in "Claude Jutra, biographie" have upended the province's film world and forced Quebec Cinema, the agency that runs the movie industry in Quebec, to form a committee to determine whether to keep its awards show named in Jutra's honour.
"Multiple sources confirmed that a lot of people knew Jutra liked young boys."
Telefilm Canada, the federal agency that sponsors the Claude Jutra Award, given by the Academy of Canadian Cinema and Television for the year's best feature film by a first-time director, also didn't want to comment. That award, which began in 1993, is separate from the Quebec ones. The academy issued a brief release on the matter Tuesday. "We have no further comment at this difficult time," Helga Stephenson, the organization's CEO, said in the statement. Lever, who did not want to grant interviews Tuesday, writes that in the province's movie industry "multiple sources confirmed that a lot of people knew Jutra liked young boys." Lever notes that, while filming, especially in outlying regions, "promiscuity makes secrets impossible."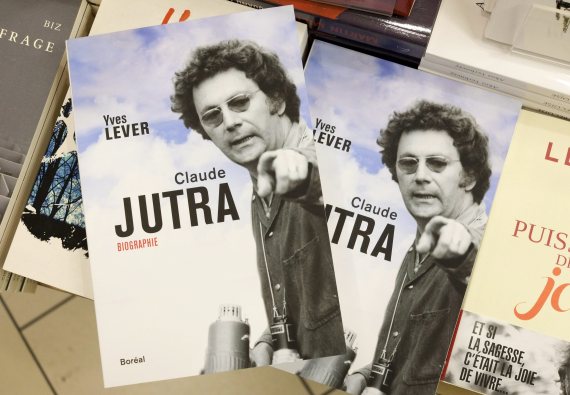 The biography of Quebec filmmaker Claude Jutra by author Yves Lever is seen in a bookstore on Tuesday in Montreal. Telefilm Canada says it will allow Quebec's film industry to take the lead on what to do about awards bearing the name of a famous director accused of sleeping with young boys. (Photo: Paul Chiasson/Canadian Press)
"One realizes quickly that Jutra had a penchant for younger boys," Lever writes. "Out of friendship for the director, no one discussed the issue with him and everyone respected his lifestyle without asking too many questions." He adds that Jutra's friends found it "charming to watch him play with their children." "However, one of them, Pierre Patry, told me he and his wife never let (Jutra) alone with their boys." Lever told Radio-Canada this week that Jutra, whose body of work included 'Mon oncle Antoine' and 'Kamouraska,' "especially liked boys of 14 or 15 and even younger." No complaints were ever filed with authorities.
"Out of friendship for the director, no one discussed the issue with him."
Until 2008 the age of sexual consent in Canada was 14 before it was raised to 16. Virginie Bazin of the agency that represents Dolan said the director "won't be commenting" on the allegations. Dolan has won several Jutra awards including the 2010 and 2015 best film prizes for "J'ai tue ma mere" and "Mommy," respectively. Edouard Garneau, a spokesman for Lepage, said "As it is much too early to comment (on) this situation, Robert Lepage will express no comments about the subject." Lepage won a Jutra in 2001 with "Possible Worlds'' in the category of most successful film outside Quebec. Calls into Quebec director Denis Villeneuve and actor Colm Feore, who have both tasted Jutra glory, were not returned. Jamie M. Dagg is one of the most recent recipients of a Jutra award, given to him in early February by the Academy of Canadian Cinema and Television for his first feature film, "River."  Catherine Simmonds, a spokeswoman for the company that distributed the movie, said the director had no comment.