Northern Alberta is not exactly a hotbed for outdoor movie theatres, but one film-lover used the chilly weather to his advantage.
Graham Whatmough, an adventure photographer in Fort McMurray built his own outdoor theatre to showcase his work and that of other local filmmakers.
"I really love being outdoors, so any excuse to play in the snow is great," Whatmough told The Huffington Post Alberta.
He built the screen over a week by creating a large pile of snow, compacting it, and cutting it into blocks.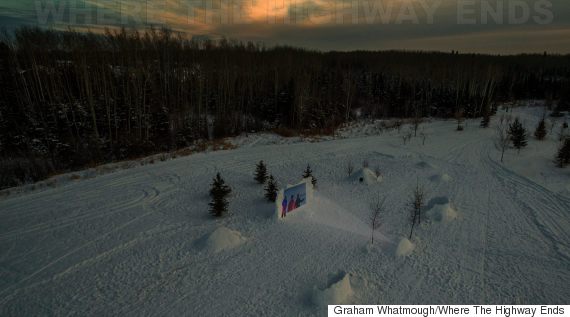 (Photo: Graham Whatmough/Where The Highway Ends)
Whatmough then stacked and staggered the blocks and filled in the cracks.
The amphitheatre measured six metres wide and almost three metres high when it was finished, plus three booths for the audience. There was also space for people to sit on the ground or on lawn chairs.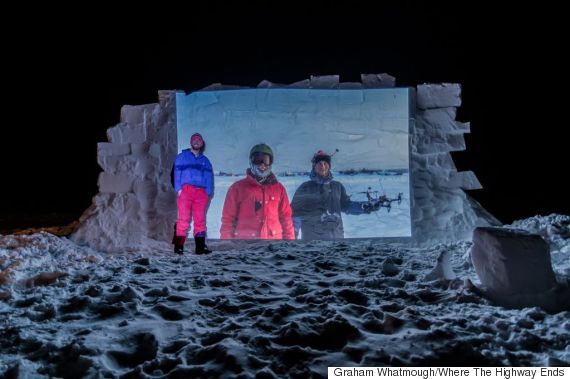 Graham Whatmough stands in front of his snow theatre in Fort McMurray, Alta.(Photo: Graham Whatmough/Where The Highway Ends)
Warm weather and rain in late January caused the theatre to melt, but Whatmough says he's building a bigger and better version.
It will be in a larger public space, and a snow removal company has dropped off a bunch of snow for him to use.
"I will have a radio transmitter set up, so it will be a drive-in made of snow. They'll be able to watch and listen from the warmth of their vehicles."
Inspired? Whatmough has written up instructions for anyone interested in trying it themselves.
Like Us On Facebook

Follow Us On Twitter

Also on HuffPost:
Alberta Winter Activities