OTTAWA — After dodging questions all week, Finance Minister Bill Morneau will reveal the size of the government's deficit on Monday, The Huffington Post Canada has learned.
A senior government source said Prime Minister Justin Trudeau and his team are living up to their promises of being open and transparent with Canadians about the state of the nation's finances.
During the last election, Trudeau said his government would run modest deficits of up to $10 billion and would balance the books by 2019-20.
He has since hinted those deficits will be larger and he may not be able to bring the country back into black during his four-year mandate.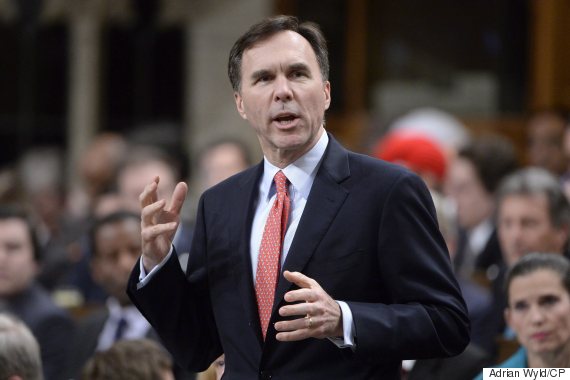 Finance Minister Bill Morneau speaks in the House of Commons Thursday. (Photo: Adrian Wyld/CP)
Earlier this week, Conservative finance critic Lisa Raitt hammered the Liberals over their broken promises and demanded to know if the deficit would run as high as $30 billion.
Morneau avoided her question about the deficit cap and said answers would lie in the 2016 budget.
"We believe that the right question to ask is, 'What are we going to do in order to improve the economy for all Canadians?'" he responded, to jeers from Tory MPs.
"We were elected on a plan to grow the economy in order to help those Canadians that are struggling, that are most vulnerable, and those middle class Canadians to do better," Morneau told the Commons.
The Liberal campaign platform includes almost $146.5 billion over four years in new spending and tax breaks.
"We believe that the right question to ask is, 'What are we going to do in order to improve the economy for all Canadians?'"
— Finance Minister Bill Morneau
Monday, Morneau is expected to reveal to an Ottawa town hall how big the size of the deficit would be -- without the Liberals new spending proposals.
That figure will include two major already-announced programs that have cost more than the Liberals expected — the settlement of Syrian refugees and a middle-class tax cut. Those two items amount to close to $2 billion in new funding.
"The budget isn't written yet but this will give a sense of the changes in the [country's] economic situation," another source said.
The deficit projection will be based on forecasts by private-sector economists whose numbers are used as the basis for the government's fiscal plans.
After Morneau met with them last week, the Finance department's news release noted that global economic developments were "more negative" than expected in November's economic and fiscal projections. At that time, Morneau had said the Liberals were still committed to a balanced budget in 2019-20.
Trudeau faced 'what if' question on campaign trail
On the campaign trail in August, when Trudeau announced his plan to run deficits in order to fund more infrastructure projects, he was asked what he might do if the economy took an unexpected dive.
"What the economy needs is a plan for growth and investment, and what Canadians need are leaders who will tell them the truth. And that's exactly what I am going to do," he responded on Aug. 27.
He later said that if things did become "radically worse," he would revise the deficit projections.
"We always said we would run modest deficits," he told a town hall event in Toronto. "And we also said if the situation becomes radically worse, we would revise those numbers."
With files from Ryan Maloney
Also on HuffPost
Longest-Serving Current MPs