Someone was clearly paying attention during a class field trip to the fire department.
Five-year-old Cloe Woods from Kenner, La., is being hailed as a hero after she led her blind grandmother to safety during a house fire on Wednesday, CBS affiliate WWL-TV reported.
The stove caught fire at her family's home early in the morning, setting off the smoke alarm. But fire safety tips from an October field trip to the Kenner Fire Department were still fresh in her mind four months later.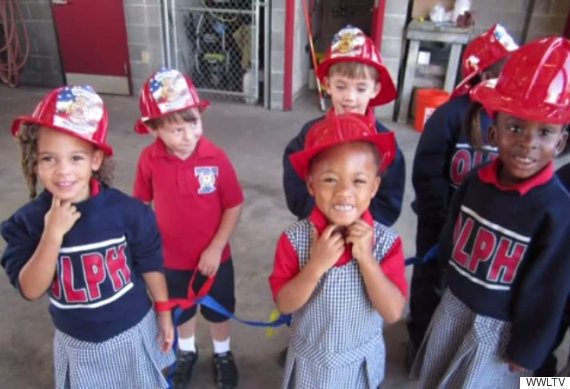 Cloe Woods stands at the centre, wearing a fire helmet. (Photo: Screengrab/WWL-TV)
Woods sprang into action, going straight to her grandmother's room and asking her to put a hand on her shoulder so she could lead her outside. Woods' grandmother insisted on grabbing her shoes, but the precocious kid said no, "they had to get out," according to a GoFundMe page set up to raise money for the family.
Once out of the house, Woods went door to door looking for water so the fire could be put out.
"It's remarkable that Cloe didn't hide, but took action when she heard the smoke detector activate, alerting her grandmother and insisting they go outside," John Hellmers, chief of the Kenner FIre Department, told NOLA.com/The Times-Picayune..
And she made her mother, Shone Arceneaux-Woods, very proud. "I consider her our little hero," she told the website.
The fundraising page had raised $3,260 toward a goal of $5,000 as of Friday morning.
Like Us On Facebook

Follow Us On Twitter

Also on HuffPost:
Photo gallery

Fire safety goats

See Gallery