OTTAWA — The country's top military commander took pains Friday to explain his view of what does — and does not — constitute combat, a definition Gen. Jonathan Vance insists is not custom-made to suit the Trudeau government's political needs.
Vance, Canada's chief of the defence staff, is an expert in military combat, he said — and what the Liberal government is planning to do to help beat back the Islamic State of Iraq and the Levant isn't it.
So-called "advise-and-assist" missions are new enough that some have trouble with the concept, Vance said — a veiled reference to the NDP, which insists on characterizing the rescoped special forces mission in northern Iraq as a combat mission.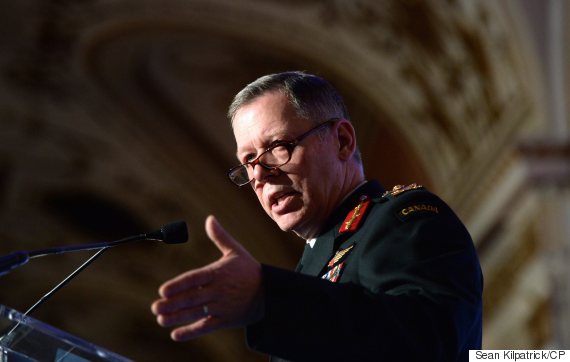 Chief of Defence Staff Jonathan Vance delivers a speech in Ottawa on Friday, Feb. 19, 2016. (Photo: Sean Kilpatrick/CP)
International operations fall under a "broad lexicon — and some people may be uncomfortable with the lexicon, and that's too bad," Vance told the annual Conference of Defence Associations Institute meeting in Ottawa.
"We are using a technique that is relatively new, borne of the lessons of Afghanistan. A 'train, advise and assist' mission clearly falls into the non-combat realm, whereas a combat mission is largely distinguished by the fact we are the principal combatant."
Canada's participation in airstrikes against ISIL targets, a mission launched by the previous Conservative government in 2014 and ended by the Liberals earlier this week, was indeed a combat mission, he added.
"A 'train, advise and assist' mission clearly falls into the non-combat realm, whereas a combat mission is largely distinguished by the fact we are the principal combatant."
The question of whether Canada has been involved in a combat mission has been an open one, prompting heated debate after it was revealed that Canadian special forces trainers sometimes engaged in firefights with ISIL extremists and helped Kurdish forces by guiding in airstrikes.
That debate only got hotter last March when special forces soldier Sgt. Andrew Doiron was killed in a friendly-fire incident last March.
Hot debate after friendly-fire incident
Vance's predecessor, retired general Tom Lawson, endured a House of Commons committee grilling that featured Marc Garneau, the Liberal foreign affairs critic at the time, putting the military's own textbook definition of combat before him.
"It says, 'A combat operation is a military operation where the use — or threatened use — of force, including lethal force, is essential to impose will upon an armed opponent, or to accomplish a mission,"' Garneau said during the January 2015 hearing.
"Is this not what we're doing in Iraq?"
Like Vance, Lawson denied the mission met that definition and that troops themselves were not using their "weapons to compel the enemy," but rather only in self-defence whenever they were fired upon.
Peacekeeping missions not combat, either
The fact the political debate has not moved forward appears to be a growing source of frustration within the defence establishment.
Vance pointed to the peacekeeping and peace support operations of the 1990s — mostly in the Balkans — where troops were engaged in firefights, but the missions were never described as combat operations.
"If we are attacked, we defend ourselves. So fighting can erupt and in that context we don't fall into the trap of describing it as anything else other than a peace support operation," he said.
Vance said he believes advise-and-assist missions are likely the future for many western militaries.
Also on HuffPost