Hannibal Buress had more to say about a taxi driver than the NBA All-Star Game after he visited the city to watch some basketball last weekend.
The stand-up comedian appeared on "Late Night with Seth Meyers" on Wednesday, and he recounted what happened when a cabbie tried to charge him a $20 flat rate for a ride that was just a few blocks long.
Buress and his cousin wouldn't pay that fee and told the driver to put the meter on.
The cabbie then offered to drive them for free. Again, Buress refused.
Then he said, "That's why Uber is crushing you guys."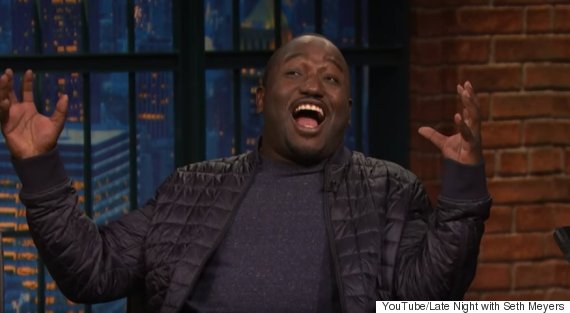 Hannibal Buress acts out a Toronto cab driver's rage at hearing the word "Uber." (Photo: Screengrab/YouTube)
And that, Buress said, sent the cab driver into a Hulk-like rage. He demanded they leave his taxi immediately. But Buress thought it was hilarious.
The comedian's experience came as tensions grow between taxi drivers and the ride-sharing company.
In December, a taxi protest against Uber in Toronto reached a fever pitch when a cabbie was dragged through a city street by what he called an Uber car.
The Competition Bureau last year urged provinces and cities to ease regulations around the taxi industry to allow for a more even playing field.
Uber prices have been estimated to cost 36 per cent less than a cab fee.
Like Us On Facebook

Follow Us On Twitter

Also on HuffPost:
London Black Cab Drivers Protest Against Uber