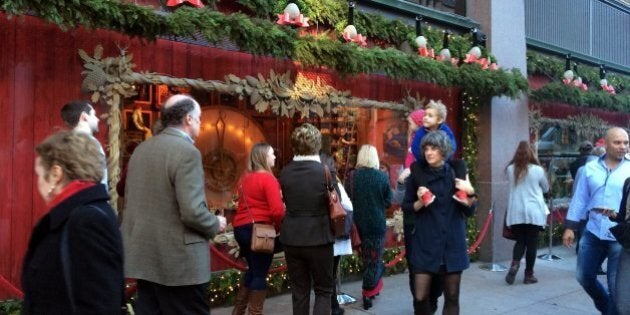 Canadian retail sales took an unexpected dive over the holidays, Statistics Canada data shows, convincing some experts that the country's recovery from last year's recession fizzled out at the end of 2015.
Retail sales dropped 2.2 per cent in December from a month earlier, coming in at $43.2 billion, short of most economists' forecasts.
The volume of retail goods saw its largest drop in seven years, National Bank senior economist Krishen Rangasamy noted.
Some of the decline was simply due to the fact that Black Friday is a major part of retail shopping in Canada now, which has pushed some holiday retail purchases into November. November retail sales were up 1.7 per cent last year.
But even when looking at the two months together, "the retail performance wasn't particularly good," Rangasamy wrote in a client note Friday.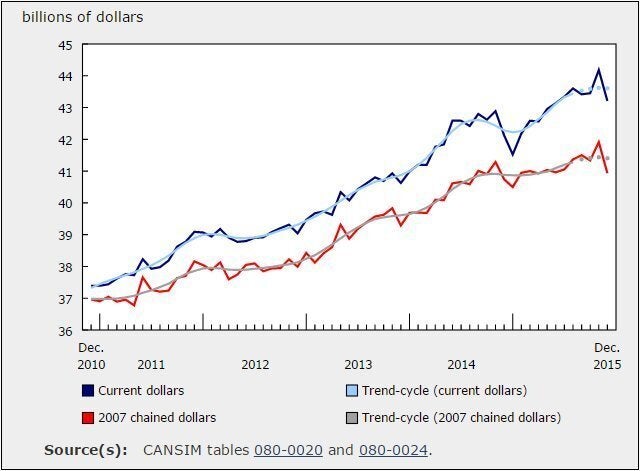 Retail sales turned downwards at the end of last year, this chart from Statistics Canada shows.
"Auto sales were weak as we had expected, but so were [other] categories. … Spending on groceries, gasoline, health/personal care items fell 2.5 per cent in December, more than erasing the prior month's gains."
"It was not a Merry Christmas for Canadian retailers," Rangasamy concluded.
He said the numbers are further indication that Canada's economy "was close to flat in the final quarter of 2015."
In fact, the economy may have shrunk at the end of last year, economist Brian DePratto of TD Bank wrote Friday morning after the retail numbers came out.
"Even when taken alongside more positive December manufacturing and wholesale reports, we nevertheless expect that the Canadian economy effectively stood still or contracted slightly in the fourth quarter," he wrote.
Canadians' high debt levels will limit retail sales to "below-trend" growth, DePratto predicts. But he still expects Canadian consumers to be a positive for the economy going forward, and sees retail sales rising 1.5 per cent this year.