OTTAWA — The federal finance minister is set to unveil fresh numbers Monday that will reveal just how much the economic downturn in recent months has darkened Canada's outlook. A government official says Bill Morneau is taking the unusual step of releasing updated numbers only weeks ahead of the upcoming budget — instead of waiting to disclose them in the document — is a way of being more transparent about the economic situation. The figures will show Canadians that a lot has changed since the federal government last released this type of data in its November fiscal and economic update, said the source, speaking on condition of anonymity because the details were not yet public. The numbers will also give Canadians a better sense of the size of upcoming budgetary deficits. Morneau, however, is expected to avoid providing a hard figure on the shortfalls because the budget has yet to be completed, the source said.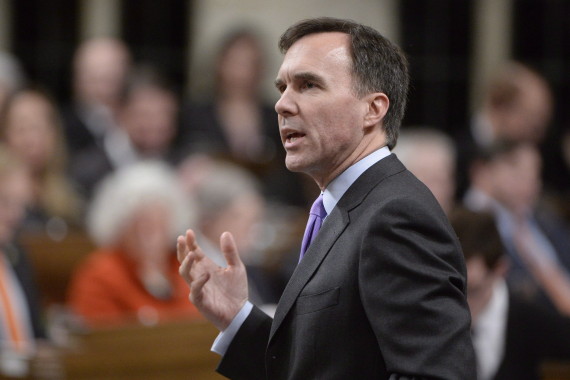 Minister of Finance Bill Morneau responds to a question during Question Period in the House of Commons, on Feb. 4, 2016 in Ottawa. (Photo: Adrian Wyld/Canadian Press)
The release, less extensive than the government's annual fall updates, will come amid waves of downgraded growth forecasts for Canada, which has been hit particularly hard by the steep slide in oil prices and the weakened global economy. Last week, for example, the OECD cut its 2016 economic growth projection for Canada to 1.4 per cent, from two per cent. Earlier this month, Morneau heard downgraded forecasts from private-sector economists whose projections are averaged to create a fiscal foundation for the federal budget, expected late next month. The source said Morneau will reveal some of those economist revisions Monday and explain how they will affect the budget.
Why Liberals want to spend, not save
Morneau will also argue that, due to the situation, it's more important than ever for the Liberal government to invest in the economy as a way to promote growth and help the country's so-called middle class, the source said. The minister, the source added, will repeat the argument that the Liberal approach will be more effective for growth now, and in the long term, than the former Conservative government's philosophy of spending cuts. Morneau, who will discuss the situation at an Ottawa community centre Monday as part of his pre-budget consultations, is also scheduled to appear Tuesday before the House of Commons finance committee.
The upcoming government budget
Last week, the all-party committee fielded formal pitches from dozens of groups, including lobbyists, First Nations leaders and economists, on what they think should be included in the budget. Many of them called on the government to follow through with its spending commitments. To help revive the economy, the Liberal government is counting on increased infrastructure investments, tax-bracket changes to provide relief on the middle-income bracket and adjustments to child benefits Prime Minister Justin Trudeau recently acknowledged the Liberals would no longer fulfil their promise to keep the 2016-17 deficit under $10 billion. Trudeau also cast doubt whether he would make good on his vow to balance the books within his four-year mandate — a headline pledge in the Liberal election platform. His government has instead been emphasizing its other key promise to continue lowering Canada's debt-to-GDP ratio during its mandate. Experts have said Ottawa could run annual deficits as high as $25 billion and still shrink that ratio. Follow @AndyBlatchford on Twitter
Also on HuffPost