Political battle lines have been drawn between a new Liberal government committing to spend and opposition Conservatives arguing that now is the time to rein things in.
But at a press conference Monday, where he confirmed that the deficit will be at least $8.4 billion more than Liberals promised on the campaign trail, Finance Minister Bill Morneau suggested Canadians knew what they were getting when they voted in October.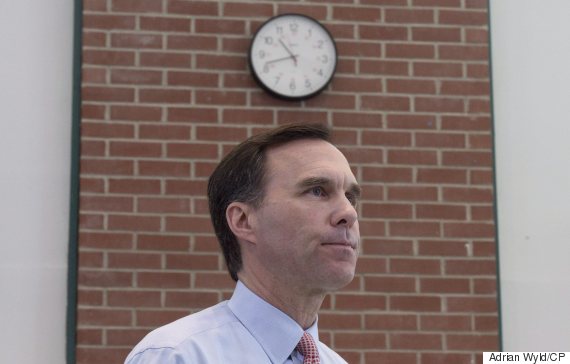 Finance Minister Bill Morneau participates in a town hall meeting ahead of pre-budget consultations in Ottawa on Monday. (Photo: Adrian Wyld/Canadian Press)
"Canadians made the right choice on Oct. 19," Morneau said. "They chose, in the face of an economy that was facing low growth, to make significant investments. And that's exactly what we're going to do."
Liberals promised while campaigning that deficits would not exceed $10 billion. Morneau's fiscal update suggested Canada is on pace for a shortfall of at least $18.4-billion deficit next year, but that's excluding big-ticket promises like major infrastructure investments.
The Canadian Press suggests the deficit could exceed $20 billion by the time the budget is released on March 22. Bloomberg reports it could hit $30 billion.
"The reality now is that it is not a time to spend."
— Rona Ambrose
Morneau said a "less-ambitious" government may see plunging oil prices and volatility as a "reason to hide, to make cuts or to be overly cautious." He added that his first budget won't be a "knee-jerk reaction" to economic shifts, no matter how loud the cries get.
When a reporter asked him if some of the Liberals could defer promised spending, Morneau said that his plan was "doubly important" in the face of a volatile economy.
"We are moving forward with our plans to make investments in the economy. We're moving forward with our plans that were laid out in our campaign commitments," he said. "That's what we know is the right thing to do in this sort of economic environment and that's what we know Canadians made the choice to do on Oct. 19."
He did promise, however, that the government is not looking at hiking consumption taxes like the GST.
But interim Conservative leader Rona Ambrose suggested at a Parliament Hill press conference that Canadians did not sign up for this.
'Newsflash' for Trudeau
"The reality now is that it is not a time to spend," she said. "Based on slow economic growth, it's a time for the finance minister to talk about controlling spending."
Ambrose blasted the Liberals' decision to raise the deficit cap as a "recipe for waste and mismanagement" and said Liberals can't help themselves when it comes to spending money.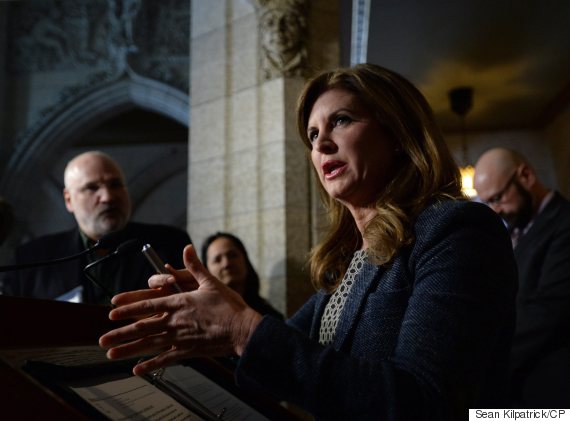 Interim Conservative leader Rona Ambrose speaks to reporters in the foyer of the House of Commons on Parliament Hill in Ottawa on Monday. (Photo: Sean Kilpatrick/Canadian Press)
She also dusted off an old attack line against Prime Minister Justin Trudeau.
"I have a newsflash for Justin Trudeau that I think he's starting to figure out, and that is that budgets don't actually balance themselves," she said.
Ambrose also pointed to numbers released from the Finance Department in January to argue the last Conservative government left behind a surplus.
And, in what may be a preview of the debates to come after Morneau's budget is released next month, she wondered why $10 billion — the number Liberals promised not to surpass en route to a majority — wasn't enough.
"Frankly it brings into question the confidence of the finance minister and the prime minister," Ambrose said.
With files from The Canadian Press
Also on HuffPost
In Photos: Canada Election 2015