Well you know what they say: "Come with me, and you'll be in a world of pure imagination."
And while I'm sure the only person who can say that with actual sincerity is the original Willy Wonka, trust me when I tell you we all need to suspend our belief to buy into what I'm about to sell you:
The worst Oscar red carpet looks inspired the trends we're obsessed with today.
And I'm not joking. Believe me when I tell you nothing about this is a drill. Instead, I'm offering cold, hard facts and equally cold, hard concrete proof that what we once condemned circa Y2K went on to birth the uniforms of 2016, outfits seen in the "Work" video, excluded. (JK: Drake has totally channelled Demi Moore.)
Don't believe me? How dare you. Also: get a load of this.
Angelina Jolie (2000): Goth Revival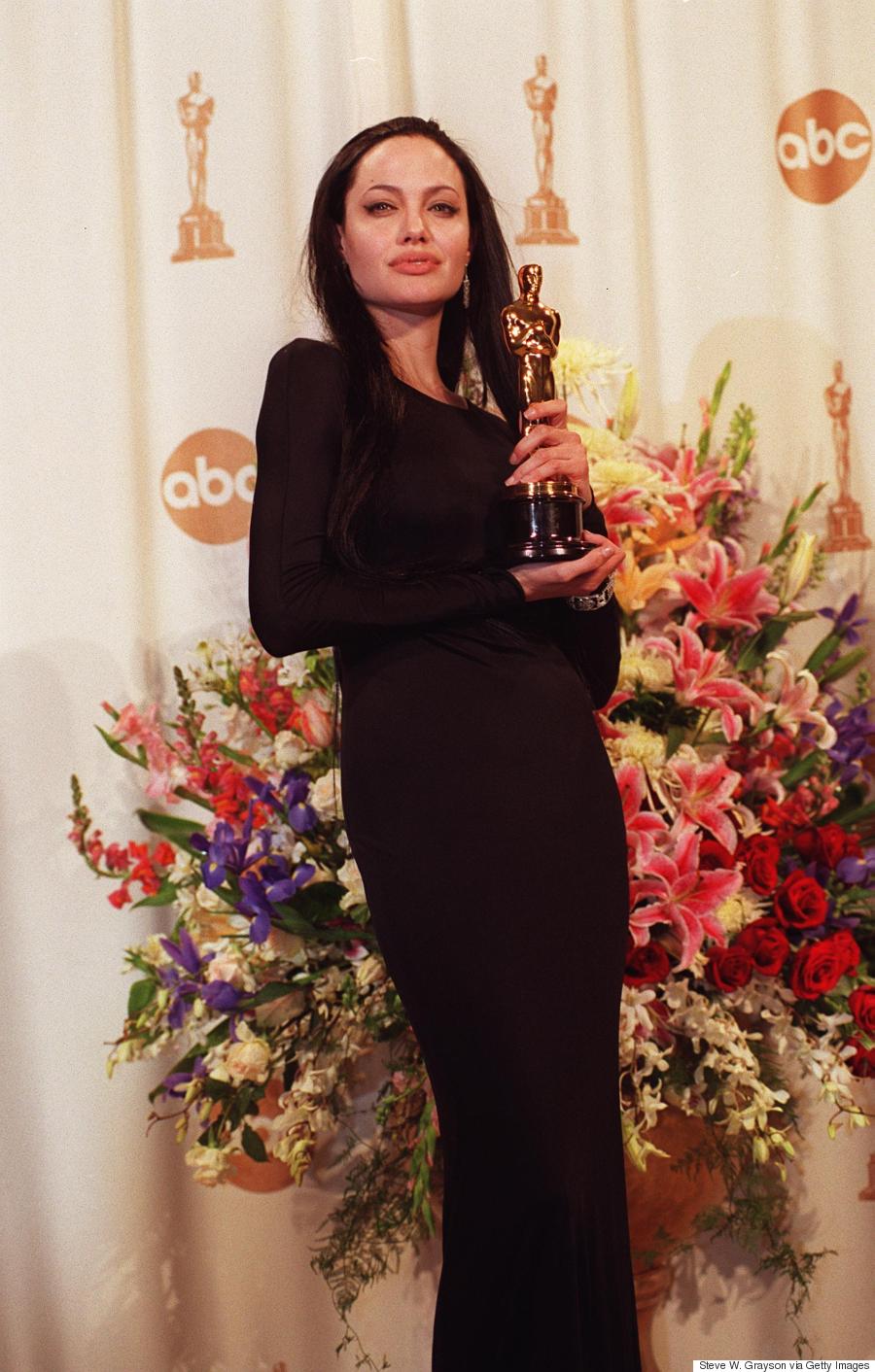 Maybe you remember, maybe you don't, but in 2000, Angelina Jolie accepted her Oscar for Best Supporting Actress (for "Girl Interrupted") completely decked out in Morticia Addams' finest. And alas, we've all benefitted from it. While it's easy to throw literal shade at a concept that goes against the Oscars' infatuation with glamour, it's Jolie's floor length black get-up that's helped fuel the current gothic revival, seen in everything from black lipstick to black velvet dresses. We did it, everyone.
Try the trend: Kat Von D Studded Kiss Lipstick in Poe, $26.
Gwyneth Paltrow (1999): Oversized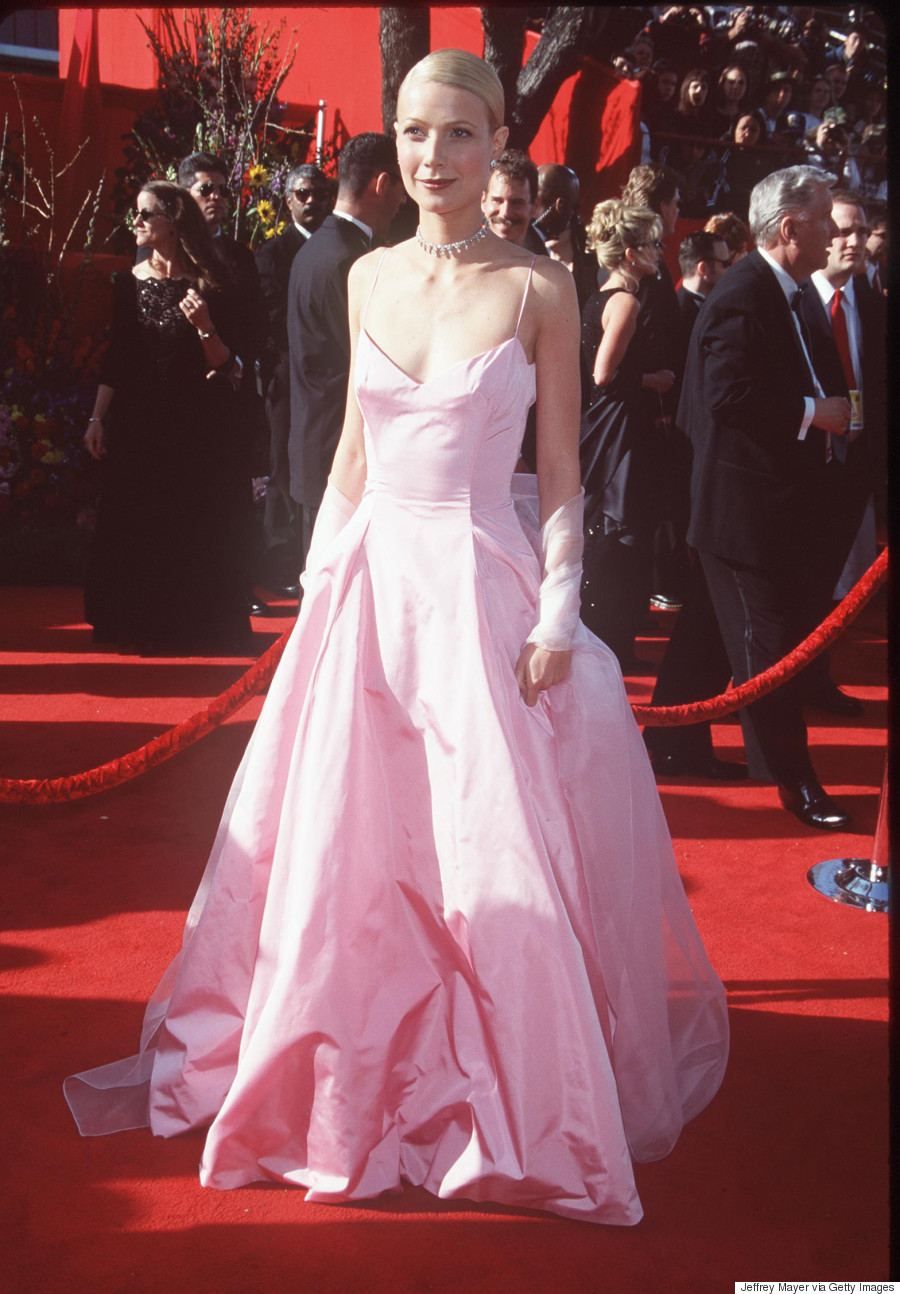 The year before, Gwyneth Paltrow did two things: 1) She cried harder than any of us ever have while accepting her Oscar for "Shakespeare in Love" and 2) Inspired the oversize majesty that currently defines our winter wardrobes. So where 1999 still called for snug-fitting tops and bras worn underneath (or maybe that was just my winning all-ages club aesthetic), Ms. Paltrow broke free of the norms, channelling prom dress chic and spawning a season of oversize shirts and the abandonment of bras (though I do not recommend the latter when dealing with wool sweaters, FYI).
Try the trend: Wilfred Free Brosh T-Shirt, $45.
Celine Dion (1999): Tuxedos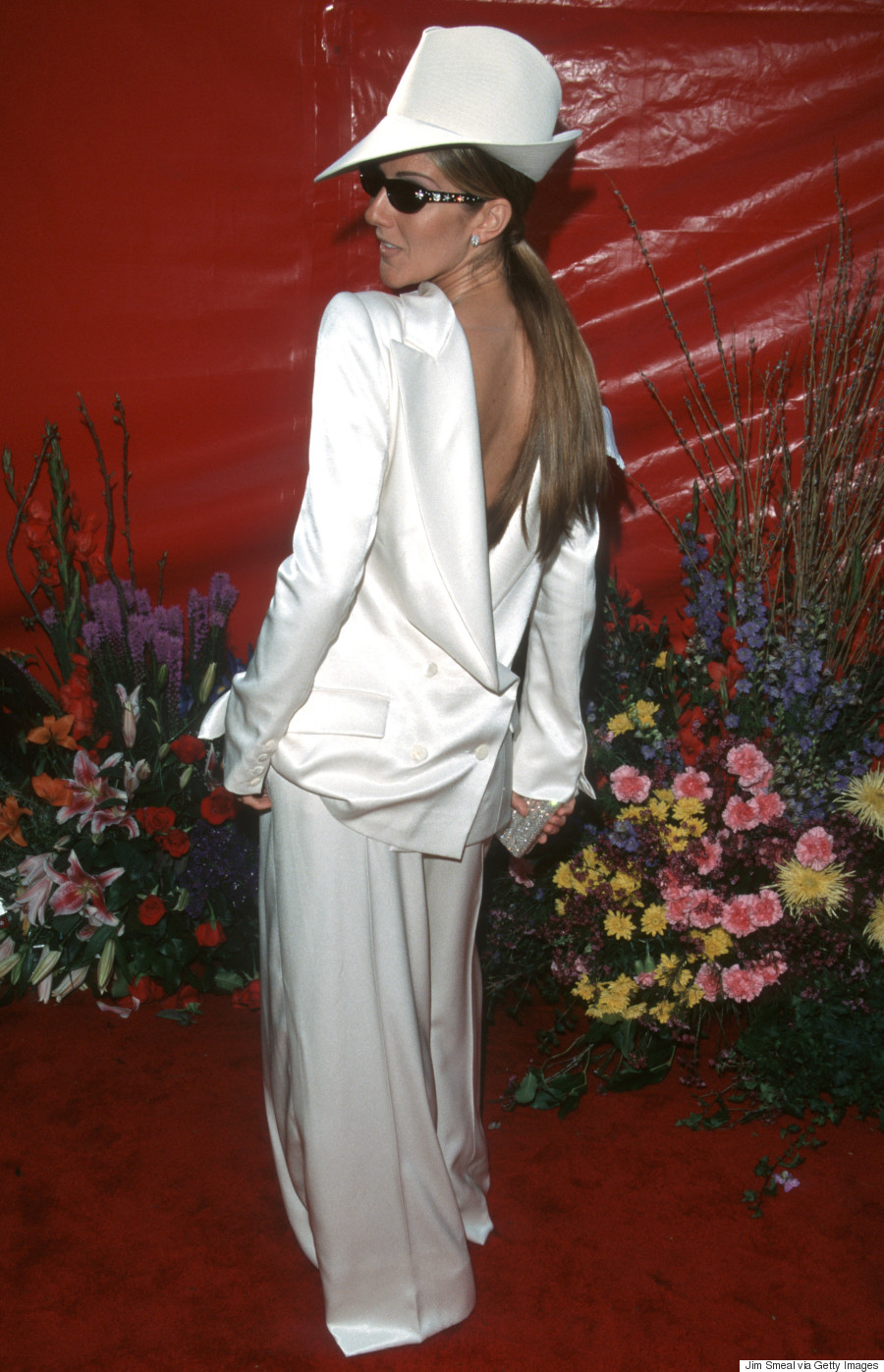 First and foremost: this is not to sanctify the existence of fedoras — far from. (And if you ever accuse me of such, this digital semi-friendship is over.) But while our teen-year-old selves watched in shock as Celine Dion walked the red carpet, we-as-grown-ass women now recognize the power of a well-suited (all puns intended, duh) tux. Especially as we've seen more and more women forfeit dresses for pieces they can move/stand/live in — or even just opt for a terrific-fitting tuxedo jacket that pulls an outfit together and makes one feel like a total boss.
Try the trend: Banana Republic Jacquard Long Tuxedo Jacket, $92.97 (sale).
Bjork (2001): Avant-Garde Culture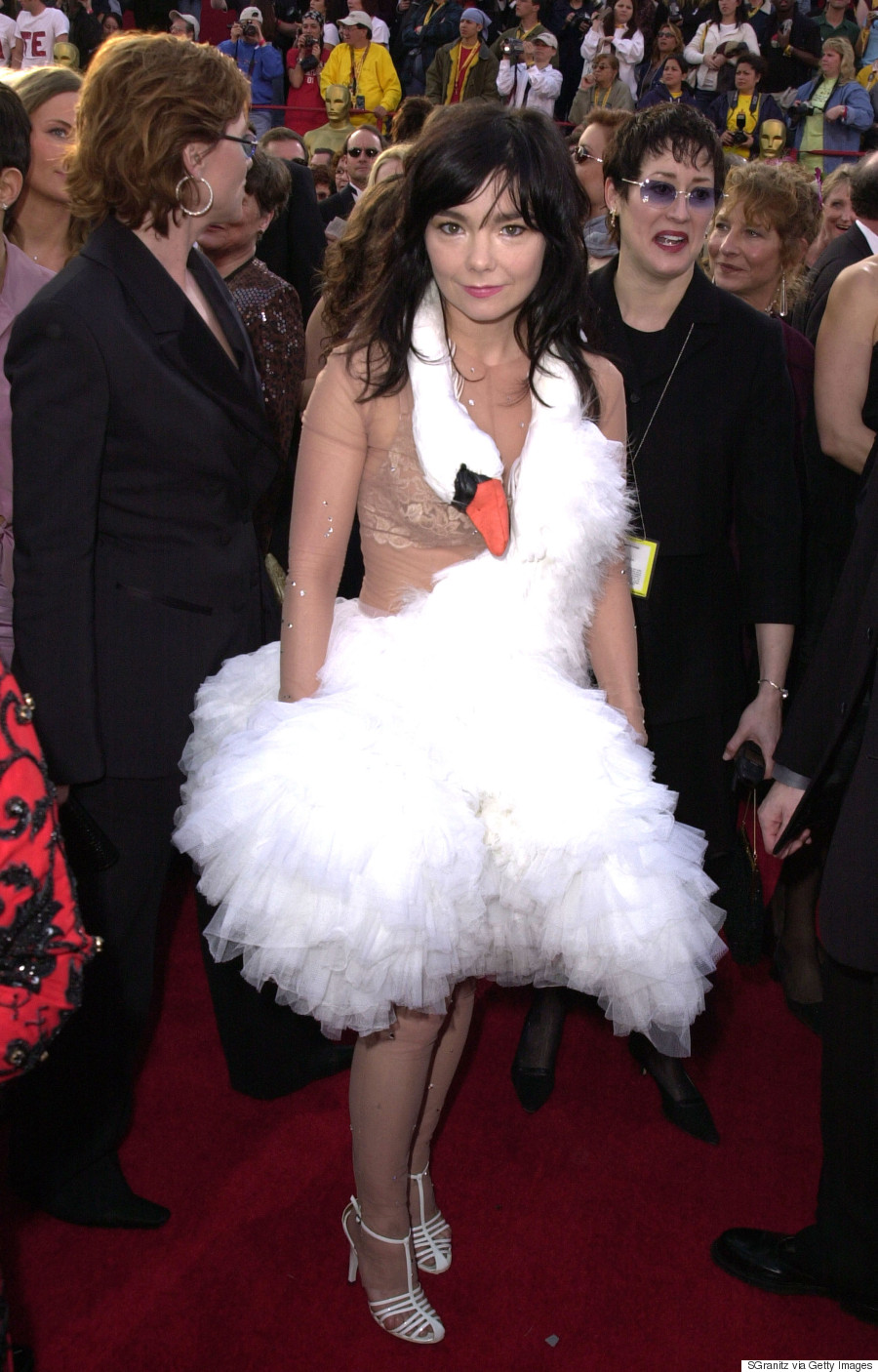 The Swan Dress? You bet your bottom dollar I'm talking about The Swan Dress. Let's face it: red carpet fashion is boring. A lot of it is safe and risks aren't even close to risky and everyone's vying to make it on the Best Dressed lists because all of us would like to be on the Best Dressed lists, let's face it. But not Bjork. Instead, she made a statement — a beautiful, long overdue, wonderful statement: fashion is what you make it, so have fun. And, thanks to designers like Marc Jacobs, we currently are.
Try the trend: Marc Jacobs Georgia Metallic Leather Cowboy Boots, $495.
Demi Moore (1989): Athletica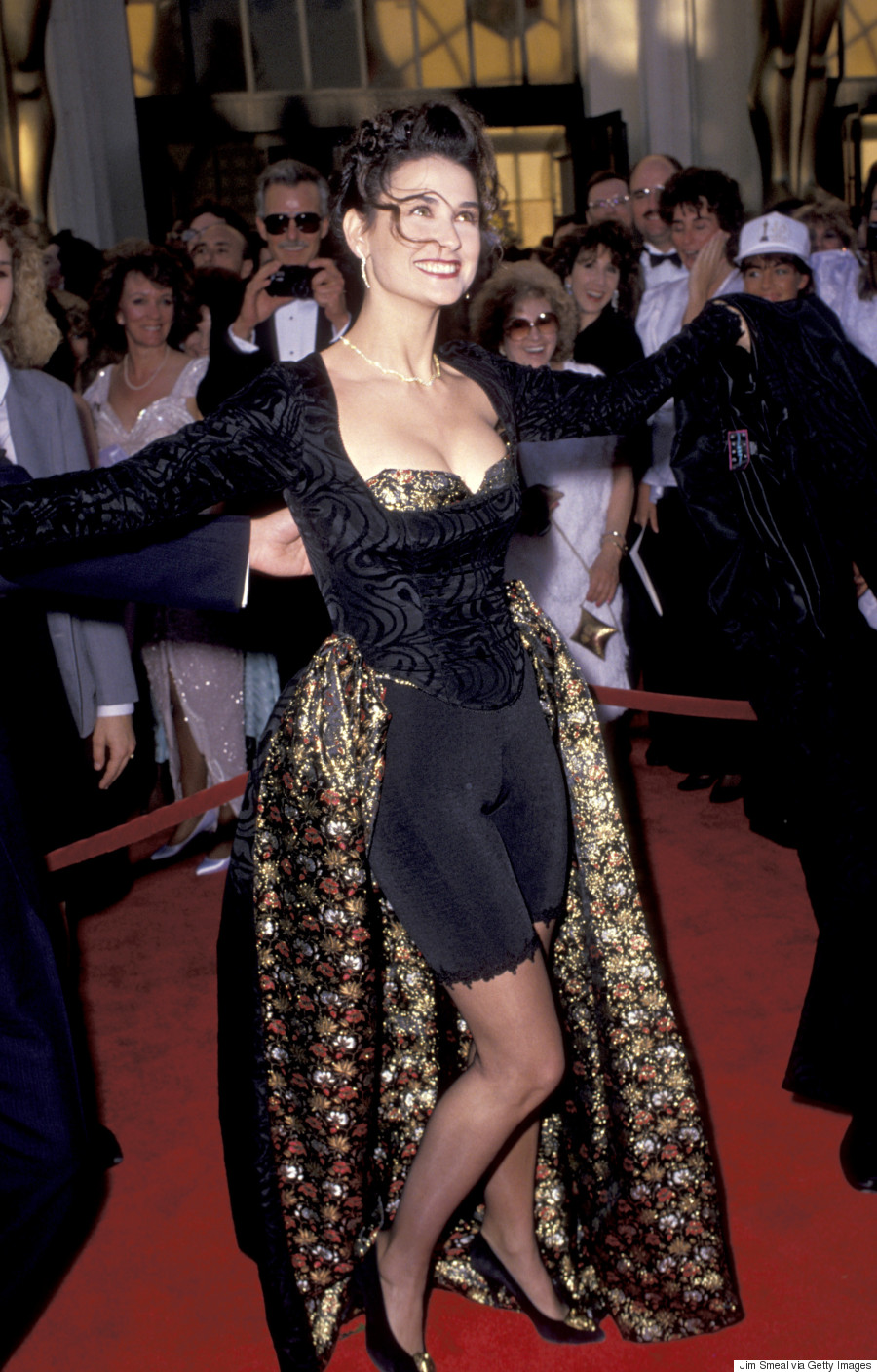 I understand Drake wasn't seen in spandex shorts under a dress in the "Work" video (though if he ever travels down that aesthetic path I am here for it and will support it to my dying day). But between his sweat suit, the likes of Gigi Hadid and Kendall Jenner's obsession with track pants, and leggings-as-legitimate bottoms, we're living a life of extreme comfort — just like Demi Moore did, circa 1989. The only downside? . . . None, I'm just kidding. I wore a two-piece sweatsuit the other day and felt nothing but powerful and free.
Try the trend: Roots Skinny Cozy Sweatpant, $68.
Check out more controversial Oscars looks below:
Controversial Oscars Looks
Follow Huffington Post Canada Style on Pinterest, Facebook and Twitter!