The possibility of serial killer Robert Pickton profiting off the sale of a memoir he reportedly wrote behind bars has led to pressure on two major American retailers to pull the book.
"Mass murderers should not profit from their crimes, and neither should Amazon," wrote user WestCoastBlue. Several reviews on retailer's site called the new memoir "trash" and "garbage."
The 144-page, self-published book titled "Pickton: In His Own Words," is for sale on Amazon and Barnes & Noble for between $20.50 and $22.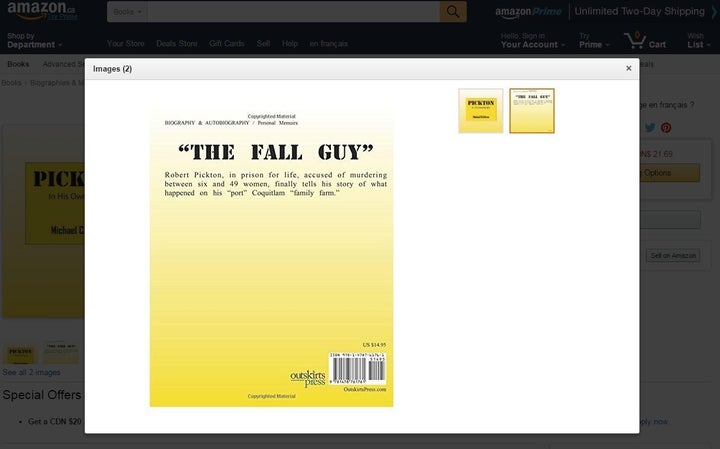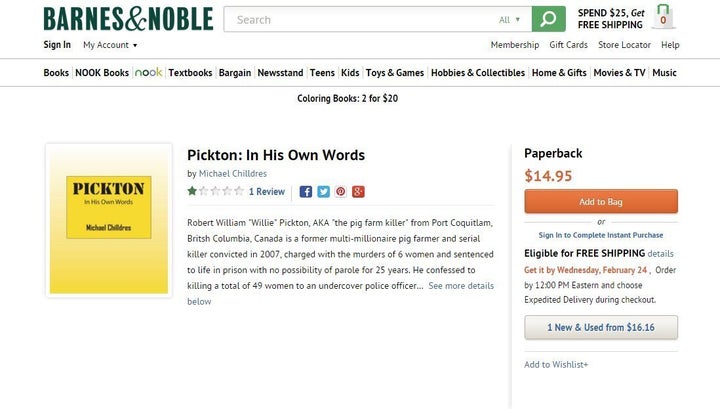 Barnes & Noble screenshot
On the back cover, author Michael Chilldres teases a story about a man "in prison for life, accused of murdering between six and 49 women" who "finally tells his story" of what happened on his family's farm in Port Coquitlam, B.C.
Colorado-based publisher Outskirts Press did not respond to The Huffington Post Canada's request for comment.
B.C. Premier Christy Clark said she is at a "loss for words" over the publication of the apparent memoir.
"I have trouble understanding it and I think people will want to know that their government is doing everything it can to want to stop him from profiting from this at the very least," she told reporters on Monday.
An investigation into the disappearance of dozens of women from Vancouver's Downtown Eastside since the early '80s culminated in Pickton's arrest in 2002.
He was convicted of six counts of second-degree murder in 2007 after investigators found DNA and remains of 33 women on the farm during an exhaustive excavation of the property.
The dilapidated house on his family's pig farm — dubbed Piggy's Palace — was known to police as a site of rambunctious parties.
A public inquiry released in 2012 concluded that systemic failures allowed Pickton to kill Vancouver sex workers for years without being caught.
The final report authored by Commissioner Wally Oppal made 63 recommendations.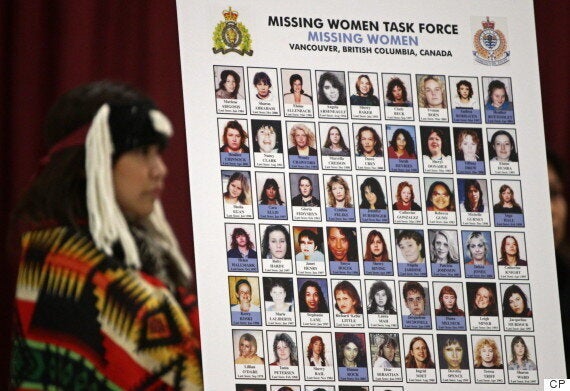 Amanda Nahanee, of the Squamish First Nation, stands behind a display with photographs of missing women during the Missing Women Commission of Inquiry public forum in Vancouver in 2011. (Photo: Darryl Dyck/The Canadian Press)
Oppal told The Huffington Post Canada in an interview he was disturbed by the news of the memoir, saying its publication is troubling to everyone, not only to his victims and their families.
"For him, now, to write about whatever happened or didn't happen and then throw in Biblical sayings for good measure, I think, is disturbing," he said.
Ontario has legislation in place that prohibits someone from profiting from crime, but in B.C. no similar law exists, Oppal said.
"One would think that under our system, that he's put away and we wouldn't hear from him again. And we don't really need his type to be constantly telling us what happened or didn't happen."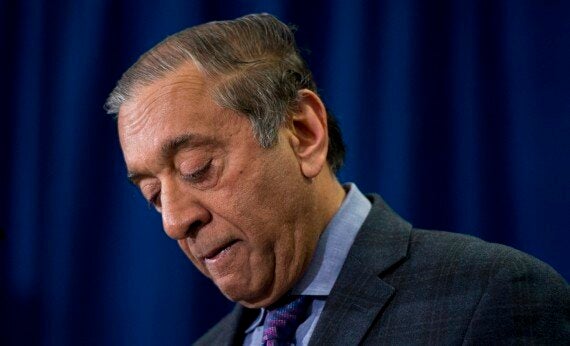 Wally Oppal pauses as he delivers the final report on the findings of the Missing Women Commission in Vancouver, B.C., on Dec. 17, 2012. (Photo: The Canadian Press/Jonathan Hayward)
Pickton is currently serving a life sentence. Because he received the maximum sentence under the law for his convictions, 20 other murder charges were stayed. He has no possibility of parole until 2032.
Since his conviction, Pickton has made several attempts to exonerate himself, by repeatedly maintaining his innocence in interviews and by launching several unsuccessful appeals.
On Sunday, B.C.'s public safety minister and solicitor general said the provincial government is asking Amazon to halt sales of the book on its site.
"It is not right that a person who has caused so much harm and hurt so many people could profit from his behaviour."
In a statement, Mike Morris told Global News that officials don't want Pickton to profit from the sale of the book, which only causes more anguish for the victims' families.
"It is not right that a person who has caused so much harm and hurt so many people could profit from his behaviour," Morris said.
With files from The Canadian Press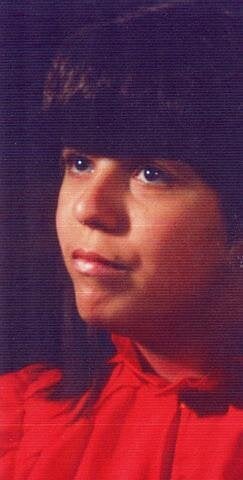 Robert Pickton: Women Linked To Serial Killer