Shoppers at Saskatoon's Lawson Heights Mall were met with roses and messages of appreciation on Sunday, thanks to a rally held by Syrian refugees.
About 100 refugees attended the gathering, most of whom arrived in Canada in the past few months.
"We came out here today with our families and kids to really truly thank all Canadians and just tell them thank you from the bottom of our hearts for what they have done for us and how they have welcomed us," organizer Abdul Rahman Shehadah told CBC News through a translator.
Shehadah and his family have been living in Canada for about two months.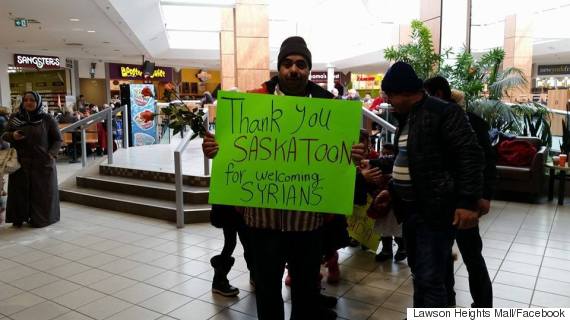 The group held Canadian flags, and signs reading "Thank you to all Canadians" and "Syrians love Saskatoon" while handing out roses.
Mohammed Al-Helal said he not only wanted to thank Canadians, but to show that he's excited to be a part of his new community.
"My main goal is to be positive in this society and learn English and be able to give back and help others in the community and in Saskatoon," Al-Helal told the Saskatoon StarPhoenix.
Premier Brad Wall said in November that Saskatchewan will be welcoming approximately 850 refugees.
Watch a Global News video from the event above.
Like Us On Facebook

Follow Us On Twitter

Also on HuffPost:
Great Things Canadians Have Done So Far For Syrian Refugees