J.W.Anderson has no lack of titles to hang his hat on: British Womenswear Designer of the Year 2015, British Menswear Designer of the Year 2015 (yes, he won both) and most popular man on Grindr.
No, your powers of deduction do not deceive. J.W.Anderson was, at least for a time, the most popular man on the gay men's dating app.
Jonathan Anderson, the brand's eponymous creative director, justifies the move with, "Grindr is a widely used social platform that really reflects youth culture right now. At J.W.Anderson, we always look for ways to push boundaries when it comes to gender and our aesthetic. And of course the global reach of Grindr is undeniable. This is why for us, it makes perfect sense for Grindr to be the first outlet to livestream a J.W.Anderson men's show."
Sort of. In reality, fearlessly innovative brands like J.W.Anderson and Diesel are pioneers in unchartered territories of promotion. As noted in the Guardian, shrinking marketing budgets and teams are forcing luxury brands to rethink how they reach their target audiences.
"For us, we're a sexy brand," Diesel artistic director Nicola Formichetti tells I-D. "To support the launch of our underwear line, we're going to be the first brand to ever advertise on Grindr and we're the first fashion brand to be working with Pornhub too. The message is simple: before you jerk off look at this..."
Jerk off jokes aside, Formichetti recognizes the pragmatic benefits as well: "The numbers are crazy. Of course it's fun but it guarantees eyeballs."
"This is where people are now, we live on our phones. I want to go where people are. Tinder, Grindr and Pornhub might appear a little left field but it's Diesel, we can do it, we're not scared of these places, we're not high fashion, we are street." - Formichetti
Grindr alone claims one million active users at any given time, with a total of seven million subscribed to the free app. Tinder's numbers are jaw-dropping: an estimated 50 million monthly users, 1 billion daily profile swipes and 12 million matches per day.
Is it fashion's fate to be more hook-up than haute couture? Only so long as it's a talking point.
Fashion is a thermometer of culture. It has an interdependent relationship with current events and trends, and dating apps like Grindr and Tinder are just the mot du jour. The logical connection is there, as Anderson points out in the New York Times: "I think fashion is a sexy platform as well, ultimately. We're all humans, so we all have to be somewhat sexually attractive to someone. That's the name of the game, with clothing."
Beyond reaching Grindr's huge user base, Anderson saw the even larger benefit of near-universal press coverage. From the New York Times to Vice I-D, virtually every publication covered the show. Diesel's move to advertising on dating apps and porn sites received a similar public relations boon. Editorial is the most surefire way to leapfrog adblockers, and brands may even pick up a journalist's endorsement along the way.
Ultimately though, moves like these connect with audiences because they tap into the most pure spirit of fashion: to be whimsical and innovative. As Diesel artistic director Nicola Formichetti tells Dazed, "What we see in advertisements is just selling fake dreams, fake things, this impossible beauty. I think we have to be honest."
He continues, "Yeah, this is an ad, we're selling shoes. But it's in an interesting way, and people smile."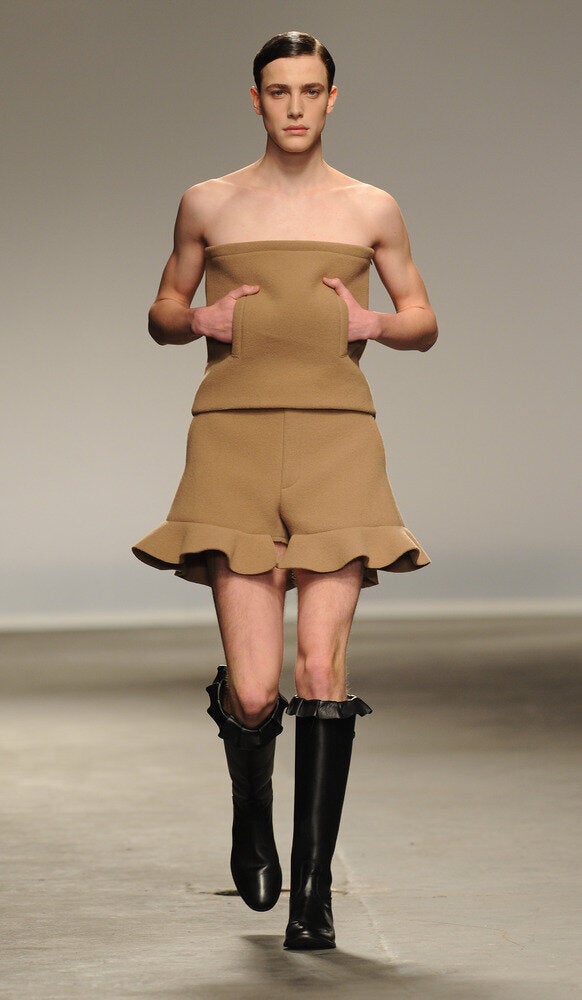 J.W. Anderson show at the London Collections: Men