Canadian comedian Jasmeet Singh spoke out on Twitter Monday, after he was forced to remove his turban for an airport security check in San Francisco.
The Sikh YouTuber, who is better known as JusReign, took off his turban for a private search after U.S. Transportation Security Administration workers told him he wouldn't be allowed on his flight otherwise.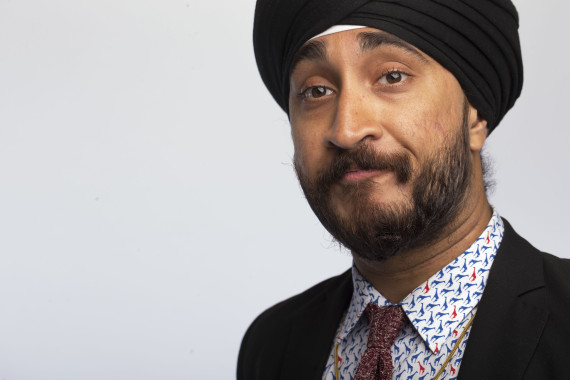 Jasmeet Singh says he was forced to remove is turban at a U.S. airport. (Chris So/Toronto Star via Getty Images)
Upon finding nothing inside the turban, Singh wrote agents denied his request for a mirror to retie his turban, and he was forced to walk in public looking for the nearest restroom with his hair uncovered.
after finding absolutely nothing wrong because a turban is just cloth and the whole thing is stupid I ask for a mirror to tie it back again

— Jasmeet Singh (@JusReign) February 22, 2016
the agent tells me there are no mirrors and that I can just walk down the terminal to the nearest restroom 😶😶😶

without my turban on 😶😶😶

— Jasmeet Singh (@JusReign) February 22, 2016
According to The Sikh Coalition, it's mandatory for followers of Sikhism to wear a turban in public, as it's a symbol of "love and obedience to the wishes of the founders of their faith."
"What was the point in taking me to the private room," Singh asked on Twitter, slamming the TSA for not accommodating his request for a mirror after he "cooperated" with their search.
Singh continued to say he knows Sikh men who travel without their turbans out of fear, but he'll continue to wear his.
Several Twitter users spoke out to support Singh, and criticized TSA for their behaviour.
@JusReign @TSA that makes me so sick and sad. i'm so sorry. it's shameful that that is happening to you in 2016

— angry mom (@electrabadlands) February 22, 2016
@TSA I am a sikh & wear a turban. so far I felt safe at airports, bt after what you did to @JusReign i feel i'm not welcome anymore

— Jaskaran Khalsa (@JasCitrus) February 23, 2016
Cmon now, @TSA. Shaking my head after reading about how y'all treated @JusReign. And countless other Sikhs in America. God Bless

— Gurpreet Sarin (@gurpreetsarin) February 22, 2016
Singh himself accused the organization of taking "pride" in the fact it's "riddled with xenophobia."
nah only thing u can pride yourself in is how much you're riddled with xenophobia https://t.co/9TbuhBhU0N

— Jasmeet Singh (@JusReign) February 22, 2016
Similar incident just weeks ago
This is the second time in a month a prominent Sikh entertainer has spoken out about being targeted at an airport because of their religious apparel.
Two weeks ago, American designer and actor Waris Alhuwalia was banned from an Aeromexico flight when he refused to remove his turban. Alhuwalia posted about the incident on Instagram, and was later issued an apology by the Mexican airline.
Also on HuffPost
Hate Crimes Against Sikhs In US