Could big box stores actually be good for the environment?
That's the counter-intuitive argument being made by Environment America in a new study — thought the federation is really zeroing in on the potential in their rooftops.
The sheer size of these sprawling superstores has spurred environmental criticism towards retailers like Walmart, Best Buy, and Home Depot.
But that size also brings an opportunity for chains to make some amends by generating solar power.
Environment America cites National Renewable Energy Laboratory numbers that the U.S. has over "102,000 big box retail stores, supercenters, large grocery stores and malls with more than 4.5 billion cumulative square feet [418 million square metres] of available rooftop space on which solar panels could be installed."
The study says those untapped retails roofs "are perfect locations for solar panels — they are largely flat and vacant, and almost always fully exposed to the sun."
Cumulatively, they could host 62.3 gigawatts of solar photovoltaic capacity, which Environment America says could triple the country's current solar panel capacity and power seven million average U.S. homes.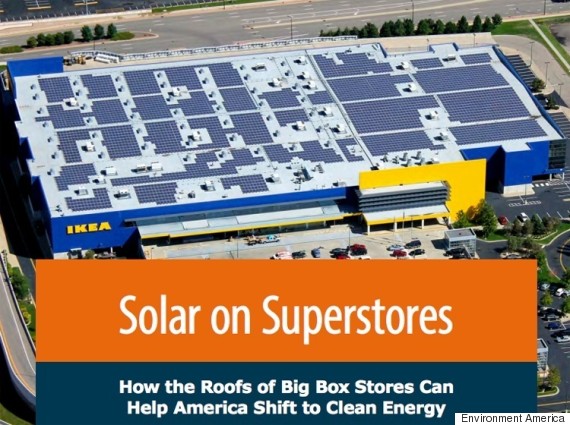 Big box stores are massive electricity consumers — accounting for five per cent of the U.S. total — so the chains would reduce the country's overall demand for electricity if they generated their own.
They'd also bring their own bills down by 42 per cent, or about $8.2 billion.
The technology would also produce clean energy to feed back into the grid so electric companies could better manage peak daytime demand.
On top of that, Environment America calculates that big box solar retail could reduce greenhouse gas emissions by 57 million tons every year — which is the equivalent of taking 12 million cars off the road.
Potential turning into reality
This is a process that has already begun. The Solar Energy Industries Association (SEIA) reports that solar power generation is a growing concern among the country's corporate leaders. According to the study, companies were capable of creating over 900 megawatts of solar power in 2015 — up 59 from the year before.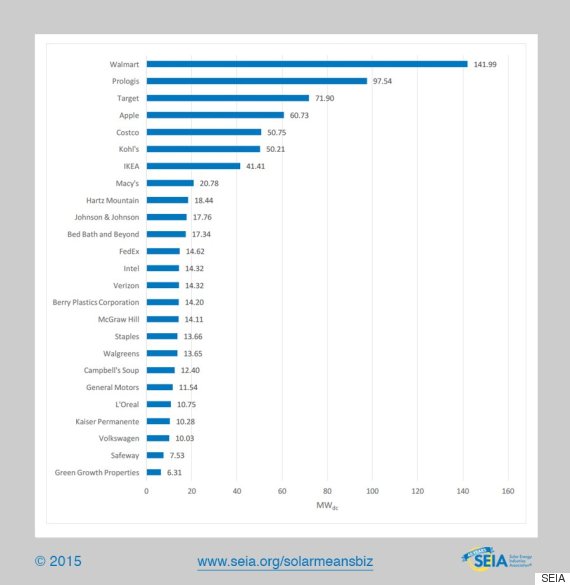 (However, the owners of Walmart — America's largest commercial solar power user — have also reportedly been working to make it more difficult for individuals to put solar panels on their own rooftops. According to an October 2014 study from the Institute for Local Self-Reliance, the Waltons are "funding nearly two dozen organizations [that are] working to roll back renewable energy policies, while a Walton-owned company is pushing for regulations aimed at hindering the growth of rooftop solar power.")
Regardless, to get the movement going, the report says that more states need to adopt net metering or feed-in tariff (FIT) programs which allow private individuals and businesses to sell their self-generated power back to the grid.
Ontario already has that policy. As a result, Canadian Tire has 15 megawatts of installed capacity across the rooftops of 80 stores — all feeding energy back into the province's electrical grid.
"I think as we move more and more toward a sustainable future, that space on rooftops is going to be used creatively one way or the other."
— Brendan Seale, IKEA Canada
IKEA Canada has also taken advantage of the FIT program to install solar panels as part of its global pledge to be energy neutral by 2020.
"I think it's a fantastic use of the space," Brendan Seale, IKEA Canada's sustainability manager, told RENX.ca in 2013. "I think as we move more and more toward a sustainable future, that space on rooftops is going to be used creatively one way or the other, whether it's solar PV [photovoltaics] or whether it's green roofing or rooftop gardens, and things like that."
Though they only have 750 kilowatts installed at three Toronto locations, IKEA Canada recently announced a new Halifax location which will "include a rooftop solar photovoltaic installation to provide electricity to the store."
The chain has also installed solar panels on 90 per cent of its U.S locations, for a total of 41 megawatts.
Ontario also has a MicroFIT program for individuals who want to install rooftop solar and sell it back to the grid. Read more here
.
Like Us On Facebook

Follow Us On Twitter
Also on HuffPost
Photo gallery
Amazing Solar Farm Photos
See Gallery