Michelle and Brandon Durieux were watching "Scrubs" in their Victoria, B.C. home last summer when the medical comedy introduced a new character, who suffered from fatigue and bruising.
Brandon, 24, had been feeling run-down for a few weeks and also had puzzling black bruises. Michelle, then his girlfriend, had been urging him to visit a doctor.
Brandon turned to her and said, "Wouldn't it be crazy if I had leukemia like that?"
She brushed off the comment, but told him to get a blood test anyway, "just to be safe."
A few days later, Brandon was diagnosed with acute myeloid leukemia (AML) — an aggressive form of cancer that affects the blood and bone marrow.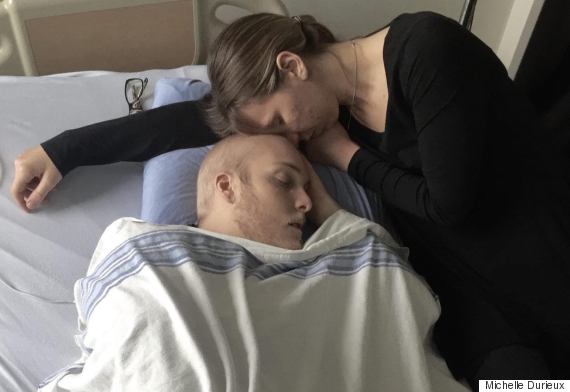 (Photo: Michelle Durieux)
"We were floored," Michelle, 25, told The Huffington Post B.C. on Tuesday.
Brandon, who'd been working as a landscaper, checked into Vancouver General Hospital (VGH) and underwent two rounds of chemotherapy followed by an experimental drug trial.
While he was in treatment, Michelle proposed.
"Before he was even diagnosed, I knew he was the person wanted to spend my life with. I went out and got a stuffed dog and bought two rings and actually proposed when he was in the hospital."
The two were married on Oct. 18 on what Michelle said was an "absolutely amazing" day.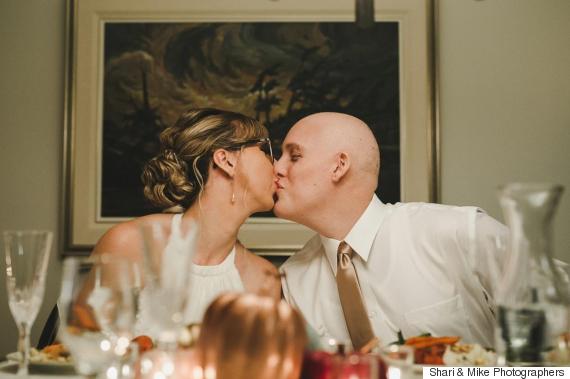 (Photo: Shari + Mike)
Brandon, who is from White Rock, seemed to be getting better and thought he might be nearing remission, but in January, doctors told the newlyweds the cancer was terminal.
"It was horrible. I was just beside myself," Michelle said. "Going into that meeting thinking he was in remission and then having someone tell you a week later [treatment] wasn't working ... It was really heartbreaking."
VGH offered Brandon palliative care "for as long as he was still alive," she said.
Michelle, who was born and raised in Austin, refused to give up and moved her husband to the world-renowned MD Anderson Cancer Center in Houston, Texas for more options.
New treatment possibility
On Monday, Brandon started a new kind of chemotherapy after tests revealed that his cancer had mutated, which explained why his body didn't respond to the Canadian treatment.
Doctors are aiming to get Brandon into remission so he can undergo a stem cell transplant that could save his life.
The cost of it all? An estimated $308,000 for the chemotherapy, and up to $1.6 million for the transplant.
The initial consultation alone cost about $50,000.
"It's a mind-boggling number," Michelle said.
The family started a GoFundMe page to help with the bills, and have raised over $100,000 in just under a month — but they have a long way to go.
"If I have to be in debt for the rest of my life paying hospital bills, I'll do it."
"We are just so incredibly grateful," Michelle said.
"I'll do absolutely everything in my power to make sure he gets the treatment he needs. If I have to be in debt for the rest of my life paying hospital bills, I'll do it. It's just a matter of having the money up front," she added.
The provincial Medical Services Plan doesn't cover the cost of experimental, international treatment — even though Brandon is a B.C. resident — but the Durieuxs say they're still optimistic.
"We've heard amazing success stories," Michelle said. "No matter what news we get, we're always looking at the glass half full."
Like Us On Facebook

Follow Us On Twitter

Follow Us On Instagram
Also On HuffPost: