Damn, eBay. Back at it again with the ridiculous bidding.
If you're a fan of the Internet and all its glory (we mean, isn't everyone?), then you know exactly who "Damn Daniel" is and you're obsessed with him (just like we are). For others who might not know what we're talking about (SHAME), here's the low down:
This past weekend, Riverside High School student Josh Holz uploaded a video to Twitter of his friend Daniel Lara strutting around the school's pool deck during sixth period in an array of stylish outfits and shoes. Whether it was in his blue Nike kicks or beige chino trousers, the 14-year-old smiled shyly at the camera whenever Josh pointed the camera at him and his daily get-ups. In the voice that everyone is now mimicking, Josh smoothly says, "Daaaaaaamn, Daniel!"
Damn Daniel pic.twitter.com/Va10hmpePO

— josh (@josholzz) February 16, 2016
And whenever Daniel appears wearing one particular sneaker, Josh praises his friend: "back at it again with the white Vans!"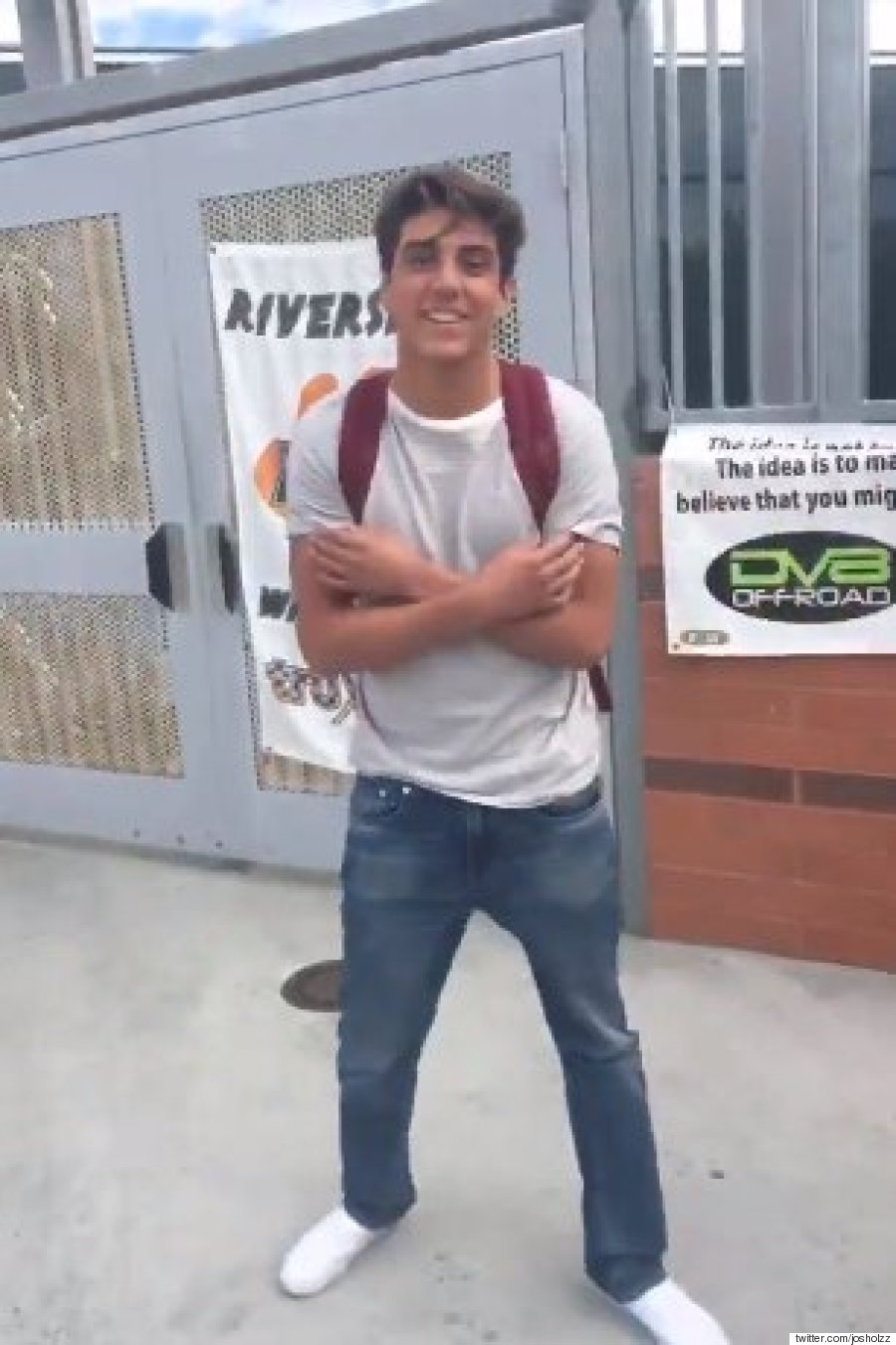 And just like that, a meme was born:
Damn daniel 😂💀 pic.twitter.com/2VWgeykgC9

— WSHH FANS (@WORIDSTARHIPH0P) February 21, 2016
#damndaniel I love the Internet pic.twitter.com/e5yPFhKmRB

— Louise Daly (@louisedaly7) February 21, 2016
This is awful 😩😂 pic.twitter.com/WydAyr1X58

— WORLDSTARHIPHOP (@WORLDSTAR) February 22, 2016

With over 320,000 retweets, 420,000 likes and 45 million views, "Damn Daniel" has single-handedly made white Vans the must-have shoe in the span of a few days.
damn daniel starter pack pic.twitter.com/1g4L3y2wDR

— Four Pins (@Four_Pins) February 17, 2016
The shoe has become so popular that a pre-owned, lookalike pair of "Damn Daniel's" white Vans are now selling for $400,000 on eBay under "Damn Daniels White Vans Size 10."


At 84 bids, the description of the item is as follows: "Daaaaamn Daniels. You know you want em'. Comes with FREE HUF SHIRT. #NotKidding."
There are currently 524 listings for "damn daniels white vans," and we have to say, things are getting a little out of hand with many of the sneakers going for thousands of dollars.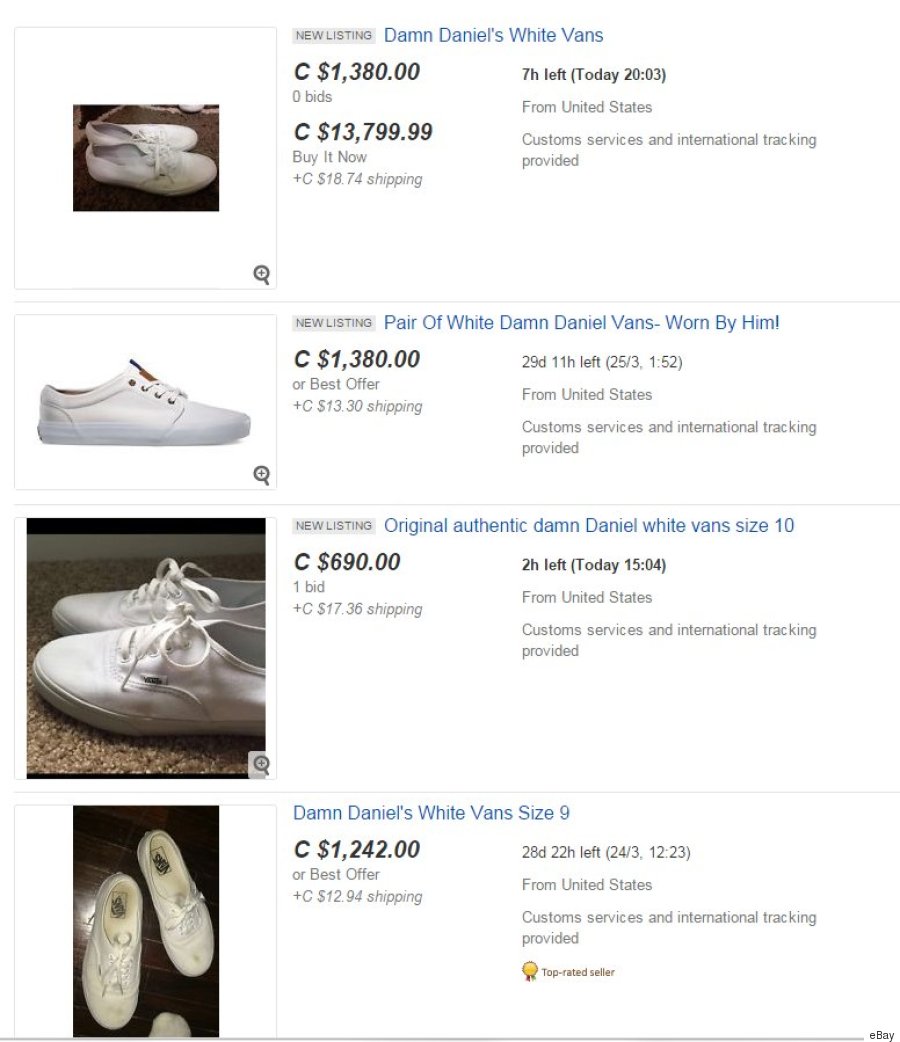 But will anyone actually go through with showing eBay the money for the shoe? Probably not. But as pointed out by QZ, most of these people are directly violating eBay's bidding policy: "You must pay for any item you commit to buying," "You can only bid if you really intend to buy the item, even if you're making a non-binding bid." But in the end, eBay can't do much if someone doesn't pay up.
And as Racked notes, you can buy a brand new pair of white Vans on their website for a mere $45.
@AbuKaBOOM hahaha. well, technically - we never left!

— Vans (@VANS_66) February 19, 2016
As for Daniel and Josh, the viral duo from Riverside, Calif. appeared on "The Ellen DeGeneres Show" on Wednesday where Ellen asked Daniel about the shenanigans of current eBay biddings.
"That's a little expensive, right?" Daniel, who admitted he has received many marriage proposals since the videos takeoff, laughed. "They're not mine. They're not even slip-ons actually, they have the laces on them. I feel bad for whoever bid or bought those."
And of course, no viral sensation leaves the "Ellen" show empty handed. The host hooked Daniel up with a lifetime supply of Vans (in an variety of colours, might we add).
"Damn Daniel" as America's newest heartthrob? We think so.
Follow Huffington Post Canada Style on Pinterest, Facebook and Twitter!
Also on HuffPost