In this edition of weird things to do to your shoes, one YouTuber has decided to deep fry his Yeezy Boost 350s. Yes, the $265 shoes that Kanye designed in partnership with adidas that are virtually impossible to cop and are being sold upwards of $900 to $10,000 on eBay.

Last week, Branden Wiebe of NameBranClothing, decided to post a tutorial on how to turn your Yeezys into a deep-fried creation, because he "feel[s] like it is going to be really, really dope to have a deep fried pair of Yeezys on my shelf in my room in the background in my videos."
Noted.
To start the process, Branden creates his own batter made of flour, eggs (with a few shells) and water. Next, he pulls out the deep fryer (which, he bought solely for this purpose and plans to return after), and fills it up with oil.
He then takes the Yeezys (which Metro says were gifted to him by adidas) and kisses them one more time before he covers them in batter and begins to deep fry (something, he then admits, he has never done before).
The result? Well, see for yourself: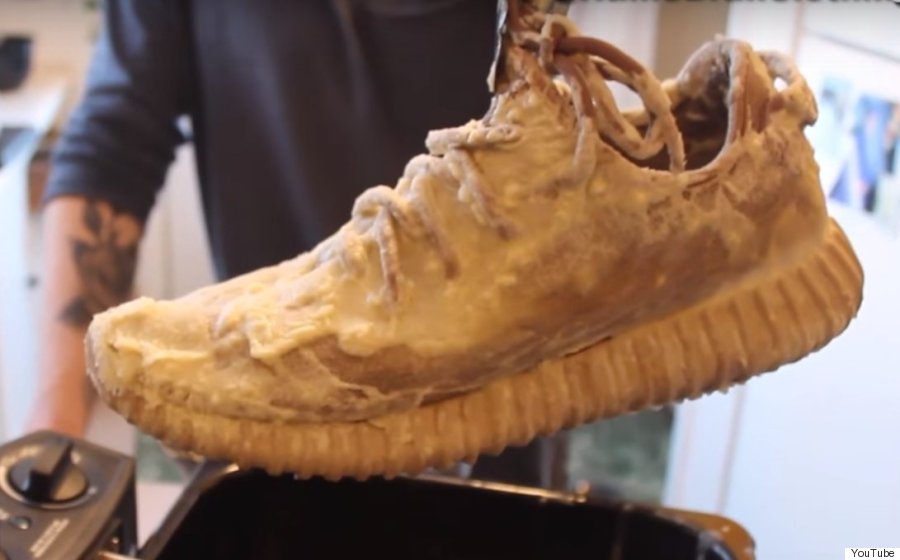 The Yeezy Boosts have been subjected to some pretty harsh treatment lately — one guy decided to cut up his pair, while another decided to (gasp!) skateboard in a pair, eventually ruining them.
And we can't forget about Taylor Swift's brother, Austin, who posted a video of himself on Instagram in which he throws his Yeezys in the trash (in his defense, it was most likely in response to Kanye's "Famous" lyrics in which he claims he "made that b**ch [Taylor Swift] famous.")

So far, Kanye has yet to Twitter rant comment.
Watch the video above if you want to see it all go down.
Follow Huffington Post Canada Style on Pinterest, Facebook and Twitter!
Also on HuffPost