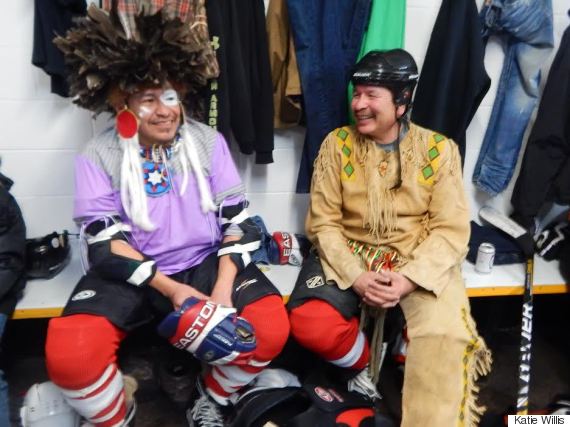 For 34 years, the residents of Maple Creek, Sask. and the Nekaneet First Nation put on cowboy hats and aboriginal headdresses for an annual "battle" on hockey ice. And in all its years, there hasn't been a single fight in between teams.
On Saturday, residents came together once again for another friendly game, cheering on local "old timers and youngsters."
The Battle of the Little Big Puck literally pits cowboys against Indians.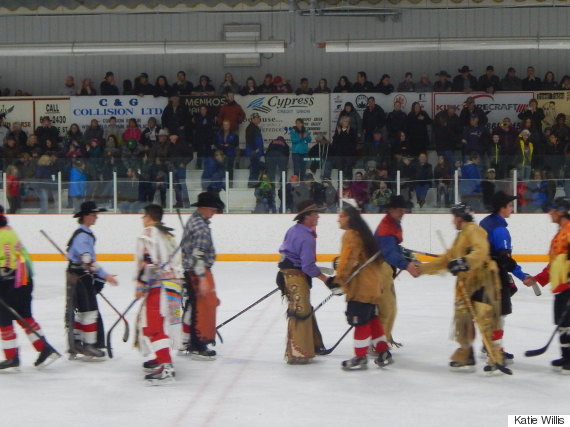 Battle of Little Big Puck players line up and shake hands with each other. (Photo: Katie Willis)
"It's an event that I think a lot of outsiders would perceive as politically incorrect," Katie Willis, a masters student studying the cultural phenomenon and spectacle of event that has become a symbol of co-operation between the communities.
"This event probably wouldn't happen in many other parts of Canada."
Organizers estimate approximately 1,000 people showed up to this month's game — a significant draw considering the town's population hovers 2,500.
Money raised from the event goes back into the community. This year, organizers collected $6,200 — which will go toward buying equipment for a nearby hospital.
"This event probably wouldn't happen in many other parts of Canada."
Planning has always included an aboriginal voice and perspective, the University of Saskatchewan student explained.
This year, she was invited inside the Nekaneet locker room after the third period — when players change into their regalia.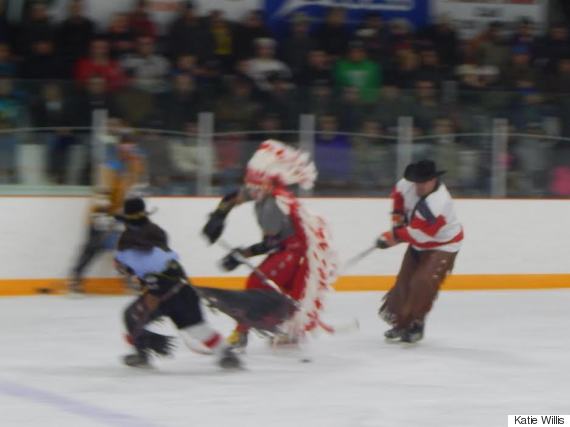 Audience members watch Battle of Little Big Puck players duke it out on ice on Feb. 20, 2016. (Photo: Katie Willis)
"It was a locker room for sure," Willis said in an interview with The Huffington Post Canada. She added "it smelled like a locker room, it sounded like a locker room."
Willis described the scene, with players as young as 20 sitting alongside elders, as a family affair.
"I saw a lot of women, sisters and wives, going back there to get everyone ready and they had brought outfits they had sewn themselves," she said.
Three band councillors and a former chief laced up their skates for this year's game.
Fred Sasakamoose, the NHL's first aboriginal player, was also on hand to drop the ceremonial first puck.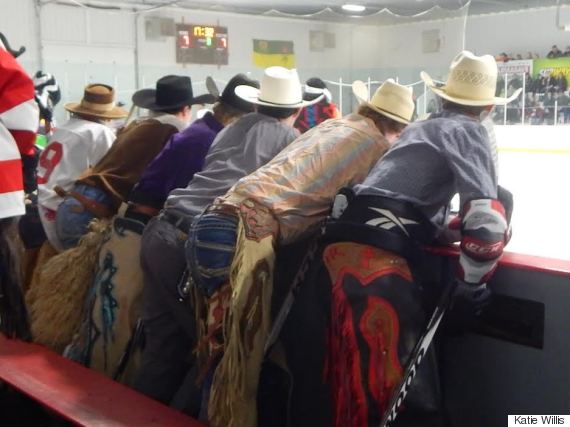 Maple Creek players lean on the boards during the 34th annual Battle of Little Big Puck game last weekend. (Photo: Katie Willis)
The Battle of Little Big Puck has become "instrumental" in keeping the relationship between aboriginal and non-aboriginal communities beyond the spectacle of the third period. The game gives space to each group to retain and accept their unique identities together, Willis said.
Originally from Iowa, she was drawn to study aboriginal and non-aboriginal relations in Maple Creek because of the area's "long history of co-operation" and "very unique" openness between communities because of its ranching and farming past.
"I always have this idea, I think a lot of Americans do, of Canada having more equality," she said. But after visiting the country for the first time a few years ago, she learned that "wasn't the case."
"There were issues with equality and discrimination toward aboriginal people and it something I really wanted to explore … if it was like that everywhere."
Watch clip of a game from 2013:
There's more to the event than hockey players wearing rodeo cowboy costumes and First Nations regalia, Willis said.
"It's more about bringing the whole community together."
The town's manager of community and economic development agrees.
"Although relations between Maple Creek and Nekaneet have had their ups and downs over the past century, the area has never really lost the sense of community," Royce E. W. Pettyjohn wrote in an email.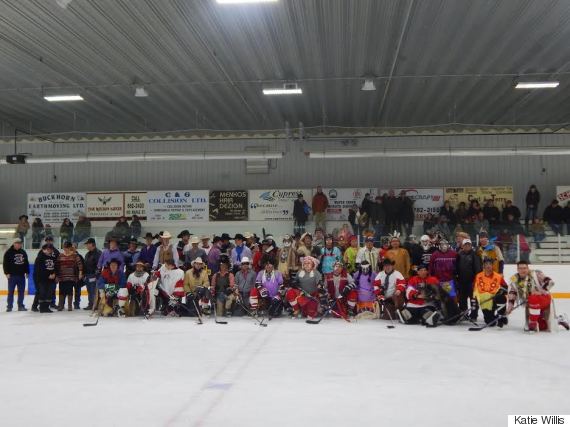 Battle of Little Big Puck players gather for a group photo earlier this month. (Photo: Katie Willis)
He called the game a "testimony to the positive and healthy cultural relationships" that exist in the area.
The tradition began over three decades ago when a "good-hearted" conversation between local rodeo cowboys and Nekaneet band members evolved over drinks into a decision to play a friendly hockey game.
Now, a new generation is embracing the tradition.
"The rest, as they say, is history," he said.
Also on HuffPost:
B.C. Mountaintop Hockey Game