A top Conservative accused the new government on Thursday of seeking to give children access to marijuana — mere moments after a Liberal MP brushed aside an NDP call to immediately decriminalize the drug.
The talk of cannabis and confusion was so strong in question period that Bill Blair, the parliamentary secretary to the minister of justice said a "hazy fog" had descended over the place.
But Blair, a former Toronto police chief who's now the point man on the legalization file, was pretty perplexing, too.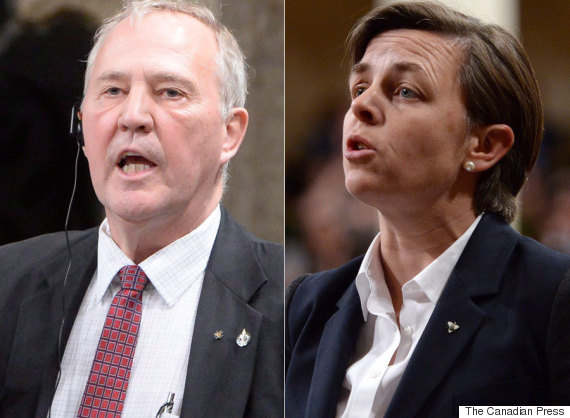 Liberal MP Bill Blair and Conservative MP Kellie Leitch speak in the House of Commons. (Photo: The Canadian Press)
NDP MP Anne Minh-Thu Quach rose to highlight that a Federal Court judge in Vancouver ruled, a day earlier, that medical marijuana patients are entitled to grow their own marijuana.
"My question is simple, will the minister of justice respect this decision?" she asked.
Blair said he wanted to "assist" Quach and clear up confusion by reminding her that the ruling only concerned... medical marijuana.
The decision, he said, is under review and the pot prohibition remains.
George Smith, senior press secretary to NDP Leader Thomas Mulcair, took to Twitter to say Blair was having a rough go.
Bill Blair is having a hard time. Accuses @AnneMTQuach of not knowing the ruling was on medicinal pot but that's exactly what she said. #QP

— George Smith (@GeorgeNDP) February 25, 2016
Then it was MP Murray Rankin's turn. The NDP justice critic accused the Liberals of "sowing confusion left and right on marijuana" by offering no timeline on legalization.
"When the chiefs of police complained this was creating uncertainty, the parliamentary secretary to the minister of justice helpfully cleared things up.
"He said, well, the current approach of criminalizing people for possession is failing but the government is still going to continue the current approach indefinitely," he said to some laughs.
"Why doesn't this government clear up the confusion and simply decriminalize personal possession of marijuana immediately?"
Blair thanked Rankin for the opportunity to clear up his confusion.
The Liberals are going to legalize and restrict marijuana, Blair said, but until that day all the current laws remain in effect.
New government sending 'mixed signals': Tories
Then the Conservatives took their best pot shots.
Kellie Leitch, the party's health critic, reminded MPs that Health Canada spends hundreds of millions of dollars each year to encourage Canadians to quit smoking.
"Now, the government wants Canadian kids to have access to a drug to smoke – marijuana," she said, dusting off an old attack line.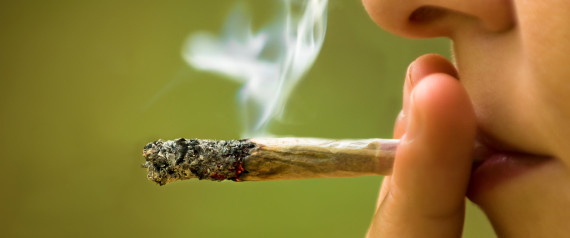 (Photo: Shutterstock)
Leitch said parents are scared and the Liberals are sending mixed signals.
"On the one hand they claim they want to enforce the law, but on the other hand they've not appealed the B.C. decision to allow marijuana in the hands of children," she said.
Leitch called on the ministers of health and justice to protect Canadian kids from "this mind-altering drug."
Kamal Khera, parliamentary secretary to the minister of health, said it was "vitally important" that those who need marijuana for medical use can have access. She reminded the House that the case in B.C. is not about recreational use of the drug.
"We know marijuana is dangerous for kids but yet in Vancouver there are now more pot shops than there are Starbucks.
— Rob Nicholson
That did little to clear things up for veteran Tory MP Rob Nicholson who accused Liberals of making a mess of the issue.
"We know marijuana is dangerous for kids but yet in Vancouver there are now more pot shops than there are Starbucks," he said.
"What is the Liberal plan to keep marijuana out of the hands of our children?"
Blair said he was delighted to have another chance to clear up... confusion.
"The science and the evidence is overwhelmingly clear, that the best way to protect our kids, to get organized crime out of the business of selling marijuana in our communities, and to ensure a robust public health response, is through strict regulation," he said.
Also on HuffPost
Which Province Smokes The Most Pot?