In honour of the Oscars this weekend, we thought it was only appropriate to look at the best Canadian films of all time.
After all, as the CBC notes, half of the eight films nominated for Best Picture were shot at least in part in Canada — even if that doesn't make them "Canadian movies."
In the chart below, statistics analysis The 10 And 3 ranks critically acclaimed Canadian films that are also well-loved by audiences.
Click the chart to see the original list on The 10 and 3, as well as the methodology.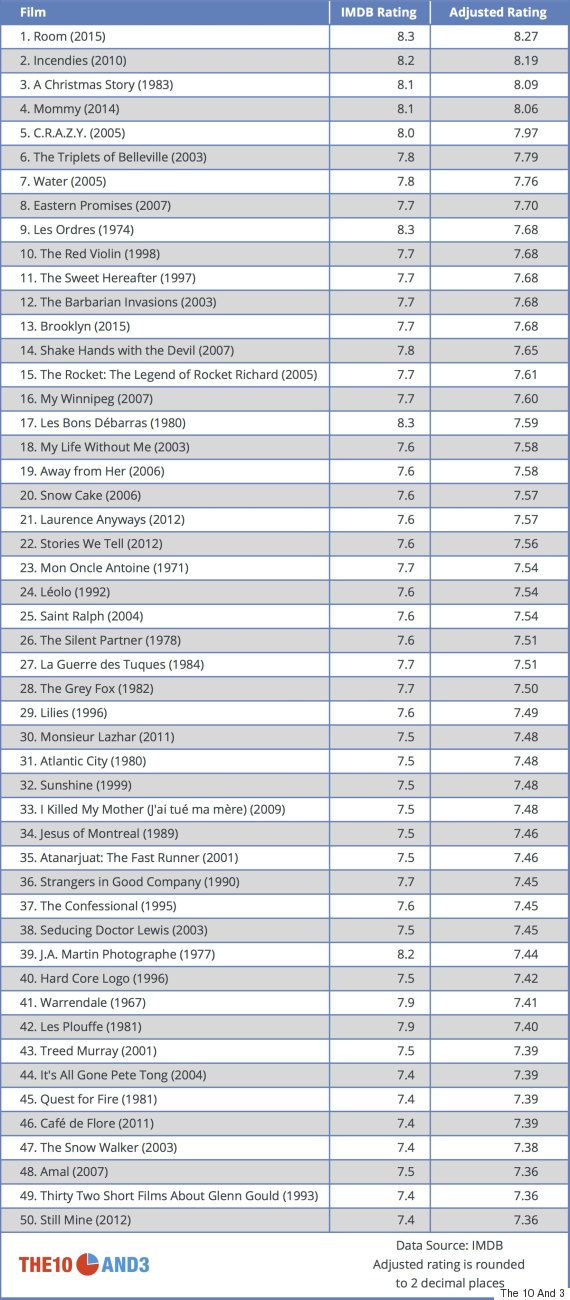 Canada is affectionately referred to as "Hollywood North," but the definition of what makes a film Canadian always seems to be up for debate.
To put together this list, The 10 and 3 looked to the Academy of Canadian Cinema and Television and IMDB. If a film was nominated for a Canadian award and received a high IMDB rating, it made the list.
The list features most of TIFF's Top 10 Canadian films as chosen by Canadian filmmakers, industry, critics, academics and programmers, but seems to be missing some mainstream favourites like "Bon Cop, Bad Cop" and "Fubar."
Did your favourite Canadian films make the cut? Let us know in the comments below.
Also on HuffPost
Greatest Canadian TV Shows