Gina Yeo Photography
Gina Yeo wants to capture the "simple moments" in her children's childhood — everything from dirty knees to wispy curls.
Recently, the natural-light photographer branched out into landscape photography as well, with stunning results.
Yeo, our HuffPost Alberta photographer of the month, was kind enough to share some of her photos with us and answer a few questions.
Q: Where did you grow up and where do you currently live?
A: I'm a born and raised Calgarian. I love Calgary — It fits my lifestyle perfectly. I love the convenience of living in a big city but yet a quick drive will land me amidst the beautiful Canadian Rocky Mountain range where a piece of my heart resides.
Q: How long have you been shooting photos?
A: I've had a camera in my hand since I was a little girl — gifted to me by my father who was our family photographer — but I only became serious about improving my photography skills once my children were born.
About four years ago, I connected with an online forum, Clickin' Moms, where my passion for learning photography was supported. I've been shooting seriously since 2012. However, the genre of landscape photography is very new to me and I've been shooting landscapes for less than a year.
Q: What's the most unusual or remarkable thing you've ever had happen while taking photos?
A: With three little children, often in tow, I play it pretty safe when it comes to choosing my locations. There have been animal sightings on our adventures and the time when we almost came face to face with a black bear, but thankfully, nothing too unusual has occurred!
I love the art of creating. There is something extremely rewarding in picking up my camera and being able to capture my vision. Photography allows for me to slow down and experience the world around me in an incredible way. Since my goal as a photographer is to capture my world as I see it, the simplest of moments become remarkable and extraordinary — I don't think I can narrow those experiences down to just one particular moment.
Q: What are your favourite locations to shoot?
A: My favourite locations to shoot depend on my subject but they must incorporate beautiful light. Indoors my preference is moody window light. I adore the simple and quiet feel of dramatic light.
Outdoors if I'm capturing people I'm drawn to beautiful open spaces with a wooded tree line in the background. My favourite landscape locations will always be somewhere in the mountains.
Kananaskis, Alta., has a special hold on my heart and I've become quite familiar with those mountains over the last few years.
Check out more of Gina's work. Interview continues below:
Q: What are some of the challenges of shooting natural light photography?
A: I adore natural light, but, yes, there are challenges, especially outdoors. Weather and timing are my biggest challenges.
Unpredictable Alberta weather can blow in within seconds, which might result in me having to rethink or put my plans for a shoot on hold. As a busy mom with a schedule to keep timing is also a significant challenge. Light doesn't wait — it has it's own schedule, and sometimes my obligations take priority over light's display.
Q: Do you have a favourite type of camera to shoot with, or a favourite piece of equipment?
A: I shoot with a Nikon D610 and a variety of lenses. My favourite lens for indoor shooting is my Sigma Art 35 f1.4. My favourite lens for outdoor portraits is my Nikkor 105 f2.8 and for capturing landscapes is my Nikkor 16-35 f4. I also could not live without my F-Stop Guru backpack and my MeFOTO GlobeTrotter Tripod.
Q: What's your advice to people who want to learn how to take great natural light portraits?
A: Take small steps and practice, practice and practice. There is rarely a day that goes by when I don't pick up my camera. Photography is a journey and there is always something to learn. The best way to approach learning is to simplify it by breaking your learning goals down into small easy to manage concepts. Once you feel comfortable in one area only then should you move on to learning something new.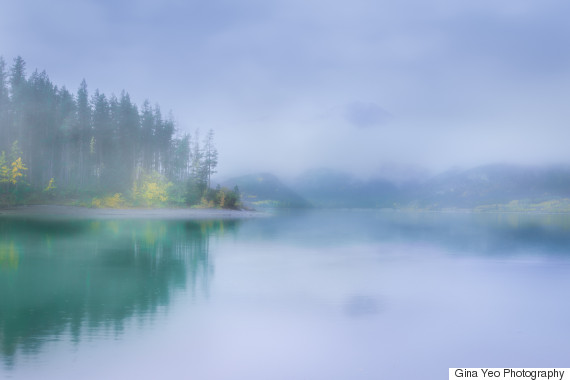 Learn light. Light is photography and without it photography would cease to exist. Using light effectively will help you elevate your images.
Surround yourself with support. Find other photographers who are willing to provide you with support in your journey.
Q: What do you like to do when you're not taking photos?
A: I love the outdoors. My preference is to be somewhere on a mountain camping, hiking, biking or skiing. I also enjoy a good book and of course spending time with my family is a top priority.
Q: Is there anything else you'd like us to know?
A: I'm teaching a breakout in May through CMuniversity at Clickin' Moms which focuses on how to find and use natural light in a way that elevates your photography with a specific focus on everyday child portraiture. I'd love it if you'd join me!
Follow more of Gina's work:

Are you interested in being Alberta's Photographer of the Month? Email us and we can chat!