Federal Heritage Minister Mélanie Joly is in the hot seat for saying she prefers Radio-Canada to its private rival, TVA.
Joly, who is responsible for overseeing the Canadian Radio-television and Telecommunications Commission, the country's broadcast regulator, as well as CBC/Radio-Canada, made her choice clear in an online video produced by the French newsmagazine L'actualité.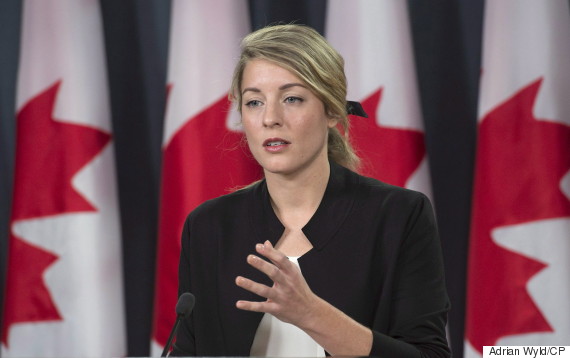 Heritage Minister Melanie Joly speaks at a press conference in Ottawa in December. (Photo: The Canadian Press)
The segment gives political figures 60 seconds to answer a number of questions.
After being asked questions including, "what historical figure do you identify with?" and "do you like beer or wine?," Joly was asked whether she favours Radio-Canada or TVA.​
"Well, that's easy," she replied. "Radio-Canada."
Commentators for TVA, which is owned by Quebecor, were quick to criticize her statement, saying she should remain neutral since she's responsible for the CRTC.
One commentator, former Liberal cabinet minister Jean Lapierre, went as far as to say Joly should resign.
Joly, who once interned at Radio-Canada, has said the Liberals will keep their campaign promise to re-invest $150 million in the Crown corporation.
Also on HuffPost
Rookie MPs To Keep Your Eye On