While hosting the Oscars in 2005, Chris Rock memorably fired shots at Jude Law, but this time around, he took aim at two controversial targets and hot topics: #OscarsSoWhite and #AskHerMore.
The four-time Emmy winner, who imposed a media "blackout" on his own pre-Oscar press, attacked the Oscar nominee race scandal head-on by calling the Academy Awards the "White People's Choice Awards" right off the bat. Yes, Rock's scalding remarks were worth the wait.
For the second year in a row, the Academy Awards did not honour any non-white Oscars. This fact was oft-cited in the trending topic "#OscarsSoWhite," and was immediately addressed by Rock.
"You realize if they nominated hosts, I wouldn't even get this job, so y'all would be watching Neil Patrick Harris right now," said Rock, referring to last year's host.
Rock also called out his fellow actors, like Tyrese Gibson, who begged for him to step down from his hosting post in order to show solidarity with other actors of colour.
"Only unemployed people [tell] you to quit something," said Rock, before joking "the last thing I need is to lose another job to Kevin Hart."
Later, Rock pointed out that the "no-black nominees thing" had definitely happened "at least 71" times in the past and was not newsworthy because "[black people] had real things to protest at the time. We were too busy being raped and lynched to care about who won Best Cinematography."
But he did not stop there. The comedian also mocked Jada Pinkett Smith for her broadcast boycott.
"Jada boycotting the Oscars is like me boycotting Rihanna's panties," joked Rock, who referred to Pinkett Smith as being an actress from a TV show. "I wasn't invited! Though, that's not an invitation I would turn down."
Rock continued, and mocked her feelings that it was "unfair that Will was this good and didn't get nominated" for "Concussion," saying it was also not fair that "Will was paid 20 million for 'Wild Wild West.'"
With that torch lit, Rock said this year's "In Memoriam" package would "[just be] black people who were shot by the cops on the way to the movies." He also made a call for having black categories, or for gender equality among the nominees.
"Robert De Niro has never said, 'I'm going to slow this acting down so Meryl Streep should show up,'" said Rock.
One of his black category ideas?
"Best Black friend," said Rock, before proclaiming Wanda Sykes would win for the "18th year in a row."
However, to Rock, the Oscars nomination controversy is not "burning cross racist" or "fetch me some lemonade racist," but "sorority racist."
"It's not about boycotting anything; we want black actors to have the same opportunities," said Rock.
"You know, Leo gets a great part every year. All of you guys get great parts all the time. Look at Jamie Foxx. Jamie Foxx is one of the best actors in the world. Jamie Foxx is so good in Ray that they went to the hospital and unplugged the real Ray Charles, like we don't need two of these!"
The 51-year-old finished his set by poking fun, once again, at outrage culture and the supposedly sexist uproar surrounding the questions women are asked on the red carpet, best known as #AskHerMore.
"Everything's not sexism, everything's not racism," said Rock.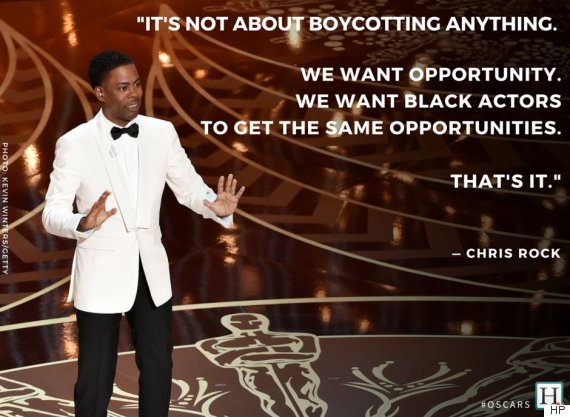 "They ask the men more because every guy there is wearing the exact same thing. If George Clooney showed up with a lime green tux on and a swan coming out his a--, they'd be like, what you wearing George?"
His endless mockery of these hot-button awards season discussion points got big laughs from the A-list audience.
Later in the show, he continued to hammer and highlight the silliness of the race controversy by showing a pre-taped package with comedians Leslie Jones, Tracy Morgan, Whoopi Goldberg and himself in small roles in Oscar-nominated films to show that once again, "If you're a black actor, just getting the opportunity to be in a movie can be a struggle."
But not all of the related jokes were a hit.
The continuous jabs at #OscarsSoWhite hit a sour note about an hour into the broadcast, when, in a pre-recorded bit, Angela Bassett appeared to honour an actor for Black History Month. That actor happened to star in two films, "Enemy of the State" and "Shark Tank," leading many to assume she was going to gush about the talents of Will Smith. Instead, she was there to pay homage to the career of Jack Black, who also starred in both films.
Were you a fan of Chris Rock as a host? Sound off in the comments below.
Also on HuffPost