OTTAWA — The federal government says it plans to review cases where gay men were convicted of charges of "gross indecency'' and "buggery'' before the late 1960s when Canada decriminalized homosexual acts between consenting adults.
Details about the review — such as who would oversee it and how many cases will be reviewed — are expected to be released in the coming days.
A spokesman for Prime Minister Justin Trudeau said Sunday the review will determine if a pardon is warranted for any of the men who were convicted.
One of those men convicted under the old law was Everett Klippert, who was twice convicted under Canada's anti-homosexuality laws for consenting sexual acts in the 1960s.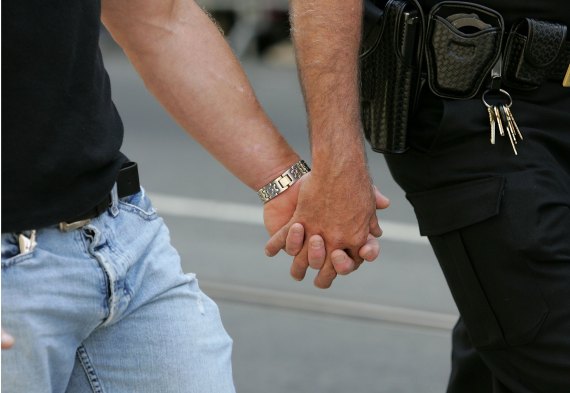 Two men hold hands as they participate in the 36th annual LGBT Pride Parade on June 25, 2006 in San Francisco. (Photo: Justin Sullivan/Getty Images)
Trudeau spokesman Cameron Ahmad said in a statement that Trudeau intends to recommend a pardon be granted posthumously to Klippert under the "royal prerogative of mercy,'' which is the ancient right of the British monarch to grant a pardon or clemency.
In Canada, the pardon is granted by either the Governor General or by cabinet.
Canada's laws against homosexuality were changed in the 60s when Trudeau's father was in government.
Klippert spent four years in prison after his first conviction in Calgary in 1960, and then three more years after a conviction in Hay River, N.W.T. in 1965.
The Crown applied to have him designated a dangerous offender to keep him in prison for life. Klippert fought the designation unsuccessfully all the way up to the Supreme Court of Canada in 1967.
Klippert was released from prison in 1972 and died in 1996 at the age of 69.
Ahmad said Trudeau intends to recommend a pardon for Klippert because the case was "instrumental in the government's decision to decriminalize homosexual acts between consenting adults.''
ALSO ON HUFFPOST: