First, host Chris Rock addressed the #OscarsSoWhite controversy in a hilarious (and biting) opening monologue.
Then, he made everything really awkward by inviting Stacey Dash on stage.
Stacey Dash's entrance... Awkward 😳 #Oscars pic.twitter.com/gTuL6iUklj

— Pop Crave (@PopCrave) February 29, 2016
"I cannot wait to help my people out. Happy Black History Month," she said in a brief appearance that drew scattered (and confused) laughs from the audience.
Dash, who once starred in the movie "Clueless" and its television adaptation, has lately become a controversial figure after she said that she doesn't think Black History Month should exist.
In a Fox News interview last month, she was asked, "Do you think there shouldn't be a Black History Month because there isn't a white history month?"
"Exactly, exactly," she said.
Her comments came after Jada Pinkett Smith and Spike Lee said they would boycott the Academy Awards because there were no black performers among the acting nominees.
If the point of having Dash on stage was to make everyone feel uncomfortable and confused (clueless?), then mission accomplished. But it more likely was an attempt at self-effacing satire.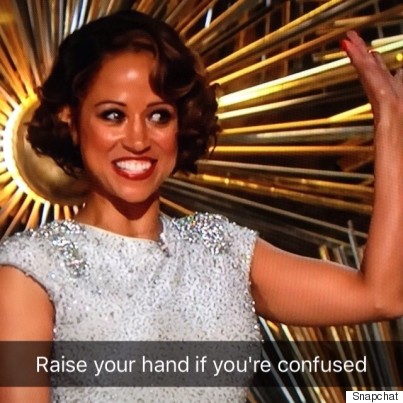 Black History Month is celebrated every year to recognize achievements of black people who have helped to shape history.
Canada has marked it for 20 years, after Parliament passed a motion to recognize the month in 1995.
Like Us On Facebook

Follow Us On Twitter

Also on HuffPost