Total Beauty is feeling the #OscarsSoWhite heat for a careless red-carpet tweet.
The L.A.-based business made itself a target for mockery after it tweeted a photo Sunday night of Whoopi Goldberg at the 2016 Oscars that mistook her for Oprah Winfrey.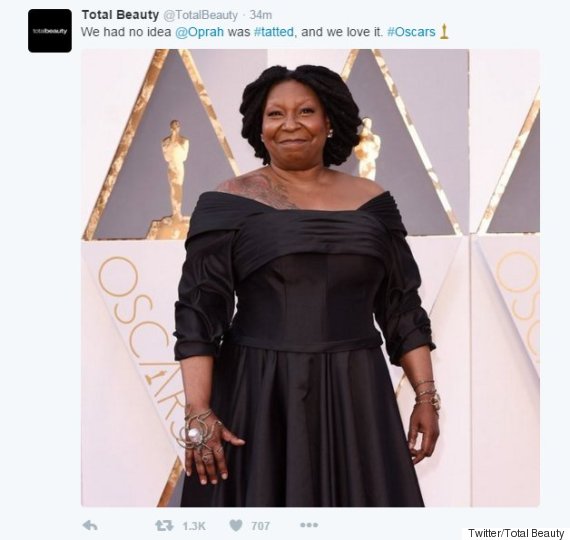 UPDATE: 11:15 p.m. ET -- Total Beauty apologized for the tweet.
We'd like to apologize to Oprah and Whoopi, as well as everyone we've offended. It was our error, and there are no excuses. We're sorry.

— Total Beauty (@TotalBeauty) February 29, 2016
The initial tweet was deleted. But the resulting reaction was not.
#OscarsSoWhite 😒😒 pic.twitter.com/FZ08cLwdWU

— BET (@BET) February 29, 2016
.@TotalBeauty@Oprahpic.twitter.com/Pce0dXUsmQ

— Anré D. Washington (@Anre_ATL) February 29, 2016
.@TotalBeautypic.twitter.com/1IezmvPGTN

— Ziwe (@Ziweeee) February 29, 2016
@TotalBeautypic.twitter.com/T7SPLb1akX

— Eric Garland (@EricJGarland) February 29, 2016
This tweet is going to live forever, @TotalBeauty. #OscarsSoWhitepic.twitter.com/EmoGMecaGB

— Kenny Coble (@KennyCoble) February 29, 2016
And Christian Bale just hit the Red Carpet looking quite dapper. Now that's @TotalBeauty#Oscarspic.twitter.com/gIXxVzG9fW

— Dan Worthington (@danWorthington) February 29, 2016
The tweet came amid the current Oscars controversy that arose when not a single person of colour was nominated for an acting award.
Criticism has spread widely in the form of the #OscarsSoWhite hashtag, and the Academy of Motion Picture Arts and Sciences has responded by making changes to its membership policies.
If people can't tell Whoopi Goldberg and Oprah apart, it's clear there's a major problem.
Follow Huffington Post Canada Style on Pinterest, Facebook and Twitter!
Also on HuffPost