TORONTO — Kiefer Sutherland is perhaps his father's biggest fan.
In a chat about Donald Sutherland's career, Kiefer gushes about his dad's long list of film credits, calling him an "unbelievably diverse actor'' he's always wanted to work with.
"I have incredible respect for my father's work,'' he says in an interview. "I believe he's not only one of the most prolific, but I think he's one of the great important actors in the English language.''
Yet until the new western, "Forsaken,'' the Canadian duo had never shared the screen together.
While they were both in 1983's "Max Dugan Returns,'' Kiefer was an extra and didn't work with his dad. They also both appeared in 1996's "A Time to Kill,'' but Kiefer says they didn't even see each other on set.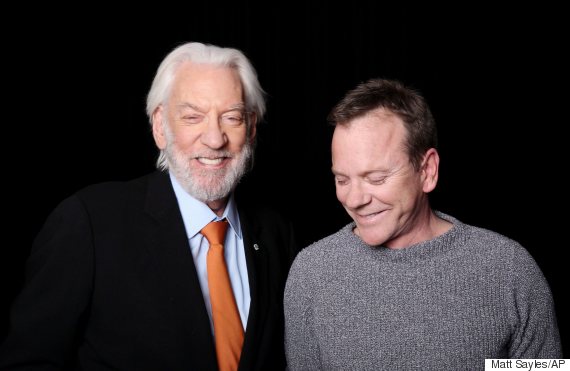 So, how does one go about starring alongside a powerhouse parent for the first time?
"With a lot of fear,'' Sutherland says with a laugh during September's Toronto International Film Festival, where "Forsaken'' had its world premiere.
"I was nervous. It's something that I've wanted to do since I started work.''
Available as a digital download starting Tuesday, "Forsaken'' stars the Sutherlands as a father and son caught up in a violent battle for land in their hometown of Fowler, Wyoming in 1872.
Kiefer plays John Henry Clayton, a former gunslinger who returns home after a 10-year absence to find his mother is dead and his father, a reverend, is enraged with him. Demi Moore co-stars as John's former flame, while Brian Cox plays a corrupt landlord.
"I was nervous. It's something that I've wanted to do since I started work.''
Kiefer says in the last five years it became "really important'' for him to work with his now 80-year-old father, who's won two Golden Globe awards and hails from Saint John, N.B.
"Because I don't know how much longer he's going to want to work — and you could say the same thing about me.''
Kiefer pitched the idea for the film to director Jon Cassar, with whom he worked on the TV series "24'' for eight years, and to writer Brad Mirman.
Their collective goal was to be respectful of the classic western genre while adding a broader theme of acceptance and forgiveness.
'Forsaken' was shot in Calgary, Alta.
Kiefer says at the end of the film shoot in Calgary, it dawned on him: "That was the most time I'd ever spent with my dad.''
"I grew up with my mom and we'd just spent nine weeks making something together,'' says the 49-year-old.
"There's always that kind of time in a father and a son's life where the father teaches him how to fish or they go build a model plane together and it was like, 'No, we got to make a film together. That was really cool.'''
Watch the 'Forsaken trailer. Story continues below.
Cassar says the father-son duo brought a rich complexity and sense of realism to the film.
"There was some reality in there and especially in the emotional scenes, and so it was interesting to watch that and to let it breathe and to give them the room to let that happen.
"And we were all a little nervous about it. I think Kiefer was nervous about the first day, I think so was Donald, and so was I. They had 30 scenes together in the movie. It's about the two of them.
"And so I think after we did that first scene, there was a big sigh of relief and we went, 'This is going to be good.'''
"Forsaken'' also comes out on Blu-ray, DVD and on demand platforms on March 29.
Also on HuffPost:
The Best Films And TV Shows Of 2016