For the second straight year, Lady Gaga's Oscars performance completely stole the show.
The Grammy and Golden Globe winner poured her heart out while performing her Oscar-nominated song "Til It Happens To You" from "The Hunting Ground" — a song about sexual assault — on the piano. Lady Gaga's emotional rendition was accompanied by an incredible statement of solidarity, as she was surrounded by dozens of sexual assault survivors on stage. Several of the men and women had messages on their arms for their alleged attackers, ranging from "Survivor" to "Not Your Fault."
It was a moving display that brought the audience to their feet, including Best Supporting Actress nominees Rachel McAdams and Kate Winslet, who applauded after the performance with tears in their eyes.
Rachel McAdams and Kate Winslet crying after Lady Gaga's performance. #Oscars pic.twitter.com/DdX0fOunaJ

— Lady Gaga News (@TomyKMonster) February 29, 2016
But it was Best Actress winner Brie Larson who took her gratitude and appreciation of this powerful message even further. Larson was captured on camera hugging each of the survivors as they left the stage.
Brie Larson hugged every survivor from @ladygaga's #Oscars performance (via @chrissGardner)pic.twitter.com/zCSvYs0XCK

— Mic (@micnews) February 29, 2016
Lady Gaga was introduced by U.S. Vice President Joe Biden, an advocate for the "It's On Us" campaign, a campus sexual assault prevention initiative.
Prior to her performance, Biden spoke to his commitment to this cause, saying, "We must and we can change the culture so that no abused woman or man... should ever feel they have to ask themselves, 'what did I do?'"
"They did nothing wrong."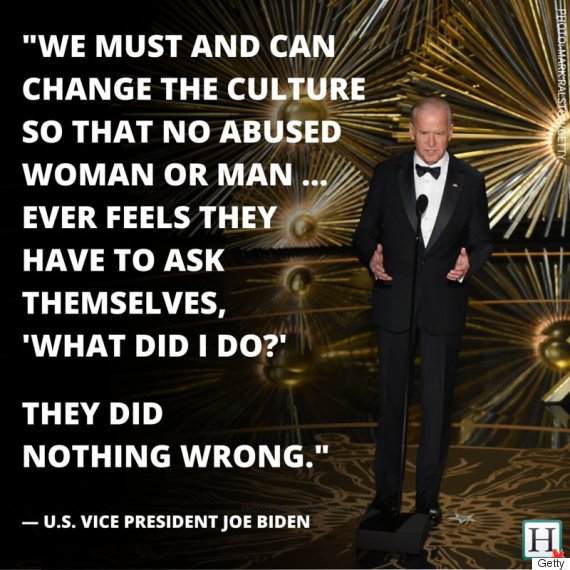 Biden and Lady Gaga's ode to survivors also struck a chord with Kesha. The musician has made headlines of her own this month after she was denied an injunction against working with music producer Dr. Luke, her frequent collaborator and alleged verbal, sexual and emotional abuser.
Kesha tweets:
thank u @ladygaga and VP @JoeBiden for bringing attention to sexual assault at the oscars. it hit very close to my heart for obvious reasons

— kesha (@KeshaRose) February 29, 2016
This is certainly not a random endorsement either, as last week, Lady Gaga publicly supported Kesha in her ongoing legal battle against Sony Music and Dr. Luke.
All this, as hours before her Oscars performance, Lady Gaga gave another shout out to Kesha, saying her song would also be an ode to her struggle:
.@kesharose I'll be thinking of u 2nite. This is not over we'll stand by u until you are free to live a HAPPY life. Everyone deserves that.

— Lady Gaga (@ladygaga) February 28, 2016
What did you think of Lady Gaga's performance? Sound off in the comments below.
ALSO ON HUFFPOST:
Also on HuffPost