The Liberal government has spent approximately $3.5 million in advertising since coming into power, with most departments choosing to purchase lower-cost internet advertising over TV ads in prime time.
The government ads were purchased by six departments within the first 100 days of Justin Trudeau's Liberals being sworn into office on Nov. 4, said Michèle LaRose, a media relations spokesperson with Public Services and Procurement Canada in respond to a query by CBC News.
The previous Conservative government spent a total of $68.7 million in advertising in 2014-15.
Veterans Affairs responsible for bulk of spending
The Liberals committed in their election platform to ban "partisan" government ads and appoint an advertising commissioner to help the auditor general oversee government advertising.
Veterans Affairs Canada was responsible for the bulk of the new spending and was the only department to spend money on TV ads, with an estimated total media ad buy of $2.26 million.
The department purchased internet, television and out-of-home advertising to honour and remember Canada's servicemen and women in the lead-up to Remembrance Day on Nov. 11.
In its ongoing efforts to recruit new Canadians to join its depleting ranks, National Defence spent an estimated $454,000 on internet advertising to encourage millennials to consider a career in the Canadian Armed Forces.
That also included internet ads "to recruit for various specialized positions in the Forces," LaRose said.
With the government committed to resettling 25,000 Syrian refugees by March 1, the Department of Immigration, Refugees and Citizenship purchased internet advertising at an estimated cost of $389,750 to urge Canadians to welcome Syrian refugees to Canada.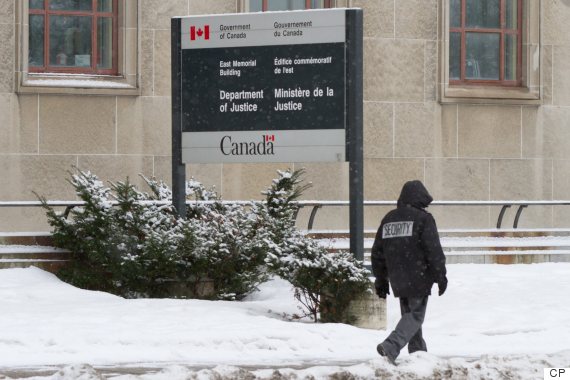 Justice Canada spent the least, with an estimated ad buy of $32,000 in internet advertising. (The Canadian Press)
Public Services and Procurement Canada spent an estimated $150,000 in internet advertising to promote a government initiative known as the Language Portal of Canada. The website is part of the Canadian government's commitment to promote both official languages.
Health Canada spent an estimated $110,000 in internet advertising to promote the health risks associated with the seasonal flu and approximately $115,000 in internet advertising to recruit nurses for positions in First Nations and Inuit communities on reserve.
Justice Canada spent the least of the six departments, with an estimated ad buy of $32,000 in internet advertising by the external panel to consult Canadians on the implementation of physician-assisted dying.
The panel, which was established in 2015 under the previous Conservative government, made public its report in January 2016. A special joint committee of MPs and Senators followed the external panel with their own consultations and issued its final report on Thursday.
The Immigration Department also purchased $2.69 million in print and internet advertising to raise awareness about new Electronic Travel Authorization entry requirement (eTA), which visa-exempt foreign nationals will need to fly to Canada starting on March 15.
Partisan government advertising to end?
However, according to LaRose, "these ads and the budget were approved by the previous government."
The Prime Minister's Office could not say when the government plans to appoint an advertising commissioner, only that it will update Canadians "soon."
"We remain committed to ending partisan government advertising," said PMO spokesman Cameron Ahmad in an email to CBC News.
The Office of the Auditor General told CBC News while there has been some consultation with the government, no decisions have been made.
"We have never overseen government advertising, but we can audit advertising programs and spending if we so choose," said Ghislain Desjardins, a spokesperson for the auditor general's office.
Desjardins said the last time the auditor general performed an audit of advertising activities by the government was in 2007.