OTTAWA — Why do Canadian tax filers get a larger refund if they give to political parties than if they donate to charities?
Conservative MP Ted Falk can't think of a real explanation, and he's made it his mission to change what he calls an unfair and inequitable policy.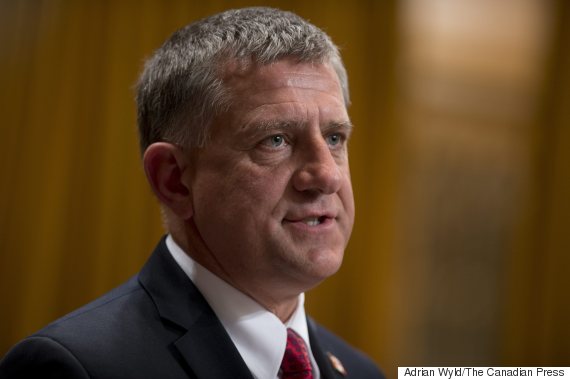 Conservative MP Ted Falk speaks in the House of Commons. (Photo: Adrian Wyld/The Canadian Press)
The Manitoba MP introduced a private member's bill, C-239, last week that would make the 2015 taxation year the last one where Canadians are encouraged to give more to political parties than to charities who aim to feed the hungry, shelter the homeless, and heal the wounded.
While a $400 donation to a political party currently generates a 75 per cent federal tax credit, or $300 reduction, that same $400 donation to a charity only generates a federal return of $88 — 15 per cent tax credit on the first $200 and 29 per cent credit on the other $200.
The changes Falk introduced would give Canadians the same federal tax rebate.
"It shouldn't be any more important to feed a politician than it should be to feed someone that is hungry."
— Ted Falk
"The bill is all about bringing fairness to charitable donations relative to donations made to a political party or candidate," he told The Huffington Post Canada Monday. "It shouldn't be any more important to feed a politician than it should be to feed someone that is hungry."
Falk recently won the Commons' lottery by landing the first spot for private members' business. That means his bill, the Fairness in Charitable Gifts Act, will be the first one debated this year, probably in late March.
Green party leader on board
Already, Green Party Leader Elizabeth May has jumped to his side, praising his initiative and asking to be a seconder to his bill.
"It is clearly unfair to have larger tax rebates for people who donate to political parties than those who donate to Oxfam or their local food bank," she wrote to HuffPost in an email.
Falk doesn't blame political parties for giving themselves a larger tax break to help more Canadians to part with their money, but he thinks charities deserve help too.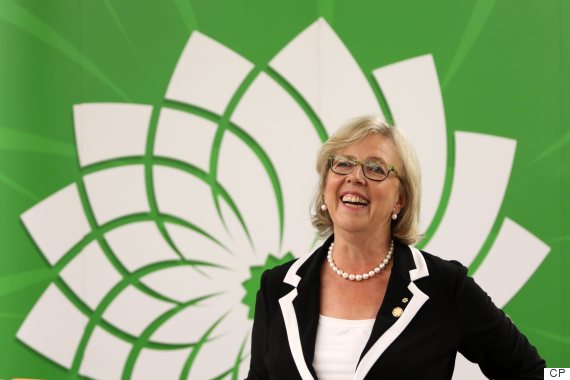 Elizabeth May, shown here at at 2015 campaign event, wants to second Falk's bill. (Photo: The Canadian Press)
"Having been in politics for two and half years, I recognize how difficult it is to go out there and ask people if they would consider making a donation either to the party or to my campaign — and person needs money to run a campaign," he said.
"But why wouldn't the charity be entitled to the same thing? They have the same struggle, the same issues, it is difficult to get people to part with money even if it is for a good cause."
Falk, who represents the riding of Provencher, one of the most generous regions of the country in terms of charitable donations, said it was ingrained in him as a young child that he should help the less fortunate and contribute a portion of his income to do good work.
'I wanted to make something that was impactful'
He and his wife have supported the local food bank, homeless shelters, youth organizations and summer camps for disadvantaged youth, he said. They have also donated to organizations that work overseas such as MEDA, Mennonite Economic Development Associates and the Mennonite Central Committee.
"[Charities] successfully leverage donation dollars through volunteerism and do way more work, better work, and more effective work than a lot of government agencies could do in the same field," he told HuffPost.
"I didn't want to just have a bill that would declare 'purple flower day' or something else like that — I've seen some of those [bills] in the past and I wanted to do something that was significant and would make a difference," he said.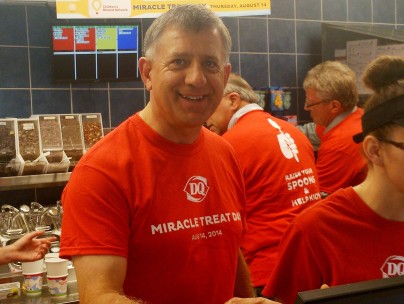 Ted Falks serves at Dairy Queen "Miracle Treat Day." (Photo: Ted Falk)
Falk was troubled to discover that while the total value of donations has gone up, the number of Canadian tax filers giving to charities had dropped over the past two decades, from 29.5 per cent in 1990 to 21.4 per cent in 2014, according to the latest figures by Statistics Canada. The median donation in 2014 was only $280.
The provinces also have tax credits. In Ontario, for example, that $400 donation to a charity would get an additional provincial tax return of $50.57 for someone making $85,000 a year, Armando Minicucci from Grant Thornton LLP calculated for HuffPost. It is also far less than the provincial political tax credit which is 75 per cent for donations of up to $399.
Falk said he hopes changing the tax credits might encourage more people to give and to give more.
"I would like to see that number go up, closer to that $400 mark."
He initially thought of making the tax refund even more generous for charities — to help them raise more money — but then decided to go for something that all parliamentarians could easily get behind.
"I wanted to make something that was impactful and something that was difficult not to support."
ALSO ON HUFFPOST:
How Much Are Federal Politicians Making? (2016)