The interim leader of the federal Conservatives has come out in favour of gay marriage as some in her party push for a policy shift on the issue.
Rona Ambrose made her position known during a Twitter town hall event Tuesday, where she was asked in both French and English about marriage equality.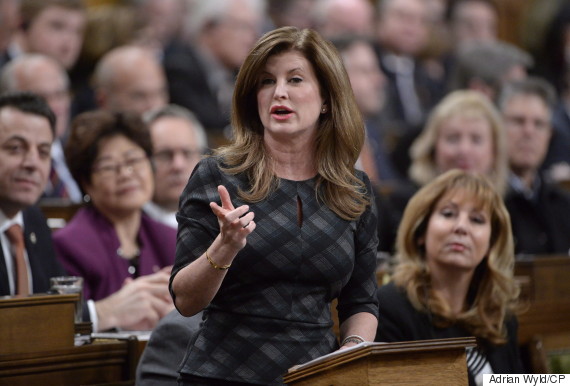 Interim Conservative Leader Rona Ambrose asks a question in the House of Commons on Feb. 18. (Photo: Adrian Wyld/CP)
With an #AskAmbrose hashtag, the official Opposition leader was able to pick and choose which questions to answer — perhaps adding some significance to her choice to engage on that particular topic.
She confirmed her support for same-sex marriage in both languages.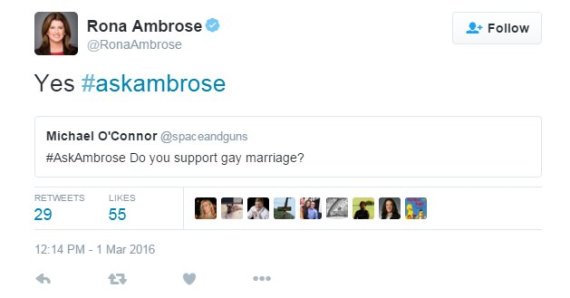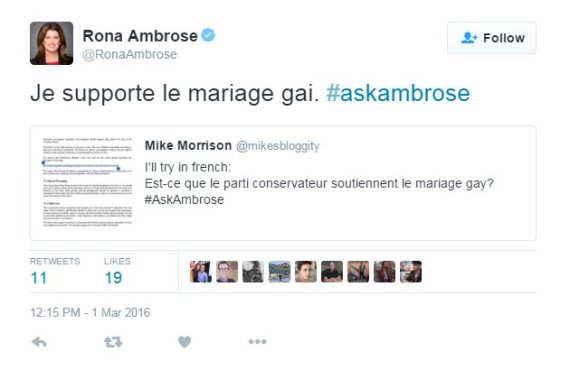 That position signifies a change for the veteran Tory MP, who was first elected in Edmonton in 2004.
Voted against same-sex marriage a decade ago
Ambrose voted against same-sex marriage legislation introduced by the Liberal government of former prime minister Paul Martin in 2005. The historic bill passed with the support of most Liberals, New Democrats, and Bloc Quebecois MPs, making Canada the third country in the world to recognize gay marriage.
While most Tories voted against legalizing same-sex marriage at the time, a handful broke party ranks, including former MPs Gerald Keddy, James Moore, and Jim Prentice.
Current Liberal agriculture minister Lawrence MacAulay was among those Liberal MPs who voted against the bill.
At the time, then-Tory leader Stephen Harper pledged to bring in legislation to define marriage "as the union of one man and one woman."
Voted to revisit issue
Shortly after forming government in 2006, Conservatives reopened the debate with a motion calling on the government to restore the traditional definition of marriage without affecting civil unions and while respecting existing same-sex marriages.
Ambrose supported the motion, which ultimately failed by a vote of 175-123. Twelve Tory MPs, including then-cabinet ministers Peter MacKay, John Baird, Prentice, and Lawrence Cannon, voted against it.
That vote in December 2006 effectively ended the debate. Harper did not bring in legislation targeting same-sex marriage, even after winning a majority government in 2011.
Tories call for change to policy
But now some grassroots Tories want the party to change its official policy on the issue.
In late January, a group called LGBTory — comprised of lesbian, gay, bisexual, and transgender Conservatives — wrote Ambrose to seek her support for their push to change the party's declaration on same-sex marriage at the spring convention.
The policy, last reviewed in 2013, says that Parliament, not the court, should determine the definition of marriage.
"We support legislation defining marriage as the union of one man and one woman," it reads.
The group said the policy infringes on the legal rights of gay people and turns away potential voters.
"The Conservative Party welcomes all conservatives, regardless of sexual orientation."
Ambrose told CBC News in a January statement she would support such a move.
"I've been clear for a long time that the Conservative Party welcomes all conservatives, regardless of sexual orientation," she said. "If you believe in smaller government, lower taxes, balanced budgets and individual freedom, we want you in our party."
A group of Alberta Tories have also adopted a resolution calling for the two lines about same-sex marriage to be deleted from the party's social policy section.
Tory MP Michelle Rempel told The Canadian Press that she voted in favour of the motion and was optimistic it would be debated at the Conservative policy convention in Vancouver this May.
"It's a very positive thing and something that's been very positively accepted,'' Rempel said.
With files from The Canadian Press
ALSO ON HUFFPOST: