Support for a national inquiry into murdered and missing indigenous women is widespread among Canadians, but skepticism permeates that bureaucracy will snarl hopes for an effective outcome, according to a new poll.
Angus Reid Institute released polling data Wednesday noting 79 per cent of Canadians surveyed are "generally" supportive and "strongly support" a national inquiry. But within that segment, 48 per cent say they're pessimistic it will lead to meaningful action and change.
Breaking the data down across the country, support is highest in central and eastern Canada. That trend tapers somewhat moving west. Those against a national inquiry is highest in Alberta, at 40 per cent.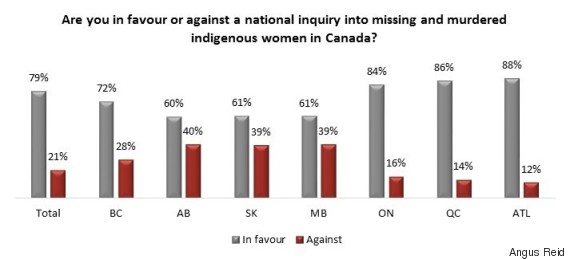 Overall, the results suggest a bump in public support in the last two years in favour of a national inquiry — but drop one percentage point since last summer.
Seventy-three per cent of Canadians said they were in favour of an inquiry in 2014; 80 per cent in 2015.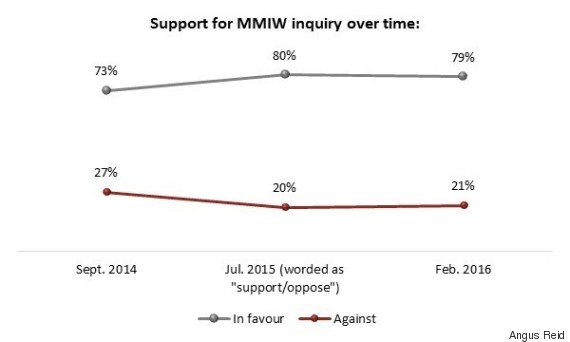 Those who said they were pessimistic held a "general concern" the inquiry's recommendations would not be followed, let alone implemented, Angus Reid noted in a release.
The survey was conducted among a representative randomized sample of 1,515 Canadians between Feb. 22-25. The margin of error is 2.5 per cent, 19 times out of 20.
The poll arrives on the day Prime Minister Justin Trudeau is scheduled to meet with indigenous leaders in Vancouver to discuss climate change.
The Native Women's Association of Canada (NWAC) did not respond to a request for comment about the survey before publication.
"It's time to move forward – out of the darkness and into the light."
Last month, the NWAC made a list of 22 recommendations to guide the inquiry. Among its suggestions included it be led by indigenous women under a human rights framework.
The group also emphasized a need to examine sociological root causes as to why indigenous women are prone to sexualized stereotypes.
"The Western patriarchal paradigm paints Indigenous women as vulnerable; unworthy of value or respect. We know better," NWAC president Dawn Lavell-Harvard said in a statement.
"It's time to move forward – out of the darkness and into the light."
Addressing Canada's 'national shame'
Developing an inquiry into a sociological phenomenon called a "national shame in Canada" is a top priority to to Indigenous and Northern Affairs Minister Carolyn Bennett, as outlined in the prime minister's mandate letter.
But some high-profile voices have come out to give heed to federal officials charged with the task of building the framework for a national inquiry.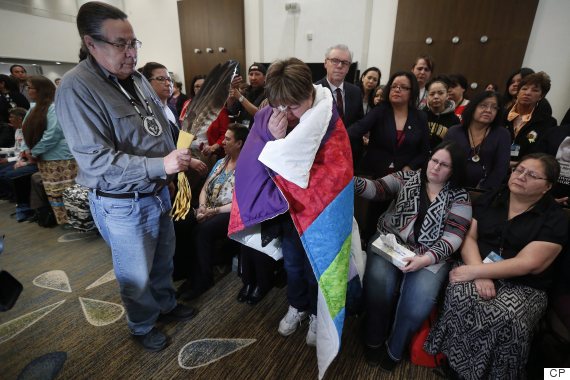 Bernice Catheway, whose daughter Jennifer has been missing since 2008, weeps after receiving a blanket during a healing blanket ceremony at the 2nd National Roundtable on Missing and Murdered Indigenous Women and Girls in Winnipeg Feb. 25, 2016.
Former B.C. attorney general Wally Oppal, who led that province's own inquiry into the systemic failings that allowed serial killer Robert Pickton to prey on women for years, warned the new Liberal government to not duplicate efforts his commission made.
"I would think that if you're going to have an inquiry, you don't need to have one of the type that we had, where the police were cross-examined for endless days because one of our tasks was to find out what the police did wrong during the Pickton years," Oppal told CBC News last year.
Oppal was criticized by some Pickton victims' families for failing to be inclusive of their voices. The province has also faced backlash for failing to implement the 63 recommendations made in his 2012 report.
Federal officials must talk to communities, he said.
In 2014, the RCMP released a groundbreaking report saying indigenous women are more likely to be victims of violence than any other demographic of Canadian women.
That report noted 1,181 cases of murdered and missing aboriginal women in police records; 164 of which were labeled missing persons cases, the remaining: homicide.
Mounties updated their findings last year, tying a stronger connection between murders with family violence.
At a press conference in Ottawa last month, Bennett commented the actual scope of missing and murdered cases is "way bigger" the nearly 1,200 cases reported by the RCMP.
The minister addressed reporters after the consultations with families of victims formally wrapped. She added that the pre-inquiry phase exposed her to emotional testimonies, as she expected it would.
"I think that if you are truly doing this job well, you need to be able to bear witness to that pain and you need to be able to empathize without losing yourself in the grief," she said.
With files from The Canadian Press
Also on HuffPost:
REDress Project For Missing, Murdered Indigenous Women