Flickr: guuleed
TORONTO — Torstar Corp., which owns Canada's largest circulation newspaper, predicts another challenging year after reporting a $234.5 million loss in the fourth quarter, mostly as a result of writing down the value of its newspaper businesses.
The red ink included $213.3 million of non-cash items related to asset impairments at its continuing operations. Those included $130.6 million within the Metroland Media group of smaller newspapers and $70.5 million at the Star Media group, which includes the company's flagship Toronto Star.
"Metroland Media Group and Star Media Group are expected to continue to face challenges in 2016 as a result of continued shift in spending by advertising,'' said the company's executive vice-president and chief financial officer, Lorenzo DeMarchi, in a conference call with investors.
Print advertising declines were moderate, he said, but it's difficult to predict if that trend will continue this year considering the continued evolution of advertiser markets and economic volatility.
'Significant year of transition'
Advertisers have responded positively to Star Touch, a tablet-only product from the Toronto Star that launched about five months ago, said John Cruickshank, president of Star Media Group.
In January, the app cracked more than 200,000 downloads, with users reading an average of three days per week, he said. But David Holland, Torstar's president and CEO, said growth in the app's audience is slower than originally anticipated.
The Star Touch audience is rising at a slower rate than La Presse's app, said Cruickshank. He attributed that to the Toronto Star continuing to print a daily paper, whereas La Presse scrapped its physical edition, as well as potentially different dynamics of an English-language market compared to La Presse's French-speaking audience.
The company expects to make a net investment of about $10 million this year in Star Touch, most of it during the first half of the year. Last year, net investment spending in the app was $14 million on a pre-tax basis.
The company plans to break even on the platform by 2017, said Holland.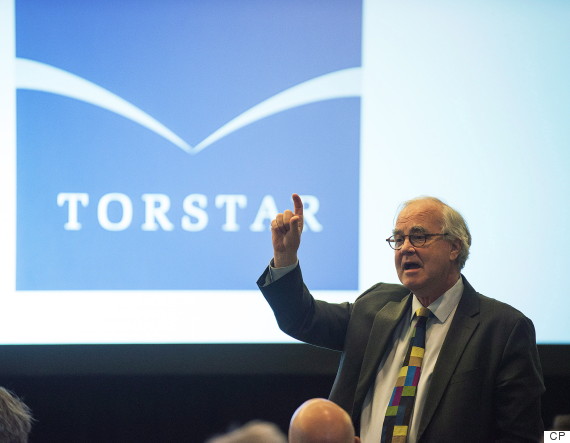 Toronto Star publisher John Cruickshank. (Photo: Aaron Vincent Elkaim/CP)
The app is part of the company's push towards a more digital future, he said, as is their recent acquisition of VerticalScope, a North American digital media business.
"We are in the midst of a meaningful transition,'' he said. "We did not expect this transition to be easy, but we do believe it will ultimately prove to be very worthwhile.''
The transition has included cost-cutting measures, including outsourcing the printing of the Toronto Star. The switch should create $4 million of savings this year and $10 million annually thereafter. The move is expected to result in 220 full-time and 65 part-time job cuts.
The company recognized $7.5 million of restructuring and other charges in the fourth quarter, down from $10.9 million in the comparable 2014 period. The company expects 90 positions to be eliminated and $6.3 million of annualized cost savings as a result of the restructuring provisions in the fourth quarter.
In total, Torstar estimates restructuring initiatives undertaken last year will produce about $22.5 million in savings in 2016.
Torstar holds an investment in The Canadian Press as part of a joint agreement with a subsidiary of the Globe and Mail and the parent company of Montreal's La Presse.
Also on HuffPost:
Billionaires Who Own Newspapers