CALGARY — A new online poll by the Angus Reid Institute suggests 64 per cent of Canadians support the Energy East pipeline, but there are stark differences when the numbers are broken out by region. The proposal to ship Alberta crude to Atlantic Canada had the strongest backing in Alberta and Saskatchewan — 87 per cent and 78 per cent, respectively. Both are oil-producing provinces keen to get their crude to international markets — something Energy East would enable with a proposed export terminal in Saint John, N.B. In Quebec, however, the poll suggests support for Energy East is only at 48 per cent.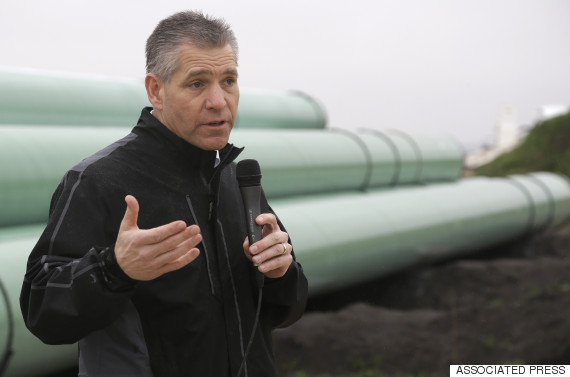 TransCanada's president and CEO Russ Girling answers questions on March 5, 2014, in Mont Belvieu, Texas. (Photo: Pat Sullivan/AP)
Angus Reid also asked respondents whether they support the Montreal-area mayors who raised environmental concerns about Energy East in January. On that question, too, there were stark regional divides, with 11 per cent of Albertans and 58 per cent of Quebecers surveyed showing support. Regional tensions over the $15.7-billion plan flared up this week, when Quebec announced it intends to seek an injunction to force TransCanada, the company behind the project, to follow provincial environmental rules.
Who should have final say?
When asked whether the federal government should have final say over pipelines, or if local governments should have the power to stop them, a slim majority — 54 per cent — said it should be Ottawa's call. Again, the divide between provinces was dramatic: 72 per cent of respondents in Alberta and 79 per cent in Saskatchewan said the federal government should have the ultimate say. British Columbia and Quebec were the only regions where the majority of respondents had the opposite view — 61 per cent and 59 per cent, respectively, supported local governments being able to stop pipelines from being built through their jurisdictions.
Is Energy East inevitable?
Nationally, most respondents — 59 per cent — believed the pipeline will eventually be built, even if local objections slow it down. The survey's more than 1,500 respondents were surveyed on Feb. 2 to Feb. 5, and on Feb. 26, on a wide variety of climate and energy questions. The respondents are part of the Angus Reid Forum, a 130,000-member panel of Canadians who participate in surveys and discussions. The Angus Reid Institute says the forum comprises of people in each major demographic group, and respondents receive a small monetary incentive — from $1 to $5 — for completing each survey. The polling industry's professional body, the Marketing Research and Intelligence Association, says online surveys cannot be assigned a margin of error because they do not randomly sample the population. ——— Follow @LaurenKrugel on Twitter
Also on HuffPost