You often hear how expensive it is to rent in big cities.
So why not consider a small town? The move would give much more bang for its buck, according to this Rentseeker infographic.
The chart shows what it takes to rent in different cities across Ontario, comparing them to prices in Toronto.
Click for full size.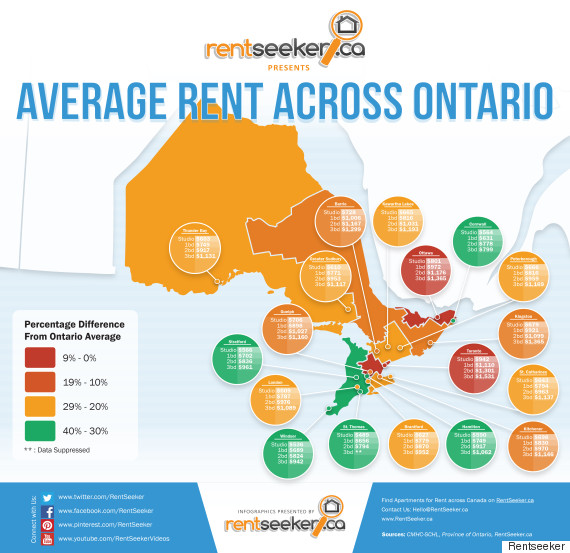 Each is broken down for how much it costs to rent a studio apartment, a one-bedroom unit, a two-bedroom, or a three-bedroom.
Toronto is the most expensive place on the infographic, topping every other city in every single category.
Renting a studio apartment costs $942 per month in the 6ix, while a one-bedroom costs $1,110, a two-bedroom $1,301 and a three-bedroom $1,531.
At the other end of the spectrum, St. Thomas was the cheapest place to rent. There, you can rent a studio for $489, a one-bedroom for $656, and a two-bedroom for $794. There was no data available for three-bedroom units.
In December, Rentseeker produced this infographic, showing rents across Canada.
Click for full size.

Like Us On Facebook

Follow Us On Twitter

Also on HuffPost:
Weird Things Seen By Real Estate Agents