Twitter/ericming5
Donald Trump's campaign team is facing accusations they Photoshopped a model's skin to look darker.
Eric Ming, digital director for Maryland Congresswoman Donna Edwards, tweeted out a side-by-side photo on Thursday, one featuring a model with darker-toned skin wearing a grey V-neck tee with Trump's slogan "Make America Great Again," and another showing a model with lighter skin in the same T-shirt, sans slogan.
So it appears Donald Trump's campaign photoshopped their model to be brown: pic.twitter.com/V0DghCiQAW

— Eric Ming (@ericming5) March 3, 2016
In a later tweet, Ming pointed out the original tee (and image) comes from JCG Apparel, which offers custom prints on apparel like tees and sweatshirts made by other manufactures (in this case, American Apparel).
Links here: https://t.co/EMMPBpQHwthttps://t.co/mqt6AooaIJhttps://t.co/3rPjNgMvYy

— Eric Ming (@ericming5) March 3, 2016

It's unclear why Trump's people would alter the model's skin tone, but some are speculating the photo editing is a poor attempt to combat the perception of Trump as a racist.
Though he claims to "have a great relationship with blacks,", the Republican frontrunner has a history of making racist comments, including remarks against Mexicans, Muslims and Native Americans. Most recently, black students were removed and assaulted during a Trump rally in Georgia.
The Twitterverse was quick to point out the poor Photoshop skills of whoever altered the image:
@ericming5 @pharmasean lmao and did a bad job pic.twitter.com/kc2RhwnDjh

— Leroy Penis (@rudetanks) March 3, 2016
@ericming5 @BibleReloaded Not even a good Photoshop, too :/ the brown skin is so flat and featureless, barely any shadows

— Haru Bell (@Harulocke) March 3, 2016
Some joked it might just be a reflection of Trump himself:
@ericming5 @EWErickson are you sure she didn't just get one of the famous donald spray tans? lol

— Jillian Bliss (@jilliangaa) March 3, 2016

Shortly after the images were posted, the shirt was taken down from the apparel section on Donald Trump's website. However, Mic points out the shirt is still available for purchase via the direct link, and now shows an image of a model with a lighter skin tone.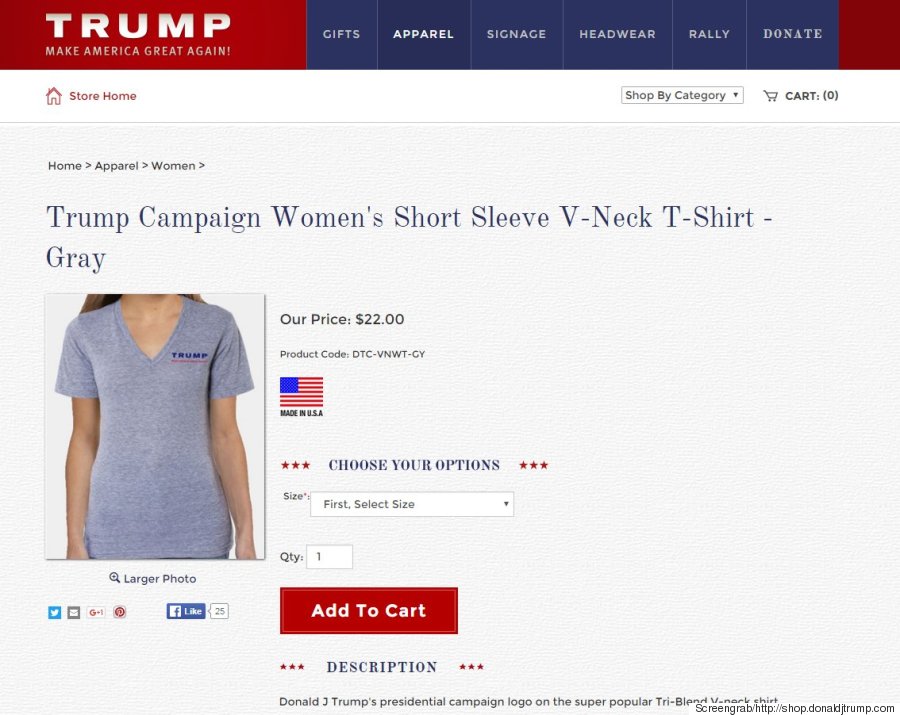 So far, neither Trump's campaign nor JCG Apparel have said anything on the matter.
Recent Photoshop controversies involving skin tone have involved cover models who appear to be altered so their skin looks lighter rather than darker. InStyle's cover of Kerry Washington raised eyebrows when many felt her complexion and features had been significantly altered.
Follow Huffington Post Canada Style on Pinterest, Facebook and Twitter!
Also on HuffPost
When Photoshop Goes Wrong...