Listen, empathize, and prepare answers for the media's many questions about your "implausible good looks." That's what politics is all about, according to a satirical letter published by The New Yorker on Saturday, "Campaign Tips, from Justin Trudeau to Bernie Sanders."
"Contention can arise from an issue as innocuous as, say, un-airbrushed shirtless photos floating around the Internet that show off your chiselled body to millions of people," wrote Iain Reid in the fictional letter. "I'm not here to make any insane allegations, like that these photos aren't accurate representations of reality, because, yes, they absolutely are... That's just me. With my shirt off. That's literally what I look like, not just in photographs."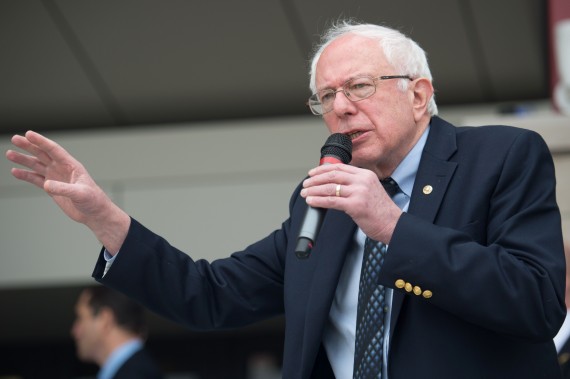 Democratic presidential candidate Bernie Sanders speaks at a rally on the campus of Southern Illinois University-Edwardsville on Friday in Edwardsville, Ill. (Photo: Michael B. Thomas/AFP/Getty Images)
The piece pokes fun at the media's focus on Trudeau's looks, while at the same time, focusing only on Trudeau's looks. "You need a thick skin... To have to endure, day after day, week after week, month after month, mobs of reporters; to put up with articles and essays and think pieces... proclaiming how 'sexy' you are—although accurate, it's all quite wearisome."
Presidential hopeful Sanders could use some actual campaign tips, as he lags farther and farther behind Hillary Clinton, the front-runner for the Democratic nomination. He only has 432 delegates supporting his campaign to Clinton's 1,066, as of Saturday. But as Canada learned with Trudeau's landslide win in October — it's not over 'til it's over.
This upcoming week, Trudeau is visiting Washington, D.C., where he will attend a State Dinner hosted by U.S. President Barack Obama.
— with files from The Canadian Press
Also on HuffPost