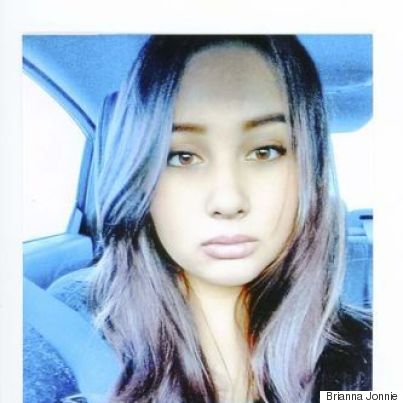 Brianna Jonnie wants change. The 14-year-old student is bothered by how Indigenous women are treated if they go missing in her home of Winnipeg. So she decided to speak up in the form of a startling letter to the city's chief of police, which includes instructions on what to do if she goes missing.
"If I go missing and the [Winnipeg Police Service] has not changed the behaviours I have brought to your attention, I beg of you, do not treat me as the Indigenous person I am proud to be," Jonnie wrote in her two-page letter to Chief Devon Clunis.
"My mom needs me, and I want to have my future. And if I do go missing and my body is found, please tell my mom you are sorry. Tell her I asked to be buried in my red dress, for I will have become just another native statistic."
"If I do go missing and my body is found, please tell my mom you are sorry."
To illustrate her concerns, Jonnie pointed to recent examples of missing Aboriginal women in Winnipeg and how differently their cases were treated.
"Tina Fontaine was reported missing on August 9, 2014. According to media, a WPS request for the public's help was submitted August 13th. Nora Leah Rae was reported missing on August 6, 2014 and the WPS appealed for help on August 22nd. Jaylene Amos was reported missing on January 4, 2016 and a request for help was issued on January 15th," she wrote.
"Cooper Nemeth however, had his image in the paper the next day; Thelma Krull was in online reports less than 24 hours after her disappearance and Alissa Voetberg, the next day."
"It teaches the boys and men who discard girls in rivers, beat them in back lanes and drug them at parties that indigenous girls' lives don't matter — they won't be missed. No one will look for them... It teaches me my life does not matter."
'Provide details that humanize me'
She informed the chief: "The colour of one's skin, their socio-economic status, or whom their legal guardian is, should not determine the level of assistance and resources put in place to find them if they are missing and yet, it does."
"I am not involved in drugs, alcohol, prostitution or other illegal activity... I am not a runaway, nor am I involved with Child and Family Services... Provide details that humanize me, not just the colour of my hair, my height and my ethnicity."
Clunis is away and has not responded to the letter. However, Winnipeg police spokesman Const. Jason Michalyshen told the Winnipeg Free Press: "It's an incredibly compelling letter, and it brings up a lot of great questions. It is quite amazing to see such a young person have passion for her community... It also shows that maybe we need to do a better job of educating the public about why certain investigations unfold the way they do."
The way forward
Jonnie would like to see more than that. In an interview with the CBC, she said that all missing people should be treated the same: "In the future I'd encourage people to not look at who the person that went missing might have been. I'd want them to look at just, 'This is a person, they went missing and we need to look for them.'"
Jonnie also sent copies of the letter to Premier Greg Selinger, Justice Minister Gord Mackintosh, Family Services Minister Kerri Irvin-Ross, Aboriginal and Northern Affairs Minister Eric Robinson and Winnipeg's Mayor Brian Bowman.
Her mom, Amanda McCormick, is proud of Jonnie. She told the CBC: "Maybe after reading her letter … maybe people will start to speak differently when they hear of an indigenous girl who's missing, and they won't just recognize her as indigenous; and they won't just recognize her as another runaway. They'll recognize her as human."
Also on HuffPost:
Aboriginal Concerns In Canada